Word has just gone out that
Linsen 'Fy' Xu as well as
Xuntao 'XTT' Xu have been asked to leave
ViCi Gaming following the teams disappointing performances, as they've in recent times failed to reach both the LAN Finals of the G-1 Champions League and more importantly coming up short in The International 2013 Eastern Qualifiers, after having been one of the favourites to possibly even win the whole thing. They also failed to reach the playoffs of the Dota 2 Super League.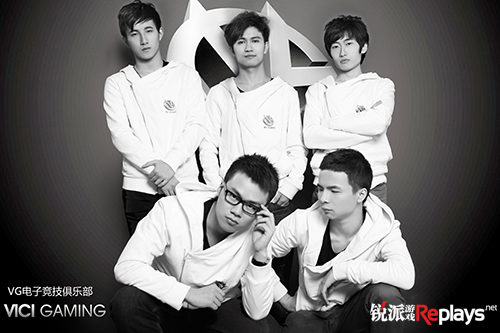 Only two players remain from the original ViCi Gaming roster.
Photo from the ViCi Gaming team shoot after being picked up by the sponsor.
The news comes shortly after word that the team had let go of both the teams manager
Panpan '
PandaPanPan
' Zhang who assembled the team originally as well as their coach
Zhang '
Nada
' Dengrong. This signals extensive shake-ups within the already turbulent organization, as this is the
second roster change
they've made in their short existence so far.
The changes coming out of ViCi Gaming are fairly surprising, as in particular support player Fy has been one of the most consistently impressive on the team, in particularly gaining high praise for his Rubick play dating as far back as their first appearance in the latest season of
G-League
. While offlaner XTT has not been quite as impressive, he has still played his position well overall.
The organization has not yet spoken out about their plans for replacements or if further changes can be expected, but they should have no lack of options, given that they have a secondary team which has slowly started scrimming in Dota 2 as well, headed by
Bu '
YaphetS
' Yanjun. If ViCi looks for replacements outside of their own ranks, this may usher in another Chinese shuffle, with in particular
Rising Stars
and
For.Love
being prime targets as neither needs to retain a stable roster for TI3.
ViCi Gaming is currently only involved in the
Red Bull Esports Champions League
, having not been invited to take part in the
Alienware Cup
.
Update:
ViCi Gaming have issued an
official announcement regarding Fy leaving the team
, stating that Fy left the team without authorization, but that when the team offered him clemency regarding his indiscretion, he chose not to return to the team. His contract still stands, meaning that he will be unable to pursue joining another club for the remaining duration of the contract. The club also indicated that any further attempts by the former management team to "provoke the matter" would be held against them. No official word has come out regarding the departure of XTT.
Statement by ViCi-Gaming (translated by BurningSera on TeamLiquid):
VG.fy left VG Club DOTA team without authorized. The Club has given clemency not to pursue the matter and has asked him to stay. Fy is determined to leave regardless. Due to his contract with the Club, he won't be able to join any other club in a short period of time. VG.DOTA will find a replacement player ASAP to continue our future/ongoing tournaments. Extra: Warning to VG Club previous management board, please do not attempt any future move to provoke the matter, otherwise you would be solely held responsible.
Tianyu '
Cty
' Chen (Captain)
Gong '
ZSMJ
' Jian
Chao '
Fenrir
' Lu