The China Dota2 Pro Cup Season 2 became the showplace for a new record in competitive Dota 2. Elephant achieved a networth lead of 154k against EHOME
Elephant
set a new milestone in the history of competitive Dota. The team acquired a networth lead of a staggering 154k in their match against
EHOME
in the
China Dota2 Pro Cup Season 2
last Sunday, 29 November.
The two top teams faced each other in the Lower Bracket Finals. Therefore, the loser of the series was eliminated, whereas the winners advanced to the Grand Finals. After two relatively standard matches, it all came down to the final game and both squads went all out. The third game lasted for 80 minutes and concluded with a 49-25 kill score.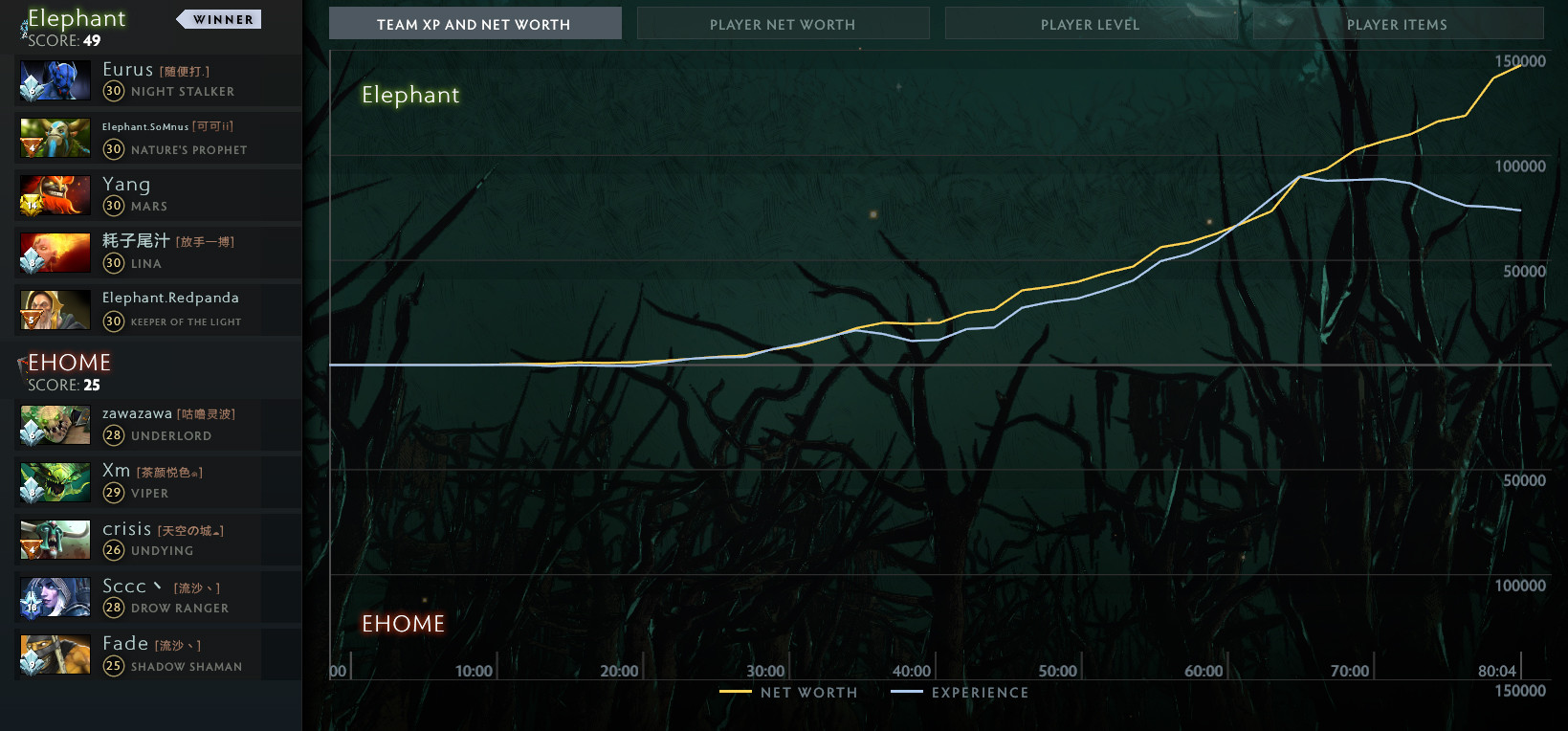 Photo credit: Valve
During these 80 minutes, Elephant were able to establish a networth lead of 154k. Xu '
Fy
' Linsen accumulated 59.5k on his own with Lina. The most farmed player on EHOME's side was Song '
Sccc
' Chun who got to 41.4k with Drow Ranger. Even Elephant's position 5 support Ru '
RedPanda
' Zhihao was able to surpass the enemy carry, as his Keeper of the Light boasted 43.4k – a dream networth for any support.
With all this prosperity, it is important in which items they invested their gold. The richest player fy went for a BKB, Refresher, MKB, 2 Divine Rapiers, Boots of Travel 2, an Aether Lense, Moon Shard and Aghanim's.
EHOME got eliminated by this wealthy performance and Elephant advanced to the Grand Finals. The superstar roster had to play against
Team Aster
who were the reason why Elephant went into the Lower Bracket earlier in the tournament.
In the revenge series, fy and his team learned from their mistakes and took the finals with a clean 3-0. For the newly founded team, it is their first tournament victory. So far, they placed second in the
CDA-FDC Professional Championship
and sixth in the
CDA-FDC Professional Championship Season 2
.
Photo credit: Valve