Only a few days after publicly announcing that they were leaving Absolute Legends and taking up the name of
Space, the mostly Danish squad has found a new home with the newly formed North American organization who produce Dota 2 related YouTube series such as Dota 101 as well as being the organizers of the Dota 2 Collegiate Tournament held in Rochester, New York earlier this year.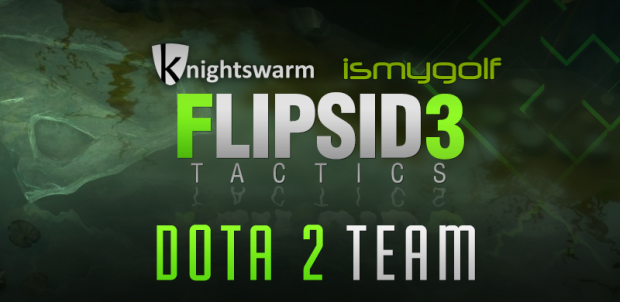 The team has also announced that they've signed an additional exploratory direct partnership with IsMyGolf.com, a company which produces golf stats tracking applications for mobile phones and serve as a social network for golfers globally, who wanted to help fund the teams trip to DreamHack Summer as a means of testing out e-Sports as a viable marketing channel. Reflecting this, the team will go under the name of Flipsid3.IsMyGolf for the duration of the DreamHack tournament, before reverting to their normal tag of
Flip.sid3 Tactics.

The team qualified for DreamHack Summer in the second round of online qualifiers and look to be the most experinced of the qualified teams in a LAN environment. With players such as
Mikkel 'miGGel' Berg being known beasts on LAN and the reset of the metagame with the 6.78b patch, the team stands a fair chance of reaping the full benefits of their recent shake-up, which saw well known support player
Christoffer 'Ryze' Winther take up a carry role for the team, while captain
Brian 'MaNia' Strandby has returned to his traditional place as fourth position support.

The partnership with Flip.sid3 is a natural progression, as key people behind the project were previously also part of Absolute Legends, meaning that they already had ties to the team and their manager. It is however an escalation of the commitment of the young organization to Dota 2 and e-Sports. The experience on both sides of the equation within the business does however help alleviate the usual concerns which some may have regarding new organizations entering the competitive scene.

Statement by
Brian 'MaNia' Strandby - Team Captain



I'm very pleased with how things have went for us, and how fast it has all happened. After our previous sponsorship ended we decided to stick together because we all just enjoy playing with each other and believe in this team regardless of anything. I'm very thankful to both IsMyGolf.com and Flip.Sid3 Tactics for what they're doing for us and how fast they pulled through. It was going to be very hard for us to attend DHS without their help. If you'd like to support us please make sure you visit the campaign link for IsMyGolf.com. They are completely new to the eSports scene and I would personally like to show them, as well as other big companies, how much market value belongs in eSports. Flip.Sid3 went the extra mile and have sponsored us for the long-term, making things go back the way they were if not better. Thanks everyone!

Statement by
Hector 'FrosT' Rosario - General Manager of Flip.Sid3 Tactics



I worked with Samo, Mania, and the guys during my tenure with aL. The departure from aL was a very difficult transition but with the success of the RIT lan my staff and I felt we could justifiably get more ambitious. With the help of sponsors like Knightswarm (who also helped at the Dota 101 Collegiate open @ RIT) and IsMyGolf.com we now have the ability to support a Dota 2 roster. This roster for me was important to get on the Free Agent market because aside from the obvious skill they possess within Dota 2, these guys are great for Dota in general. This group is gracious, honest, supportive of one another, and more important than all of that dedicated to each other. I saw this first hand when I was friends with them during our time with aL and we are so blessed to be able to continue to work with not only good friends but such a talented roster. I want to personally thank Samo and the team for taking the leap of faith with us. I believe I can speak for my staff when I say that we will do everything we possibly can to support this team to the best of our ability and continue to grow in esports. We will need the continued support of fans and the community but I believe very strongly that this team will be around for a very long time.

Statement by
Jesse 'Pandepic' Gill - Software Developer of IsMyGolf.com



At IsMyGolf.com we're excited to be taking our first small steps into the eSports community. We're very happy to have the opportunity to work with a roster of players that have such a good history in Dota, and we're confident that they will provide the Dreamhack viewers with a great experience. I'd also like to thank Flip.Sid3 Tactics for their partnership in this, as a company IsMyGolf is new to eSports and it's great to be working with people that already have expertise in this industry.


Flip.sid3 Tactics Roster:
Brian 'MaNia' Strandby

Mikkel 'miGGel' Berg

Jesper 'Mirakel' Nyhlén

Jonathan 'Unicornxoxo' Arge

Christoffer 'Ryze' Winther


Islam 'Samo' Kenawy (Manager)