The most anticipated and beloved event in Dota finally had a comeback. Diretide is playable again and brings a spooky new game mode, as well as a bucket full of candy in the form of Immortals, effects, couriers and more. The years of spamming "Volvo - giff diretide" under every post of the game developer (and some even messaged the car manufacturer) are finally over: the most anticipated event has returned! Diretide is playable from now until 22 December for free, and there is plenty of content coming with it.




Diretide the minigame


The main part of Diretide is the new game mode that comes with it. To queue for a match, you can simply select it on the right side where you also choose between bot games, normal or ranked matches. The basic principle of the mode: collect as many candy taffies as possible by last hitting creeps and heroes. Whichever team has more candy in their bucket at the end wins one round, and Diretide is in a best-of-three format. The game also comes in a different style, as you can see in this Tweet.



All heroes are available to be picked, and you play as one team of five players against another squad of five. The map is split into two lanes, with waves of special Halloween creeps running at each other. As in common games, your goal is to last hit or deny units, so they drop taffies which you can pick up. If you get killed, you lose your taffy bag and all candy. So you have to go back in time to the team's pumpkin candy bucket in front of the spawn and put all candy inside, where it is safe.

But there is a huge plot twist: a candy-hungry Roshan. He is based in a dungeon in the middle of the map. Once he leaves his home, you can enter the dungeon and pick up a power rune. Just like with his candy, Roshan randomly targets single players and hunts them down. The player being targeted is indicated by a sign above them and a huge warning. There is no way to attack Roshan, so he will simply kill you. Unless you and your team-mates give taffies to him, as this will stop his chase and he then goes for an opponent.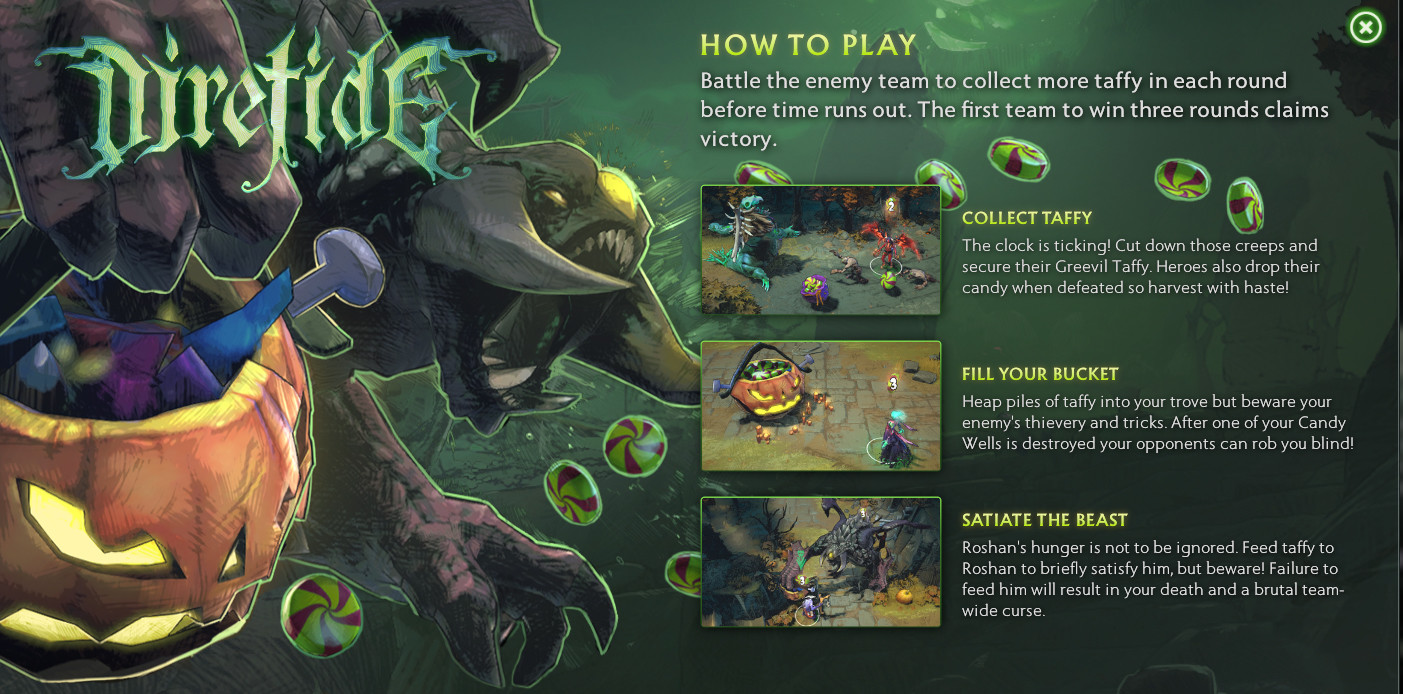 Photo credit: Valve



If you don't give Roshan his taffies but let him kill you, your whole team suffers from Roshan's curse until he charges the next person. This means you get damage over time. Sometimes it makes more sense to keep the candy and let the player die, other times the curse can be crucial.

On top of that, there are scarecrows spawning on top and bottom of the map. Each scarecrow gives 10 pieces of taffy, which is a huge amount. Since the spots are hart-fought, there is a big chance of being killed, so make sure to be really fast and have back-up.


Spooky rewards


Diretide is not just for fun and a candy crush, you also get a plethora of rewards. Players collect points through the Diretide game mode, as well as when playing normal matches. For each 100 points, you will receive one of Roshan's Rewards – and there are many. In total, over 75 items can be acquired, the biggest ones being new chests, couriers and spooky effects.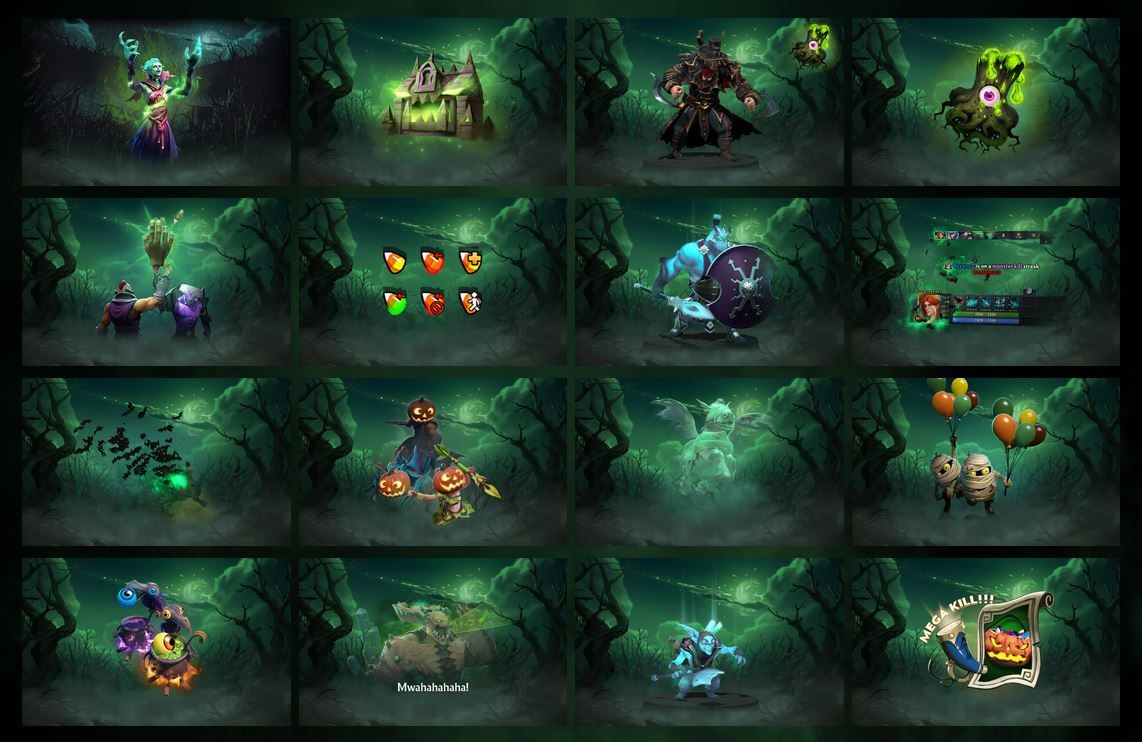 Some of Roshan's Rewards. Photo credit:
Valve
All rewards:


Halloween Chest of the Diretide

Diretide couriers

Ghostly courier effects

Trunk of the Diretide treasure

Shader effect

Diretide Wards

Seasonal Shimmer Bundles

Cursors

Announcers

Mystery Item

Chatlines

Pumpkin Head

Spooky High Five

Emoticons

Sprays

Double-down tokens

Death effect





The most interesting reward might be the Halloween Chest of the Diretide, which contains "60 wondrous creations 5 tiers including contributor sets, Immortals, all-new Immortal Sets and ultra-rare Emblems". However, there is the other side of the spooky coin: to open the chest, players have to purchase a key for $2.50 each.

Valve made an improvement regarding marketability. All items are immediately marketable and also purchasable from other players directly in the client. For more information, you can check out the official homepage of Dota 2.


How are you enjoying Diretide so far?
Photo credit: Valve