An interview with Khezu on the differences between North America and Europe, CR4Zy's decision to shut down the team and how to learn new strategies. Pro player, Dota teacher, Bitburger athlete, streamer, potential rising star on the casting panel: 25-year-old offlaner Maurice 'KheZu' Gutmann has been a part of the Dota 2 scene for five years and succeeded in many roles.

After playing in European teams for several years, the German player switched to North America, where he lasted played on CR4ZY. The organisation unfortunately dropped their Dota roster this month, but the members continue to play as a free stack. We asked Khezu about his experience of competing in NA, the effects of the pandemic on the scene, his educational approach that he also shows in the BITucationals and his experiments with Anti-Mage offlane.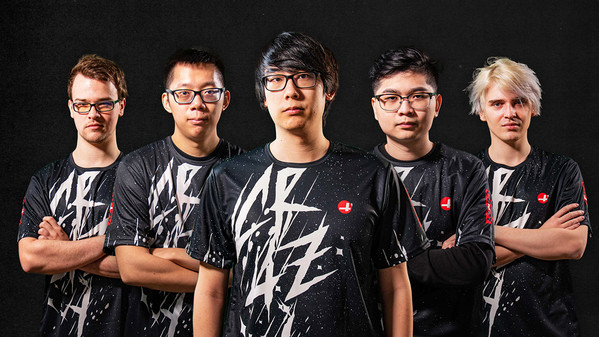 The former CR4ZY stack with their previous carry skiter. hFn took over his spot. Photo credit: CR4ZY





joinDOTA

: You play for CR4ZY, now catJammers, and you are the only European member of the team. Is it draining to play in a different region while being in Europe?



Khezu: It's not that easy, we have to play games until 4-5am. Some tournament organisers try to give us the earliest time slot, so shoutout to them. It's not always great, but I can manage it.



Did you expect CR4ZY to shut down operations completely?



It didn't come as a full surprise, as they are a good organisation and were really transparent. Generally, the pandemic hurt a lot of people in esports and we knew it wasn't very easy for them at the time.



Do you think more Dota teams will be forced to shut down?



I think if you have a good sales team and connections, you can still find sponsors. Other than that, yes, Valve haven't been doing the greatest job when it comes to Dota and helping the tier 2 scene. But they now announced a few tournaments with increased prize pool, so hopefully, that will prevent teams from having to shut down.

What did you learn from playing in NA, compared to your time in Europe?





The games felt like that until I started playing against Quincy Crew, I think they are the most European team of all the NA stacks. Meaning, they actually play very fast and don't really respect their opponents which is a good thing, in terms of they just run across the map and try to kill you. European games are generally played on a very high speed, which is how and why OG won the last two TIs.

In the beginning I was really surprised, because the games were a lot slower. They are more "four protect one"-heavy, everybody tries to have this one Miracle-. Just feed him all the farm and hope he carries you.



Do you think Quincy Crew would have a chance against the European teams at the moment?



Well I don't think they'd stand a chance against Secret, but then again, nobody does. I would probably put them on the same level as Alliance, who are pretty good at the moment.

What are your goals for when the DPC continues?



For now we enjoy playing as this stack and of course we are looking for a new organisation. Until then, we can just try to improve as a team and also become better individually. I would only change back to Europe if there was a really good opportunity.

What are the difficulties you face when trying to balance full-time streaming with competitive play and scrims?



It can be pretty hard. I remember when I was playing for another team, I didn't perform as well in scrims. Let's say I woke up at 6am and then streamed for 10 hours because I felt like it. I already used so much energy in these pubs as I really tried to win every game or read all of the questions I got. When the scrim came around, I couldn't focus and communicate as well. But you expect your team-mates and your opponents to take these matches seriously, and so do you. So you have to take it a bit chill, not play like every game was a TI or say 100 words per minute.

You are known for your extremely deep and analytical knowledge, as your video series BITucationals proves. What is your approach in learning new patches or analysing teams?



Let's say a new patch comes out. Most teams have some really smart people on their roster, and generally, teams will share thoughts with each other. So basically, you just keep feeding information to one another. Then the first tournament is over, and Secret won for the 20th time in a row. It makes absolute sense to watch their replays, or to watch Matumbaman play carry in pubs. Perhaps, the heroes they pick are the same you earlier discussed with your team-mates, so it reassures you that your knowledge about Dota is correct. Or on the contrary, it might show you that you're stupid and have no idea.



How did you discover offlane Anti-Mage, and is it something we'll ever see in officials?





If a spell-casting hero has no mana, you practically killed him anyways. What's he gonna do, Ancient Apparition will right-click you in a fight? I don't think so. You never know if something works until you've tried it. How did OG find out that Io is a mid hero? You just need to try it or see someone doing it.

I really often look at heroes and how to make them work. I play so much Dota, sometimes I get bored by the normal heroes and get creative. There was a time in HON where you could actually play offlane AM. So I just looked at his spells and thought: 'He is so annoying to play against, why wouldn't it work?' The fact that you can just mana-burn your opponents is an underrated aspect of Anti-Mage, I think.

Who are your favourite players to queue into when playing pubs, either on your team or against you?



My number one is syndereN. If he's on my team, I know I have a lane partner that knows what he's doing and it's going to be really fun. Otherwise, I really like to play with or against Matu, or in general, just really skilled people. You know that as an offlaner, you need to try harder. And in general, just people that don't range. There are way too many people who just cry when playing this game.


guys if u pick carry, and you whine the second you dont have 100% freefarm, can you please stop playing carry? im getting so tired of playing with these mentally unstable coreplayers who need to yell in the mic and constantly whine/destroy items, report system srsly needs work

— Maurice Gutmann (@KheZu) October 15, 2020


Thank you for your time. If there is anyone you would like give a shout-out to, feel free to do so.



Twitch

, I stream nearly every day there, so feel free to come by if you have any questions about Dota. We appreciate your support, whether you show it openly on social media or just watch the games. We support all of you and hopefully, we will perform well in the upcoming BTS. Also, shoutout to Bitburger 0,0% who recently started

their new Twitter account

.

If you guys want to support me on

Follow Khezu:



Follow Bitburger 0,0%:




Thank you Khezu for your time and good luck in the upcoming tournament!
Photo credit: Adela Sznajder DreamHack