The second of The Premier League Season 5 cups, named as the "Reaver Cup" has come to its end this evening. Following the previous roster changes of
QPAD Red Pandas, we announced that they will be replaced by
DD.Dota for the remainder of the season.

Aghanim's Cup is the third cup from the upcoming season, which is scheduled to start on the 9th of June at 14.00 CEST.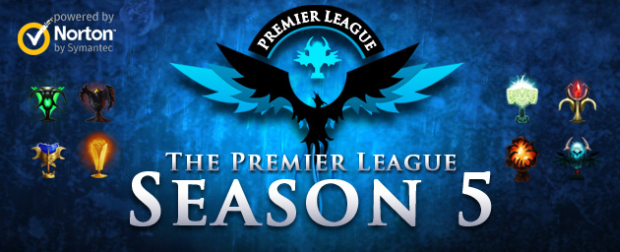 After not attending the first cup of the season,
Aliance took part of this month's cup facing
Fnatic.EU in the first round. Following their win against Fnatic.Eu, the Alliance boys headed straight up in the semi-final of the cup, where they met the runner-up of The Western Qualifier for The International 3,
DD.Dota. Alliance managed to win the game and secure them a spot in the grand final.

In the other part of the bracket,
Evil.Geniuses had some rather tough time in their first game of the cup against
Kaipi, as the game went 86 minutes long, but unfortunately for Kaipi, they didn't manage to take the win from EG, and therefore they were dropped from the cup. Despite of wining their first game of the cup, EG lost in a rather convincing fashion from
mousesports in the second semifinal. With their win over EG, mousesports headed straight up to the grand final of the cup.

The best-of-three grand final kicked off with
Alliance playing against
mousesports. Notably,
Jonathan "Loda" Berg wasn't able to participate in the final games of the cup, and therefore Alliance played with
Johan "smulgullig" Gidmarka a stand-in. In the first game of the grand final, mousesports managed to grab the win from Aliance, as
Adrian "FATA" Trinks made some impressive plays with his signature hero, Puck.

Going in to the second game of the grand final, we had the chance to see
Jerry "EGM" Lundkvist on the carry role. Following the great performance from the boys from Aliance, they ended the second game in convincing fashion, and therefore they went in the deciding third game. In the final game of the cup, Mousesports managed to win over Aliance in a rather intense game, and with that they showed their strenght after wining The Western Qualifier.

In the third place decider, Evil Geniuses were able to overcome Quantic in a best of one series, securing themselves 30 points from the Raver Cup.


Standings:
mousesports - 130 Points

Evil.Geniuses - 130 Points

Virtus.Pro - 50 Points

Alliance - 50 Points

Quantic Gaming - 36 Points

Fnatic.EU - 0 Points

ROX.KIS - 0 Points

Kaipi - 0 Points


Reaver Cup Grid