Zhang 'Eurus' Chengjun was speculated to be Elephant's position one player since rumours around the team started. The Chinese organisation did however deny him as their new carry. Update 05.10.2020

4am already caused some major headlines even before they played their first match. After some back-and-forth information, it seems like Sylar was already kicked from the team again and Eurus will join the line-up indeed. His now team-mate Yao 'Somnus' Lu explained the situation on his stream this weekend.

Allegedly, 4am initially wanted to sign Eurus, but there was an additional fee on top of the usual transfer fees in his contract with Vici. Negotiations delayed the transfer, so 4am allegedly searched for another carry and chose Sylar. It seems like now, the two Chinese organisations found a middle ground and kicked Sylar again, whereas Eurus officially switched teams.

There is however no official statement from Vici Gaming or 4am about the fees and rumours surrounding the case.

4am's final confirmed line-up:





Original article from 02.10.2020

A surprising turn in events: the full line-up of Elephant has been rumoured for several weeks – and it always included Zhang 'Eurus' Chengjun as carry. The player who formerly played under the nickname Paparazi灬 has been praised as one of the most skilled carries in the world for several years. So fans were all the more hyped to see him as part of the new superstar roster.

However, 4am made an official announcement on the Chinese website Weibo this Thursday where they confirmed the entire roster – and Eurus is not included. Instead, the four angry men went for Liu 'Sylar' Jiajun as their position one player. Sylar last played for EHOME and was able to secure three podium finishes at The International in his career.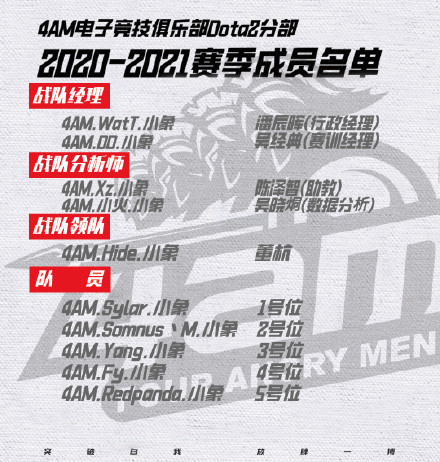 Image source:
Weibo
Which team is Eurus playing for?


One event that hinted to Eurus switching to 4am: the 24-year-old was not included in Vici Gaming's new line-up which they announced on September 15. Eurus has been part of Vici's team for the past three years, but last month, Southeast Asian talent Nuengnara '23savage' Teeramahanon took his place.

There is no information about which team Eurus is going to join next, or why he is not included in 4am's squad.



4am's final confirmed line-up:




What do you think of the final roster?
Photo credit: Mars Media