CIS organisation Natus Vincere recently acquired all players from FlyToMoon on a trial base – and the squad cleared the first hurdle. Following the introduction of Vladimir 'RodjER' Nikogosyan's major winning presence to the team on September 20, the former FlyToMoon squad was signed to play for Natus Vincere on a trial basis for the OGA Dota PIT Season 3: EU/CIS and ESL One Germany: 2020 tournaments. With the team coming off some recent success under the FlytoMoon banner, it remained to be seen how they would perform with a new roster and organization.

During the closed qualifier for this event, team FlytoMoon beat the recently formed 5 men roster 2-0 and defeated Ninjas in Pyjamas in a close 2-1 series, which secured their team a spot in the main event. 5 Men battled back through the lower bracket to also qualify for the main event. With 6 of Europe's strongest and most prestigious Dota organizations being directly invited, the victors of the closed qualifiers certainly have their work cut out for them in their games against the veterans.

For their first game of the main event, Na'Vi were matched up against the The International 2017 champions, Nigma. While Nigma was admittedly playing without their captain Kuro S. 'KuroKy' Takhasomi, the team's coach Roman 'rmN' Paley was there to fill in playing their position 5 hard support. Despite these circumstances, the victory here is a very meaningful one for the fledgling Na'Vi roster, who's organization must be thrilled with the performance of their recent acquisition.


One lost teamfight against Spectre swings Game 1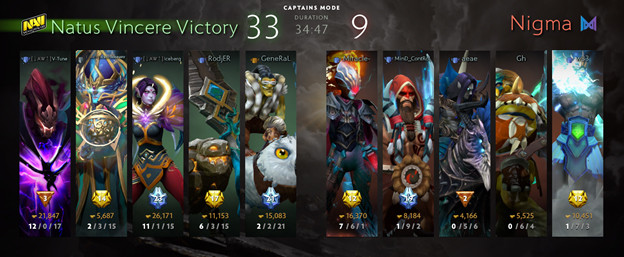 Amer 'Miracle-' Al-Barkawi's Phantom Assassin interestingly didn't spend any time farming on his own in this game, instead electing to get incredibly active early with the rest of his team, applying extensive pressure from 7-15 minutes. He supplemented this playstyle by building extremely early oriented items with a build that featured Drums of Endurance into a Desolator.

Despite an early lead for team Nigma, which they achieved off the back of this extremely aggressive 5 man playstyle, this fresh Na'Vi squad was able to weather the storm. Nigma's early timing-based draft was put in a very difficult position, where losing a single fight against their opponent's Spectre line-up could prove fatal for their chances in this game.

That decisive teamfight erupted around 20 minutes, resulting in Na'Vi being able to quickly wrestle control of the game back, and was enough to put a stop to the insane aggression coming out from the Nigma line-up. Following this swing of momentum, Na'Vi played an extremely tight game, only giving up one more death on the way to taking down Nigma's Ancient. A lot of credit here is due to Andrey 'alwayswannafly' Bondarenko's excellent Oracle play, which prevented Nigma from bursting down any of his team-mates in the limited duration of their stuns.




Miracle's Arc Warden is hunted in Game 2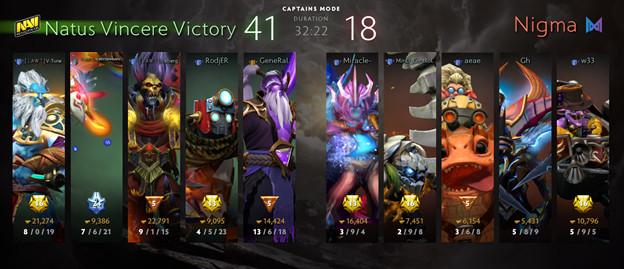 In the second game of the series, Na'Vi put extensive pressure onto Miracle's vulnerable safe lane Arc Warden. Despite rmN's best attempts to Cookie his carry out of Clockwerk's Cogs, Miracle took three early deaths in the laning phase and struggled initially on the way to his Midas.

Omar 'w33haa' Aliwi's mid Timbersaw got off to an excellent start against Bogdan 'Iceberg' Vasilenko's Doom, securing more creeps thanks to Whirling Death, and allowing him to pick up a very quick first item Rod of Atos. Though the Timbersaw looked scary during the early stages of the game, Na'Vi would find answers to kill him during the midgame. Alik 'V-Tune' Vorobey's first item Hood of Defiance build allowed him to get involved early on during the point when Timbersaw was at his strongest, and Phantom Lancer actually showing up to those early game fights caught Nigma off guard.

As the midgame began, Na'Vi's gameplan for the second game began clearly coming to fruition. They mercilessly hunted Miracle's Arc Warden across the whole map, not permitting him to find any time in the jungle to get his items online. Because of this immense pressure, Miracle took 6 deaths by 15 minutes, and once Spirit Vessel was completed, w33's Timbersaw also began dying in some of the fights.

By targeting Miracle so extremely heavily, Na'Vi were able to prevent Nigma's win condition from becoming a credible threat in this game. This clip shows how deeply Na'Vi continued to hunt in order to catch out the Arc Warden, a strategy that carried them to a decisive victory in this series.



As the game progressed Na'Vi accumulated an even greater gold lead, and their excellent core match-ups who could close the distance on Arc Warden continued to shine through. This all proved to be too much for Team Nigma, who lost the second map and were dropped down to the losers bracket by this outstanding performance from Na'Vi.

We should continue to expect fantastic things from this new Na'Vi roster, who have shown today that they can take convincing series off some of the best teams in the world.


Do you think RodjER will continue to fit in so successfully with this new lineup?
Photo credit: Valve