More roster-shuffles are happening. In the Chinese region, the big powerhouses all changed up their rosters. PSG.LGD made some particularly heavy adjustments, since they removed all their players.
LGD: a whole new team


For years, PSG.LGD has been one of the strongest teams in the region, as well as on the international scene. The latest roster was able to establish themselves as a powerhouse that constantly finished in the higher ranks of larger LAN events. The players have been part of the organisation for multiple years, with Yao 'Somnus' Lu playing for the team since 2015.

Now this era comes to an end as all five players have left LGD. The organisation assembled an entirely new squad, including a different but well-known coach: Zhang 'xiao8' Ning returns to the team. The legendary coach used to play for LGD for several years from 2011 onwards. After a short time where he won The International 2014 with Newbee, he joined LGD again in 2015. Now he will take over the role as coach at LGD for the first time.

Most recently, xiao8 worked as coach for EHOME. Conveniently, he simply brings over most of EHOME's squad: four of LGD's new players were recently part of EHOME – only Wang Chun 'Ame' Yu is a new addition.



LGD's line-up:






EHOME: Sccc is back


You might be wondering what happened to EHOME since all their players went to a different team. Two of LGD's former members switched places and are joined by three other well-known faces in the Chinese scene.

Most notably: Song 'Sccc' Chun stages a comeback after a tiny break of only a few days. In a stream prior this week, the carry announced that he is going to take a break from playing competitively since his contract with Team Aster was not renewed and he could not find a team he wanted to join.

EHOME's line-up:






Vici Gaming: 23savage changes regions


What's better than one talented carry? Two of them! 11k player Nuengnara '23savage' Teeramahanon from Thailand switches regions and is now part of Chinese organisation Vici Gaming. However, the team has listed another carry. Yang 'poyoyo' Shaohan takes over his place for all upcoming matches until 23savage can secure his visa.

As well as their position one player, Vici also switched up their offlaner. Zhou 'Yang' Haiyang left the team, and Yang 'Eleven' Wei Ren will play on the offlane in future.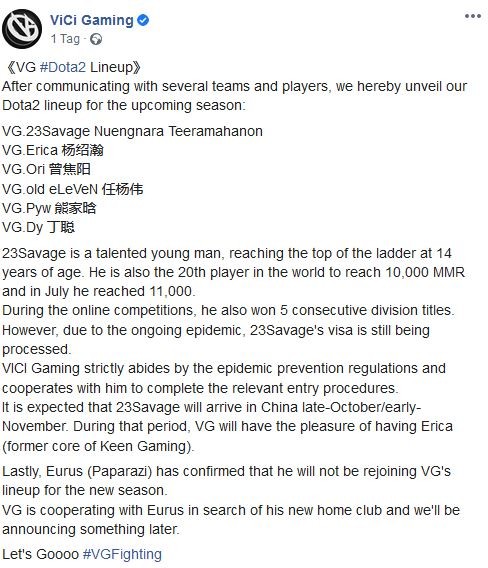 Image source:
Vici Gaming Facebook
Vici Gaming's line-up:
Photo credit: Valve