While Artem 'fng' Barshack now got picked up as permanent member of his new team, the former Geek Fam players formed a fun stack with other Southeast Asian free agents.
fng now officially part of Alliance


Belarusian support player Artem 'fng' Barshack is now officially part of Alliance after playing for them as a stand-in over the past four months. fng was still under contract with his former team AS Monaco Gambit, but as it expired earlier this month, Alliance were now able to make him an official member of their squad.






Karl returns to Execration


As Southeast Asian organisation Geek Fam recently shut down their Dota roster. Their former players are now free agents and searching for a new team.

Karl Matthew 'Karl' Jayme got signed by Execration, as the Filipino organisation announced on Facebook this Wednesday. Karl has already played for the team back in 2018, but his popularity in international scene started when he joined Geek Fam last year.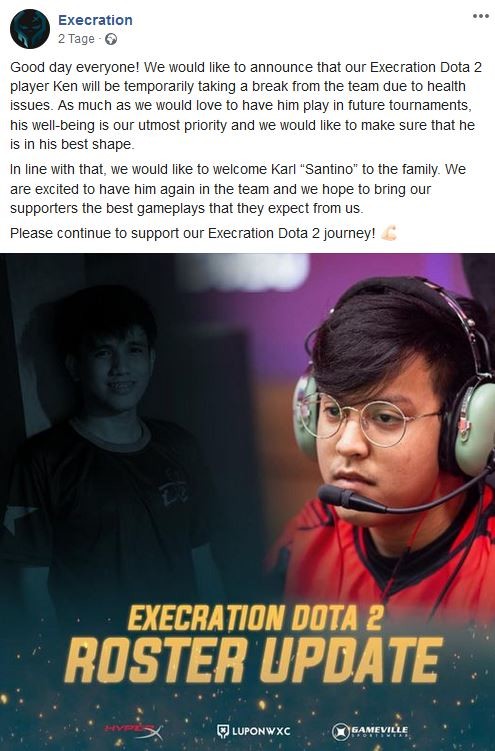 Image source: Execration
Twitter
SEA fun team assembled for upcoming BTS


Not only are Geek Fam's former players looking for a new squad, there are several other talents in the SEA region that are currently free agents. Five of them simply formed a new fun squad called Among Us for the upcoming BTS Pro Series - SEA #3.

Carlo 'Kuku' Palad and Matthew 'Whitemon' Filemon, who recently played for Geek Fam, were joined by two former Fnatic players: Nuengnara '23savage' Teeramahanon and Anucha 'Jabz' Jirawong.

23 already left Fnatic back in July, whereas Jabz departed the team on Wednesday. 11k player Abed 'Abed' Yusop completes the free stack, as he is still not able to play with his actual team Evil Geniuses due to region restrictions.






ppd might return to the competitive scene


In April 2020, Peter 'ppd' Dager's retirement surprised the Dota scene. The 28-year-old support player counts as one of the most successful and impactful personalities, especially in the North American region.

While he did not participate in any official tournaments or qualifiers since his announcement, he now considers returning to the scene, as he shared in his latest Twitch stream. However, the The International 2015 champion does not have any plans to return immediately, but rather follows Clinton 'Fear' Loomis' example and will "chill out and see where things are at in like January".

Valve recently announced they will most likely resume the DPC in January or February 2021. For ppd, it is not his first break as professional player. In 2016, he switched from playing for Evil Geniuses to managing them as their CEO.



Photo credit: WePlay! Esports