Get your wallets and invest into level 445 of the Battle Pass: the Queen of Pain Eminence of Ristul Arcana is available. Make way for your queen! Our upcoming pubs just got spiced up with the next Arcana. Valve added the new item to the game on Thursday and it seems like the most part of the community lies under the succubus' spell – or in the words of Team Secret's social media manager: "I can see we all enjoy simping in the morning".

The Eminence of Ristul is classified as Arcana, therefore it brings much more than a simple outfit for QoP. The set comes with a new model, icons, exclusive voice-lines, attack and ability animations, several more assets and an unlockable alternative style. On top of the cosmetics, a new comic gives more insights into her lore.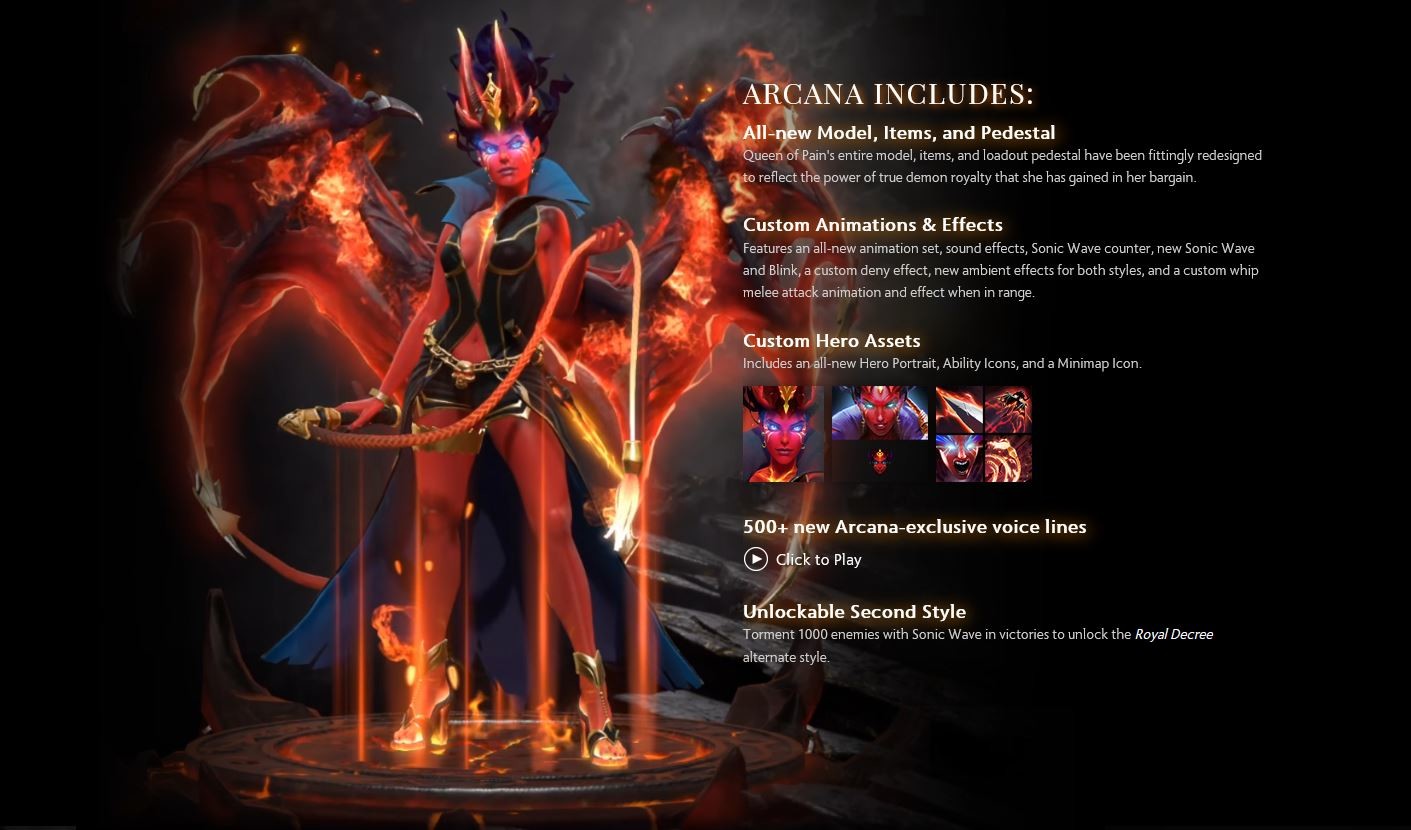 To give the Queen an appropriate entrance, the Arcana was introducted with a short clip that you can find below. Animator Dan Paulsen worked on the feature, so check out his Twitter account and show support if you like the new cosmetics!




Simping over QoP or banning her in your pubs? Social media reactions


Every huge release creates a wave of different reactions, memes and opinions. So without further ado, let's jump right into some reactions from the community and Dota personalities on social media.

The Arcana comes with an alternative style in a glowing light blue. To unlock the second version, you have to "torment 1,000 heroes with Sonic Wave in victories". Fans were quick to point out that QoP's alternative set resembles Vengeful Spirit. The blue comes in a similar shade, both heroes have a pair of wings and their hair glows in a white colour. Even Wykrhm Reddy jumped on the meme-train with his Tweet:



In general, the community seems to approve of the Arcana. Reddit user Gwabledude perfectly summarized the general consent on Reddit where most responses should fit in right into QoP's likings.



QoP has always been an incredibly popular hero. According to Dotabuff, she has been picked over 20,700,000 times in total, which amounts to a pick rate of 9.29%. Nonetheless, the community also asked for a new in-game model since QoP has one of the oldest unchanged designs in the game. The demand for an updated model also caused this meme:



Artour 'Arteezy' Babaev has a different reaction to the new set: He asks to ban QoP in everygame. What will you do, ban the Queen or pick her yourself?



As mentioned earlier, Valve has also released a new comic. Needless to say, lore master and detective Jake 'SirActionSlacks' Kenner got quite excited about the new content. It is probably safe to say that we can expect a new Loregasm video from him soon where he dives deep into the backstory of Akasha, the Queen of Pain.


Yall thirsty bois and girls droolin over the new QOP set but u have no idea the true aphrodisaic that is Valve finally releasing another lore comic

— SirActionSlacks (@SirActionSlacks) June 12, 2020


Speaking of new content, the comic also featured a new character: Kor, the Demon Lord and brother to Akasha. Wykrhm highlighted the panel where Kor appears and now the first rumours of him being a potential new hero are spreading through the Dota universe.



Now that you've seen the new Arcana, you might head over to your Steam wallet and invest into upgrading your Queen with new cosmetics, voice lines and animations. Or do you not even like the new set? Tell us your opinion in the comments below!



You can find more information on the new Arcana on the official blogpost from Valve.


What do you think about the QoP Arcana: simp or ban?
Photo credit: Valve