With the recent roster changes announced by
LGD.CN there were some questions raised surrounding the invite to The International 2013 and if changes to the roster would make the invitation invalid. This has now been confirmed as Valve have made changes to the offical tournament page in order to reflect
TongFu having replaced last years third placing team as one of the direct invites, while LGD.Cn now is found listed under the teams for the Eastern Qualifier.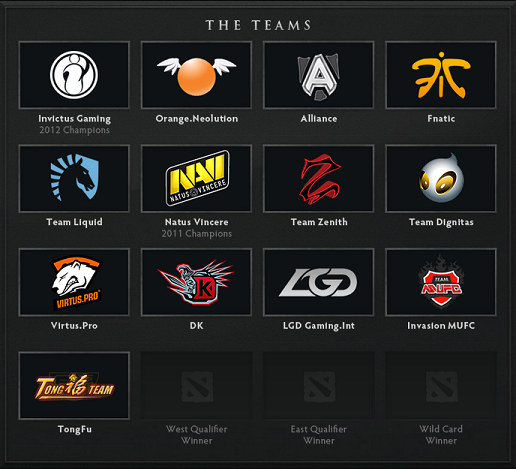 LGD management were aware of the possible problems when they made the roster changes, displayed in their statement published on their facebook page:



Last but not least, The International 3 invite. We are waiting for Valve's decision but no matter what they decide, we will respect it.

Following Valve going public with their decision, LGD posted another facebook update with the following statement to their fans:





We totally understand Valve's decision, and we hope that you will do the same. We apologize for all those we disappointed, but we will not let you down. We will prepare for the qualifiers, and we will go to Seattle!

Valve made the announcement official, our Chinese team has been replaced by TongFu for The International 3. We will be playing in the East qualifier later this month.

The world will now watch the team which didn't drop a single game during group stages of the previous International battle through the Eastern Qualifier from the 20th of May, allowing Tongfu 3 months to prepare for the trip to Seattle without the concern of getting through the qualifiers.

While this may make the qualifiers seem a done deal, the fact that LGD were unhappy enough with their scrim results to risk losing their invite in order to change their roster does indicate that they may require every moment up until the qualifiers in order to prepare in order to face the on form
ViCi Gaming and
Rattlesnake. This is ever the more true as early word from LGD has it that
Leong 'DDC' Fatmeng will return to playing support, undoing a months worth of practice with the new lane setup from the team.




Zhang 'xiao8' Ning (Captain)

Leong 'DDC' Fatmeng

Lio 'Sylar' Jiajun

Yao 'Yao' Zhengzheng

Xie 'DD' Bin




Chen 'Hao' Zhihao

Zhang 'Mu' Pan

Wang 'SanSheng' Zhaohui

Wang 'Banana' Jiao

Yang 'KingJ' Zou