The qualifiers for ESL One Los Angeles 2020 are in full run. Especially the European region is stacked with powerhouses – but only three teams can occupy a slot for the Major. Let's take a look at the first day of the EU qualifiers.
Nigma: Still struggling


Second place at The International 2019 – cut: three losses against tier-2 teams in qualifiers. Nigma are still not back on track.

They first encountered Vikin.gg who completely demolished Nigma with a last pick Meepo in the first round. Miroslav 'BOOM' Bičan had a stellar performance with Meepo mid, finishing the match with a 12/2/6 score line and over 22k networth.

Nigma did not accept this defeat. In game two, they quickly claimed their revenge. Amer 'Miracle-' Al-Barkawi rushed for a Divine Rapier at only 21 minutes and carried Nigma to victory on Medusa (8/0/5).



However, Nigma weren't able to keep up the pace and lost their next series against Aggressive Mode 2-0.

The TI9 runner-ups had the upper hand for around 35 minutes in game one. Especially Omar 'w33haa' Aliwi dominated the game with his 17/3/14 Void Spirit, contributing to nearly all of Nigma's kills. But the team fell to the hands of Oliver 'Skiter' Lepko's Anti-Mage whom they couldn't kill once.

However, Amer 'Miracle-' Al-Barkawi displayed a neat juke on Spectre in the match you should definitely see:



Nigma didn't stage a comeback afterwards. After 39 minutes, the team had to surrender against AM. Once again, Skiter had a strong performance, together with Dusko 'Boranija' Boranijasevic. Even Ilya 'Lil' Ilyuk joined the ranks of double-digit kills with Snapfire.

Nigma's draft lacked damage to kill AM's cores. Their last pick Night Stalker came with a huge delay, even causing the casters to speculate whether it was a random pick since the time has been running out. The team currently stands on third place of their group with a 0-1-1 score. Next, they will have to face Team Secret and OG Seed, with Secret being an incredibly difficult opponent to overcome.




OG Seed: Still more polishing needed


World champion trainees OG Seed had a rough start. Their first opponents were the current reigning Major winners Team Secret who count as the strongest European team in the DPC 2019/20 season so far. As expected, Secret won all their matches by now and therefore also dominated OG Seed 2-0, leaving them no chance at all.



Their matches against AM proceeded to be a way more even, resulting in a 1-1. Skiter once against had two strong games. Rasmus 'Chessie' Blomdin could keep up with his skill and showed he is no joking matter, turning around a gank and getting a double kill with Magnus in game two.




Alliance: Still one of the top contenders


Alliance count as one of the strongest European teams. They fell 2-0 to OG Seed, but also won their series against Team Singularity 2-0, getting them to the second place of group B.

The first game against Singularity was a textbook stomp. After 24 minutes and a 28-2 score, they claimed the first map. Captain Adrian 'Fata' Trinks had an outstanding match on his 10/1/10 Oracle. His only death was a deny, therefore not giving any gold to Singularity.




Team Liquid: Still moderate success


In their most recent appearances, Team Liquid were neither oustandingly good nor disappointingly bad. Their qualifier run aligns with this trend. They finished both their matchups, against Ninjas in Pyjamas and Singularity 1-1 each.

Once again a Magnus turned a fight around with a perfectly used Reverse Polarity, this time on Steve 'Xcalibur' Ye against three of Liquid's heroes.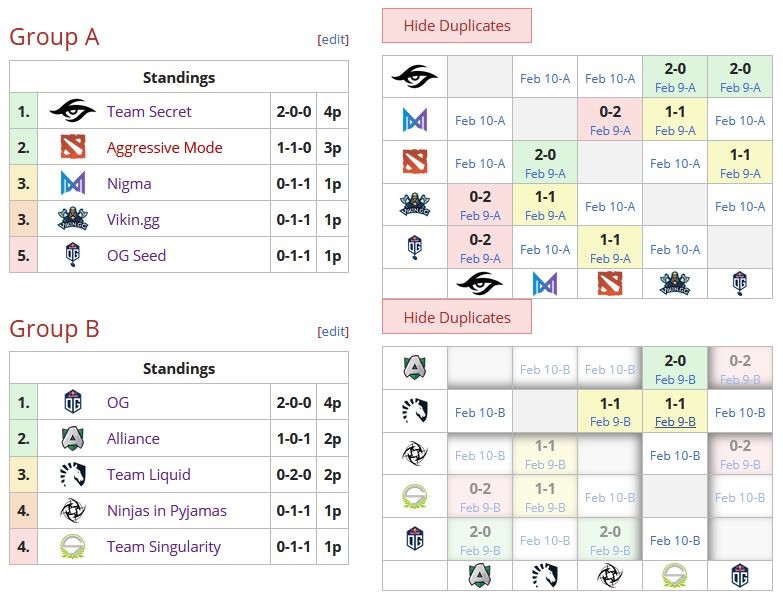 Picture source: Liquipedia
Photo credit: WePlay! Esports