PSG.LGD are one of the best Chinese teams, but this season has been a disaster for the TI contender of the last two years. This is why they decided to exchange one player. It's the first official roster change since January 1, 2018.
*UPDATE* 02/12/20 - ASD joins LGD


Only five days after the roster change, LGD swap their carry once again. According to LGD's Weibo account Lai Jay 'Ah Jit' Son didn't fit the team and he will be replaced by Li 'ASD' Zhiwen.

20-year-old carry ASD most recently played for the Chinese team Revive. However, his biggest success so far occured under EHOME. With them, ASD claimed the first place at The Bucharest Minor and participated at two Majors in 2019.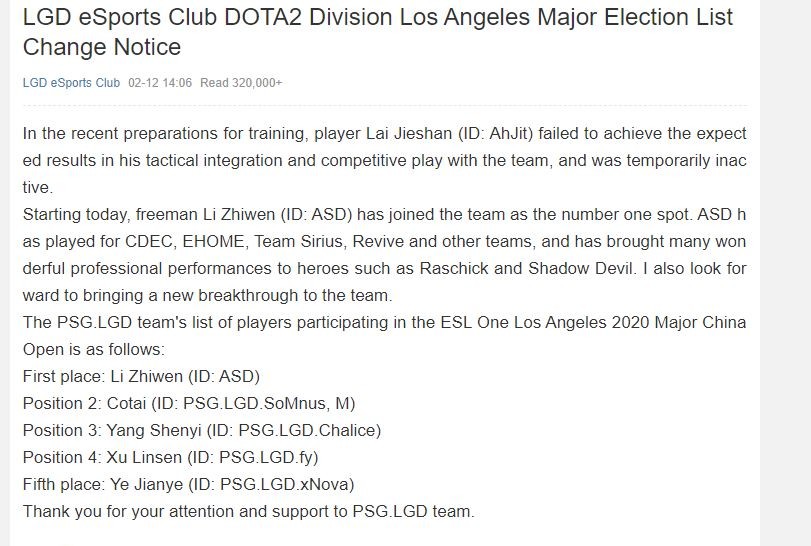 Google translated from Weibo



Xu 'Fy' Linsen wanted to take a break after finishing third at The International 2019 and because of that the whole squad decided to withdraw from the first DPC qualifier of the season.

Back in action in October, LGD tried to qualify for the second Major in Leipzig, but failed terribly: they didn't even make it through the Open Qualifier. For the first time in two years they decided to exchange a player:



Wang Chun 'Ame' Yu has been one of the most promising carries of China for a couple of years, but PSG.LGD still decided to transfer the 22-year-old star to CDEC Gaming. Now, LGD signed the CDEC carry Lai Jay 'Ah Jit' Son.

It's a huge step for the organisation, because Ame played for the Chinese squad since September 2016 and was one of the reasons why LGD became one of the best Chinese teams of their time - or maybe even the best.

Ahjit, on the other hand, is a 21-year-old Malaysian carry who had some promising results on teams such as Tigers and Mineski, but he's still waiting for his big breakthrough.

Lineup PSG.LGD


Lai Jay 'Ah Jit' Son

Yao 'Somnus' Lu

Yang 'Chalice' Shenyi

Xu 'Fy' Linsen

Yap Jian 'xNova' Wei


What is your opinion on Ah Jit? Can he help LGD qualify for a Major?
Photo credit: Valve