North American player Zakari 'ZfreeK' Freedman strikes a new path: for the upcoming DreamLeague Season 13: The Leipzig Major qualifiers, he joins the new team 4 euros 1 murica with four more European players, as the name suggests. On Monday, November 25, the new squad was registered on Dota 2 Major Registrations. So far, there haven't been any statements from the players on their social media.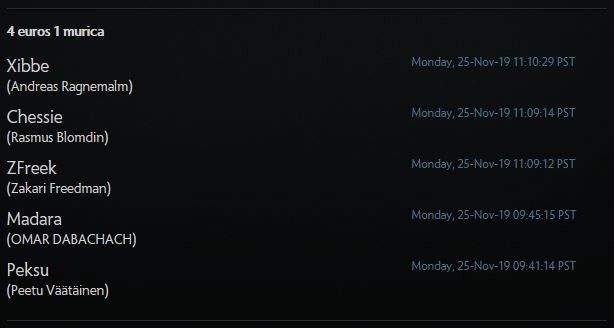 Photo credit
: Dota 2 Major Registration
New team, old connections


For the "Murican" support player Zfreek, this could potentially be a big step. He played for compLexity Gaming for almost five years but eventually left the multi-game organisation this August, after they were not able to qualify for The International 2019. Throughout the years, there have been many voices in the community acknowledging his talent, but claimed he couldn't completely display it under his former team. With a new roster constellation, he might now be able display to his abilities to the fullest.

Back in his coL days, he used to play with mid-laner Rasmus 'Chessie' Blomdin who he will now be reunited with. Cheesie on the other hand lastly played with fellow countryman and support player Andreas 'Xibbe' Ragnemalm on GODSENT and The Final Tribe.


A whole new world for Zfreek?


Joining a new team might not the only new ground Zfreek he is breaking. So far it has not been announced in which region the team will compete. If they will play in the European qualifiers, it would be the first time for him to play for another region than North America.

However, despite having four Europeans on their squad, it would be a more convenient move for them to travel to Zfreek instead: the competition in NA is currently way less fierce than the European deathzone with powerhouses such as Nigma, Team Secret and OG.


Do you think the team has a chance to make it throught the DreamLeague Qualifiers?
Photo credit: Complexity, Epicenter