Pan 'Fade' Yi surprised us with his retirement two weeks ago. In his opinion he disappointed his fans too much. However, he already cancelled his retirement plans and headed back into the game. He will join Team Aster.
Xu '
BurNIng
' Zhilei had huge ambitions by the start of the last Dota 2 Pro Circuit. The Chinese legend decided to form a new organisation and recruited stars such as Lu '
Fenrir
' Chao and Ye '
BoBoKa
' Zhibiao to claim China's throne.
Team Aster without success
However, the squad was merely successful in the first two Major qualifiers, but at the Major tournament itself they didn't win any important match: Aster finished last place in both
Chongqing
and
Kuala Lumpur
.
They swapped players, picked Chai '
Mushi
' Yee Fung for example, but still didn't find any success. The worst blow was the missed qualification for
The International 2019
. Aster finished only 5th place in the Chinese qualifier.
New roster, new success?
BurNIng decided to switch things up again and recruited some world-class player from his region with Ye '
BoBoKa
' Zhibiao and Lin '
Xxs
' Jing. The same goes for Kee Chyuan '
ChYuan
' Ng who joined the squad in April on trial base.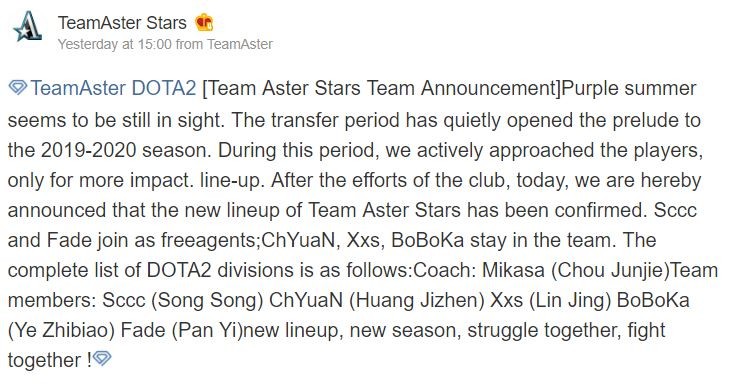 The new carry of the team is Song '
Sccc
' Chun who played for
Newbee
almost three years. He'll switch to position 1 instead of playing the mid-lane.
The last addition to the team is Pan '
Fade
' Yi who comes back out of retirement after barely two weeks.
What do you think about his quick comeback?
Photo credit: ESL