Next to Team Liquid, Virtus.pro was one of the longest standing rosters in the scene. But just like Kuro's classic five-man roster VP's has come to an end.
UPDATE: September 05


Virtus.pro have just announced that Pavel '9pasha' Khvastunov has left the team and is going to join Natus Vincere. There he is going to replace Evgeniy 'Blizzy' Ree who is going inactive. Coach Arsenii 'ArsZeeqq' Usov is also going to leave the team.



Original news


"If you don't break TI, TI breaks you."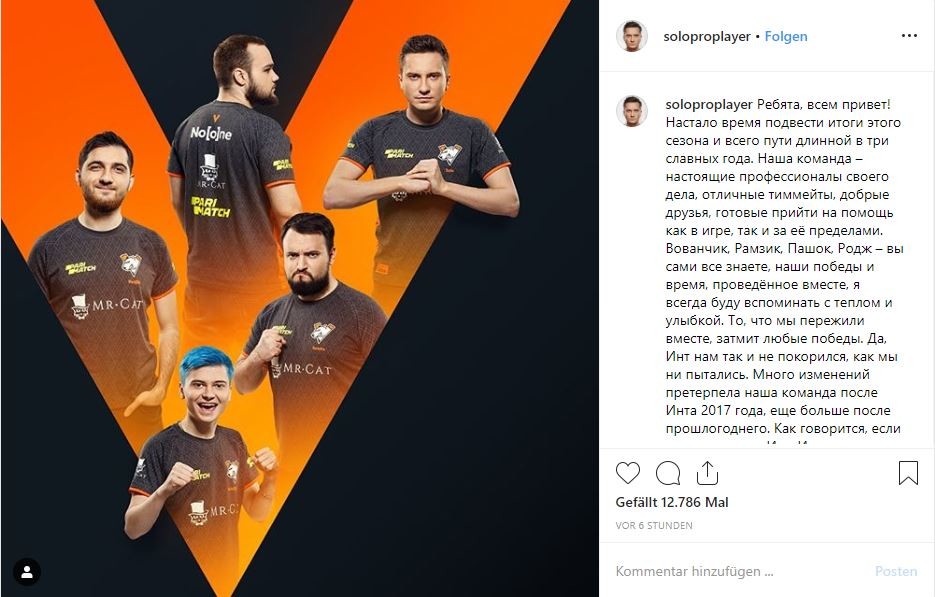 What looks like a sponsor picture of the five-man roster, could actually be a farewell message of Aleksey 'Solo' Berezin to his team if you read the text next to the picture.


Original text:






Всех нас ждут перемены. Состав Virtus.pro сильно изменится в этом году. Я возвращаюсь на пост капитана команды и со всей ответственностью заявляю – мы станем еще сильнее. Уже сейчас мы понимаем, по какому пути хотим пойти, но не будем делать громких анонсов о новых игроках прямо сейчас, запаситесь терпением. Большое спасибо всем, кто следит за нашей командой, кто поддерживает и болеет за нас в момент взлётов и падений. За эти три года мы объединили многих людей под своими знаменами, и семья VP по настоящему сильна и огромна.

Ребята, всем привет! Настало время подвести итоги этого сезона и всего пути длинной в три славных года. Наша команда – настоящие профессионалы своего дела, отличные тиммейты, добрые друзья, готовые прийти на помощь как в игре, так и за её пределами. Вованчик, Рамзик, Пашок, Родж – вы сами все знаете, наши победы и время, проведённое вместе, я всегда буду вспоминать с теплом и улыбкой. То, что мы пережили вместе, затмит любые победы. Да, Инт нам так и не покорился, как мы ни пытались. Много изменений претерпела наша команда после Инта 2017 года, еще больше после прошлогоднего. Как говорится, если ты не ломаешь Инт, Инт ломает тебя.


Text translated via Google Translator:







A change awaits us all. The composition of Virtus.pro will change a lot this year. I return to the position of team captain and declare with all responsibility - we will become even stronger. Already, we understand what path we want to go, but we will not make high-profile announcements about new players right now, please be patient. Many thanks to everyone who follows our team, who supports and cheers for us at the time of ups and downs. Over these three years, we have united many people under our banners, and the VP family is truly strong and huge.

Hi guys! It is time to take stock of this season and the entire journey of three glorious years. Our team consist of real professionals, excellent teammates, good friends who are ready to help both in the game and beyond. Vovanchik, Ramsik, Pashok, Rog - you yourself all know, our victories and the time spent together, I will always remember with warmth and a smile. What we have experienced together will eclipse any victories. Yes, TI never submitted to us, no matter how hard we tried. Our team has undergone many changes since TI 2017, even more after last year. As they say, if you don't break TI, TI breaks you.

Solo starts off reminding us of all the great moments the VP squad had together, but he also explains: "if you don't break TI, TI breaks you." VP had two good seasons in a row, finished 1st in the first DPC and 2nd this time, but TI was never a success. They've been a favourite for three consecutive years and still they're waiting to lift the Aegis.

This year was a huge disappointment: again they were the favourites, but they lost all their games in the main event and were eliminated in round 2 of the Lower Bracket.


"A change awaits us all. The composition of Virtus.pro will change a lot this year."


Rumours were spread that the constellation of VP won't work for another season and with the phrase "[a] change awaits us all", Solo doesn't just refer to a strategy change or position swapping inside the team, but an actual change of the roster. This is a huge step, because the last time they exchanged a player was on February 1, 2018. More than one and a half years later VP could be giving up on this roster constellation.

Only one thing is for sure, right now: Solo will come back as a captain and form that team to finally win his first Aegis.


Will VP split up?
Photo credit: Valve