This DPC season has seen a CIS team come second in every single event bar one so far.
The great unsettling


The CIS region was thrown into chaos coming up 5 years ago, starting with the departure of Clement 'Puppey' Ivanov and Kuro S. 'KuroKy' Takhasomi from Natus Vincere; a seemingly disappointing performance at TI4 left the pair venturing off for new successes. Obviously a big stir was caused by the creation of Team Secret, the ultimate all-star line-up, but the spaces on Na'Vi, and alongside Danil 'Dendi' Ishutin, were in the spotlight in equal parts.

The prestigious organisation wasn't just adored amongst fans, but to play alongside Dendi, XBOCT and Funn1k was a chance to play with the best of the best. When an opportunity this big comes along, players were willingly leaving long-standing rosters just to have a shot at being on the Ukrainian organisation.

Eventually, after many chops and changes, the dust settled. Na'Vi had rotated through some big names in the CIS scene, amongst some lesser known ones. The damage was done, and rosters had been pulled apart bit by bit, and instability had ensued. From the ashes, arose the new all-star team of the region; Virtus.pro. Featuring veterans and wonderkids alike, VP's reign of the region began with very little competition.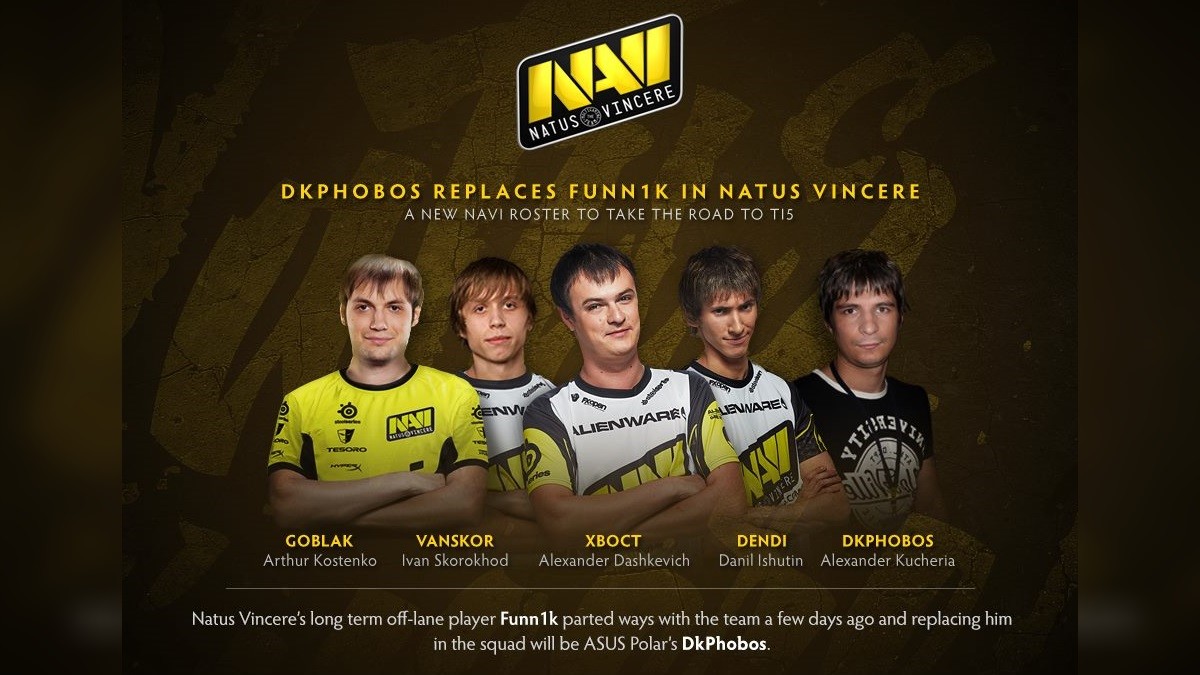 Image credit:
Wykrhm Reddy
Dominance of VP


VP's reign began strong. They won their first competition together, BTS Europe, then promptly qualified for The Summit, Dota Pit, the Boston Major, ESL One Genting and DreamLeague. They won The 6th edition of the Summit, beating an in form OG – somewhat of a surprising victory for the bears.

The rest is history, VP have been largely uncontested in their region, holding the number one spot for almost three years now. Challengers in the likes of Vega Squadron (EU), Team Empire, have come and go but none have outlasted the seemingly endless success of Virtus Pro. None in any region could match the consistent success that VP have experienced, let alone a team in their own region.



Recently, we've seen some CIS teams resurface. With VP being in the final of every single Major so far, the lesser noticed trend is that there has been a CIS team in the final of every minor so far as well. Whether it's AS Monaco Gambit or Na'vi, the scene is certainly pulling its weight. In addition to this, Empire's recent performance qualifying them for the Major was a sight to behold. Their games were fierce and surprisingly close, even when facing up against an in form Virtus Pro themselves.

So with VP and Empire at the major and Gambit once again attending the upcoming minor, there are more opportunities for teams to shine. If Gambit can keep up their recent form at minors, they stand a chance of qualifying for the major too.


New contenders: a quick look


A wealth of CIS teams have surfaced, all on the fringes of the second tier of the scene.




As the name described, Old But Gold consists of veterans of the CIS region. Still not past their prime, Ilya 'Illidan Stormrage' Pivtsaev, Sergey 'God' Bragin, Stanislav 'BzzIsPerfect' Glushan, Fedor 'velheor' Rusihin and Ivan 'Vanskor' Skorokhod team up in what could have very easily have been a VP or Empire roster many years ago. One of the first teams to find their footing in the recent prominence of CIS teams, they placed 3rd / 4th at the StarLadder Minor. Recently failing to qualify for the Disneyland Paris Major, with a bit more time together this roster could very easily excel.





Mostly formed of ex-Vega Squadron players, Cema captains the diverse CIS team. Attending the Major but placing last was not a surprise for many, but the team showed promise to even qualify in the first place. Achieving some level of success in smaller tournaments, namely WePlay! tournaments, the roster were by no means a roster that teams wanted to play.





The surprisingly successful roster from the CIS region features formidable captain Artem 'fng' Barshack. For a while a few years ago, Fng was one of the most sought after players, showing his incredible in-game leadership and insane support skills. In this roster, he's joined by veterans of his region, Andrey 'Afoninje' Afonin and Vasily 'Afterlife' Shishkin, alongside newbies to the professional scene, yet the very talented Nikita 'Daxak' Kuzmin and Aleksander 'Immersion' Khmelevskoi.

So far they have come closest to challenging VP's spot in the region – however far away they may be. This DPC season they have claimed two runner-up spaces in Minors. However, when contextualised, the difference between the two teams are a world apart – in their matchups Gambit has only taken one game from VP.





Team Empire is somewhat similar to Gambit's situation, featuring two veterans of the scene and three new players. An investment in their future, kodos-, Oleg 'sayuw' Kalenbet and Kyal 'dream'-' Tayirov are all relatively new to the professional game. Many would have written this roster off as a low tier team, but they've proved themselves quickly in recent weeks. Many will be excited to see them cause some upsets at the Disneyland Major.

Ultimately no team has come anywhere close to competing against Virtus Pro, but there are real signs of life in the scene. Beyond the top spot, the all-important second position is as competitive as it has ever been; if not even more so that Virtus Pro will be taking the top spot in any qualifiers for the region.

With a real wealth of talent in the many upcoming rosters, the CIS scene is finding its feet after the fallout from many years ago. It's only a matter of time before a lack of success for some of these secondary teams sees another all-star team assembling.

Teaser photo credit: Starladder