In order to enhance our presentation of
Virtus.Pro prior to The Defense #3 Grand Final (Saturday, March 30th, 20:00 CET (pre-game show begins at 19:00 CET), full BO5), we have conducted a small interview with
Ilya "Illidan / Airman" Pevcaev, VP's hard carry. This interview is mainly focused on their experience and performance at The Defense #3 so far, but also briefly touches upon the player himself. Interview was conducted in Russian and we would like to present its translation. Enjoy!
Congratulations on making it into the Grand Final of The Defense #3! Despite many European and North American powerhouses challenging your run at TD3, you have managed to reach the Grand Final through the upper bracket. Does it give you an additional boost of confidence?
Illidan: It certainly does. We took every single game at The Defense #3 seriously and we had prepared for every single opponent. After we had beaten the most inconvenient opponent - Team Empire, we began to feel that nobody can stop us. We felt that we are obliged to win, since both Na'Vi and Empire had dropped out.
Out of seven group stage games and three upper bracket matches you have played, what is the game you remember the most?
Fnatic is the team you are going to face. You have faced each other multiple times in a variety of tournaments over the last couple of months. Having played them so much, have you figured out how to deal with this team?
Illidan: Having faced each other on multiple occasions, both us and Fnatic managed to learn a lot about each other. Our encounter deserves to be in the Grand Final. Fnatic isn't the easiest opponent for us and in a way I am glad that we are going to face them, since playing against them allows us to eliminate our weaknesses and get to train what other teams don't allow us to.
Your team was known for the stability of its roster, but now, on the threshold of several LAN tournaments, TD3 Grand Final and your own RDL, you have to deal with a roster change. Do you think the timing was right or should you have waited for these cups to be over first?
Illidan: Whatever happened, happened (smiles). Of course we needed some time to develop a synergy in the light of slight role switch, but with ARS-ART joining us, we managed to address one of our weaknesses - taking the initiatives on the map, which is very important against European teams. ARS-ART is a very experienced and enterprising player. I think we will achieve even more with him by our side. Already after a couple of days I saw that our play had improved.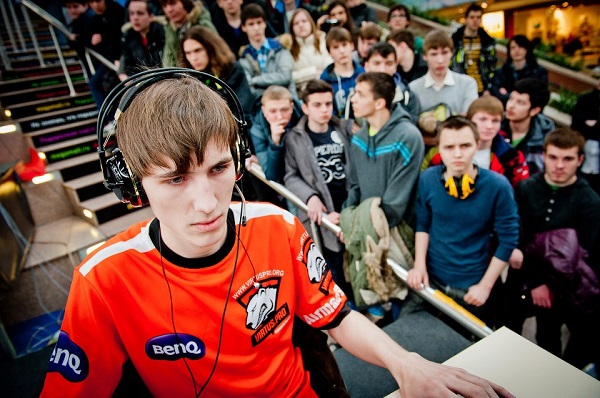 Illidan at TechLabs Moscow - image courtesy of Russian e-Sports Federation
How did you manage to restructure your play with Smile as your temporary stand-in over such a short period of time, since it also involved role switch across the team?
Illidan: Every player that thinks every second how to perform the best will be able to play every role on a good level. kSi is one of them. Moreover, he used to play support-oriented heroes like Undying and Clockwerk, when Santa was jungling with Nature's Prophet and Dark Seer. He managed to get a valuable experience in the official matches against good teams. This role isn't new for him. As for our support duo - Smile and NS, nobody will ever question it.
You were one of the most successful CIS in-house players back in the days. How different has it been transitioning into professional play?
Illidan: Leagues allowed me to acquire a decent personal skill in terms of micro. Playing in a team develops a complete trust for initiatives of others and macro play, when all of you are acting like a single organism.
What do you take into account, when you are going for unorthodox builds, e.g. Dragon Knight without Breathe Fire?
Illidan: I am personally against going for Breathe Fire on Dragon Knight. In order to utilize this skill you are required to buy Soul Ring, otherwise you lack mana for everything else, therefore you are delaying the ultra-late potential of this hero. We used to discuss this hero all together, after I had tested this build in public games, and we concluded that going for Breathe Fire is the only reason why this hero isn't picked as hard carry. In practice, Dragon Knight is highly imbalanced - you just can't ignore a hero that has 1,500 HP, 30 armour and 3.25-second long stun every 9 seconds on level 9! All of it you can get by 10-minute mark by sacrificing Breathe Fire.

Overall, I take into account a complete analysis of hero's stats and all his advantages in and against certain line-ups.
Thank you for your time and good luck in the final. Do you have any last words?
Illidan: First of all, I would like to thank your awesome web site. We would like to thank all our Russian fans, as well as guys cheering for us from other countries. Moreover, thanks to BenQ and Gametrix for helping Virtus.pro in a variety of ways.