Since moving over from Heroes of Newerth, the ascent of
Fnatic.EU to the highest hights of Western Dota 2 has been, depending on who you ask, either inevitable or miraculous. Their clean sweep of the group stage of The Defense 3 raised some eyebrows, as did their descent into the Lower Bracket by the hands of
Evil Geniuses. By slugging it out in what can honestly be characterized as nothing short of a bloodbath of a Lower Bracket, sending home
Na`Vi,
No Tidehunter,
Team Liquid and finally
Team Dignitas, they've made their way to the Grand Final up against
Virtus.Pro, which will take place tomorrow, Saturday the 30th of March 30th at 20:00 CET. Without further adue, let's get to know our second Grand Final team a bit better.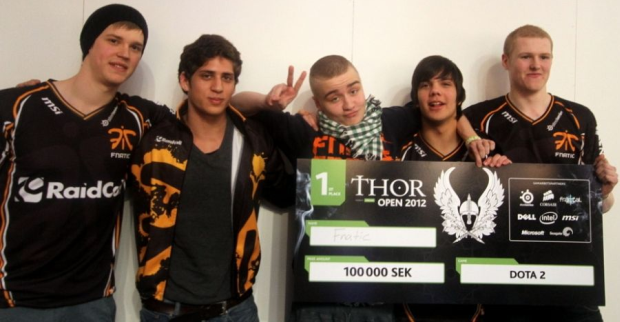 From left to right: H4nn1, Fly, n0tail, Era, Trixi - image courtesy of fnatic.com
Achievements:


1st place - DotaHut Invitational (March, 2013) - $1,200
2nd place - EMS One Spring Cup #1 (February, 2013) - $200
2nd place - BeyondTheSummit Weekend Cup (February, 2013)
3rd place - SLTV Star Series #4 (December, 2012) - $2,000
1st place - THOR Open (December, 2012) - 100,000 SEK (~$15,000)
3-4 place - DreamHack 2012 Winter (November, 2012) 25,000 SEK (~$3,750)
1st place - DreamHack Valencia Invitational (September, 2012) 4,000 €
1st place - Absolute Legends Dota 2 Invitational #2 (July, 2012) $700
2nd place - joinDOTA Masters VI (May, 2012)


Team History:


Fnatic the organization was founded July 23rd, 2004 as a multi-gaming organization, primarily involved in First Person Shooter games. Their first involvement with Dota came in 2007 with an Indonesian squad, which they held on to until 2009. Between 2008 and 2009 they also sponsored a Western team with players such as
Jonathan 'Loda' Berg,
Rasmus 'Misery-' Berth and
Rene 'Kebap-' Werner playing under the tag.

In Februrary of 2010,
Kevin 'RotterdaM' van der Kooi, former Warcraft 3 professional and future Stracraft 2 commentator, convinced Fnatic to let him form a Heroes of Newerth squad. However, soon after the players were gathered, RotterdaM moved on to SC2, leaving the team in the hands of
Antti 'Rexi' Saarenpää. This initial incarnation of the team was entirely Finnish, and included Trixi, who would stay with the team through their golden period in HoN.

Along the way, the Finns ended up leaving the team, and instead
Henrik 'Freshpro' Hansen ended up joining, and after him three members of a team called iLx, Fly, Nova_ and n0tail. This was the definitive Fnatic.HoN lineup, which would go on to dominate everything in HoN for the following two years.

Besides stability and high individual skill, Fnatic brought a inquisitive nature to the table, reshaping the HoN metagame many times over, discovering heroes others were not considering and unlocking their true potential. Their crowning achievement during this time was four consequtive DreamHack titles, the biggest LAN event for HoN.

As Dota 2 started gathering speed, the Fnatic organization had sought to make their return to Dota, picking up the GamersLeague team after one early success against Na`Vi. This however turned out to be a mistake, as the team continued to be unable to perform to expectations, resulting in the team being let go in March of 2012. At the same time, the long awaited move of Fnatic.HoN into Dota 2 was announced.

By this point, Trixi and Freshpro had already left the team at the end of 2011, and had been replaced by Era and H4nn1. While the initial intent was for the team to now focus primarily on Dota 2, the $60,000 prizepool of DreamHack Summer 2012 kept the team engaged in HoN, delaying their progress in Dota 2. After DreamHack, as time came for the team to shift their entire focus to Dota 2, long time member Nova_ decided that he was too far behind the others on the team in adapting to the new game, and chose to leave the team, making room for Trixi to return to the team officially in Septermber of 2012, after a nine month absence.

After The International 2012, as the scene picked up again, Fnatic started their climb towards the top of the European scene. By the end of the year they were consistently showing good results accross competitions, but were generally still hampered by their earlier poor performance in the longer running online leagues. DreamHack Winter 2012 and THOR Open provided the first opportunities for Fnatic to show off their true level in a playoff bracket, finishing shared 3rd-4th and 1st respectively.

While Fnatic has by now established themselves as a top team, and while the team has seen players come and go, the current configuration is another stable setup which looks to establish a second golden age for the team. Their strength is their experience under pressure, as the team has been forged on LAN and always seems to play better under pressure, while fully capable of underperforming when little is at stake.

Their playstyle over the long run is hard to pin down, but currently they have been favouring split-push lineups and high mobility through both heroes such as Nature's Prophet and Puck, and items such as Boots of Travel and Shadow Blade. While the team usually is capable of displaying a very varied hero pool, this has been cut into slightly due to the work obligations of team captain Fly, as he is currently doing extensive work training over a period of some months.



Fly
Aizik, Tal

Signature heroes:

Fly started out in HoN in a team called iLx together with
'Nova_', before being asked to join Fnatic in August of 2010. As he had held the role of drafter on his previous team, he ended up taking it on again with Fnatic, and over time became famous for his ability to out-think his opponents.

During his time together with Nova_, Fly played a farmed support and jungler role, in particular well known for his jungle Tempest (Enigma), however also being capable of switching it up, playing the occasional game as carry. After Nova_ left the team, Fly took up the vacant hard support role, and similar to Nova_ previously, has not deviated much from this position.

Fly has on occasion relinquished his role as drafter for the team, notably after H4nn1 signed on to switch over to Dota 2, he initially took up the position while Fly accustomed himself to the new game. More recently, Fly's work outside the game as a Commando Krav Maga instructor has adversely affected his ability to keep up with other teams changing drafts, instead handing over these duties for the time being to n0tail.

While much of Fly's reputation has come as result of his leadership and his ability to shape the meta game in HoN, he is also an accomplished player in his own right, regularly earning mentions in HoN as one of the top support players. In Dota 2, he first impressed with his Lina play, and has recently shown a strong affinity towards Rubick.



n0tail
Sundstein, Johan

Signature heroes:

n0tail was first discovered by Fly and Nova_ when he was just starting out as another pub player in HoN. Even though he was extremely young, only 16 at the time, his great potential earned him an invite to iLx, and later to Fnatic in August of 2010. More than just a player, n0tails high level of dedication and imagination means he is a constant source of some of the more outlandish ideas employed by Fnatic, and his imput into the drafting process is why Fly has more recently allowed n0tail to draft in his place.

n0tail originally played the solo mid role, and was widely hailed as the best solo mid in HoN. His specialities included the likes of Pollywog Priest (Shadow Shaman) and Bubbles (Puck). However, after Nova_ left the team and Fly took up the hard support role, n0tail ended up moving to a jungler or farmed support role. This allowed him to play high impact early game heroes, making Disruptor an early banworthy hero when playing against the rapidly improving Fnatic lineup.

More recently, n0tail has found himself often paired up with Era in mid, playing the Wisp to Era's Chaos Knight. He is also very adept at playing jungling heroes such as Chen and Enchantress, and occasionally more roaming supports such as Shadown Demon and Lion, which we've seen him take up fairly often most recently. He is also well known for his Meepo play, and can often be found pubstomping with the hero on his personal stream.



Era
Kryeziu, Adrian

Signature heroes:

Era is another young player who got his start playing HoN for teams such as LION and Dirty Minds, the team which
Wehsing 'SingSing' Yuen played for in HoN. His great talent as a carry player made him the obvious choice when Trixi ended up leaving the team, leading to him joining Fnatic in February of 2012.

While in HoN respect bans against Era included the likes of Pebbles (Tiny) and Dampeer (a lifestealing, gap-closing ball of death with a disable), he initially picked played really late game orientated Agi carries when he came over to Dota 2. However, as the metagame shifted after TI2, Era began to take on a lot more aggressive and tanky carry heroes, for which he is now known.

His two most famous heroes are without a doubt Chaos Knight and Lifestealer, and his ability to armlet toggle on both of these heroes is highly impressive. He is also a very accomplished farmer on heroes such as Phantom Lancer, and is partially responsible for the recent resurgence of Alchemist, after running the hero as part of an offensive trilane against
Na`Vi to great effect.

Era often switches lanes around with H4nn1, taking up mid, especially when dual-laning with n0tail. He also usually plays the offensive trilane carry, allowing either H4nn1 or Trixi to take the more farm heavy role in such games.



H4nn1
Hanbueckers, Kai

Signature heroes:

H4nn1 has by far the most robust WC3 DotA career of the current Fnatic lineup, being a two-time member of the MYM and perhaps the second best known German player after
Kuro 'KuroKy' Takhasomi. As he moved into HoN, he ended up on the star-studded Online Kingdom lineup together with
Joakim 'Akke' Akterhall among others.

After
'FreshPro' left Fnatic, shortly after Trixi, H4nn1 was called upon to take up the hard lane solo role, joining the team in April of 2012. He had previously been best known as one of the premier carry players in HoN, but had always been a versatile player and quickly adapted to this role. His late signing was a result of Fnatic being in the process of slowly shifting their focus towards Dota 2, while H4nn1 was unsure if he wanted to make that switch again, resulting in him playing with the team unofficially for 3 months before his signing.

When Nova_ left the team and Trixi made his return, H4nn1 took over the mid lane from n0tail. His proficiency on highly mobile mid heroes has since made him a highly deadly force, capable of taking over games on heroes such as Queen of Pain, Tinker and Beast Master. He has a penchant for Boots of Travel and has his own clear vision of how to play and build many heroes. In particular his Puckplay has most recently been extremely potent, often opting to go for an early Dagon over the Scythe of Vyse. He is also the only Tinker player who still favours Bloodstone as an early item pick-up.



Trixi
Saarinen, Kalle

Signature heroes:

Trixi's journey in e-Sports started back in WC3 DotA, where he played on various minor teams for about 5 years, most notably on 8Ball together with
'Playmate' and his long time friend
'Rexi'. When the Heroes of Newerth beta opened up, Trixi and Rexi made the transition and ended up forming the very first incarnation of Fnatic.HoN.

In HoN, Trixi grew into the player he is today. His Hard Carry play was a mixture of extremely stable farming and exceptional late game decision making, which earned him back-to-back honors as the best carry player in HoN. In addition, his ability to continuously elevate new heroes to respect ban status, such as his infamous Kraken (Tidehunter) and Gladiator (Kunkka) among many others, spawned the meme "You can't ban Trixi", which was perpetuated by his teammates and opponents alike.

When the Dota 2 beta began, Trixi once again joined up with Rexi, who had left Fnatic due to military service. Together they ended up forming
EBIN, and after an impressive debut in the first Defense, Mousesports expressed their interest in picking up the team. As Trixi was still on contract with Fnatic at the time, he opted to play out his final DreamHack Winter with the team, claiming their third consecutive DreamHack title.

In Mouz Trixi again played hard carry, but due to internal strife ended up leaving the team, and for a time the competitive scene. During his downtime, he tried out playing with
Team Empire during their rebuilding stage, which did not pan out, before being asked to return to Fnatic during the summer of 2012, as
Jascha 'NoVa_' Markuse left the team after DreamHack Summer 2012.

Since returning to Fnatic, Trixi has mostly taken up playing the hard lane solo role, which allows him to utilize his well honed laning skills in order to survive and prosper against the odds. He is known for his aggressive, nearly suicidal play, as well as impressive mid game impact, making the most of heroes such as Lone Druid and Nature's Prophet for split pushing or Batrider and Bounty Hunter for more ganking orientated play. His versatility and experience also allows Fnatic to throw him onto the other lanes as is needed.

Any opinions expressed in this article are solely those of the editor's, and do not reflect joinDOTA as a whole.