As the end draws near, with The Defense #3 Grand Final (BO5) between
Virtus.Pro and
Fnatic.EU being scheduled for this Saturday, March 30th, at 20 CET, we would like to present the Russian counterpart, who have advanced to the final encounter through the Winner Bracket, and on their way here have upset
Team Empire,
EG and
Dignitas. This is the presentation of the first of our two finalist teams, with Fnatic following later today.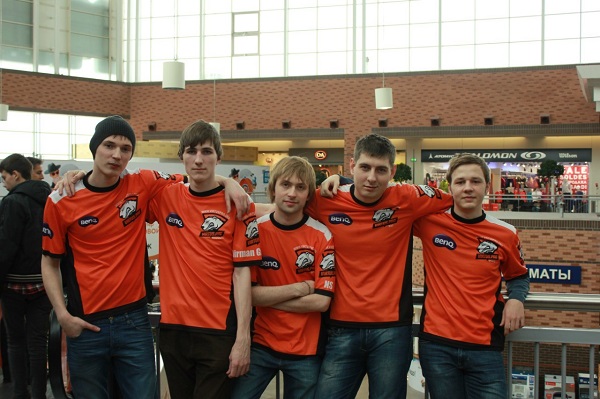 From left to right: Smile, Illidan, NS, kSi, Crazy - image courtesy of virtuspro.org
Achievements:


4th place - TechLabs Moscow (March, 2013) - $500
2nd place - EMS One Spring Cup #4 (March, 2013) - $200
2nd place - The Premier League #3 (January, 2013) - $2,000
4th place - SLTV Star Series #4 (December, 2012) - $1,000
1st place - Hardmode Cup Double Kill (December, 2012) - $700
2nd place - ASUS FBOTY (December, 2012) - $3,000
1st place - Play4Dota2 #16 (December, 2012) - 400€
1st place - The Revenge #2 (October, 2012) - $500
2nd place - LostWorld Cup #1 (September, 2012) - $400


Team History:


For those of you, who might not have followed the DotA scene since its underground period, and thus questioning the "legendary" status of this tag - VP was one of the first teams to achieve this status back in 2007. At that time the team consisted of
Admiration,
Jolie,
Vigoss,
ARS-ART,
NS and
Sahka. They were clearly ahead of the competition, while only few were able to challenge them, e.g.
MYM led by
Maelk and
SK led by
Loda. Russians, possessing an extensive knowledge of the game, utilized great map control through warding, which wasn't as common as it is today, and executing aggressive yet calculated ganks with Vigoss leading the charge. Metagame at that time favoured their style, since prior to v6.50 changes Dagger of Escape could be activated at any time when it wasn't on cooldown (wasn't blocked by incoming damage). This movie, being a testament of their magnitude, demonstrates VP's highlights at prominent tournaments, like ASUS and MYM Prime Defending. 1141!

The legendary tag made a reappearance in the world of Dota 2 in May 2012. The initial roster featured NS,
Santa,
Kuroky,
Azen and
Dread, though shortly prior to their main challenge - TI2 West Qualifier, last two were benched in favour of Empire's
Scandal and
blowyourbrain. Having won
mTw, eventual winners of the qualifier, in the WB Round 1, Virtus.Pro were dropped down to the Loser Bracket by
mouz, where they lost to fellow countrymen,
zNation.

VP rose from the ashes three months later, right after the event they had tried to qualify for had ended. With only Santa and NS remaining from the initial roster, they were joined by former zNation players
kSi and
Crazy, as well as famous Russian in-house player
Illidan (aka Airman). The team had a rather slow but steady development, partially due to absence of replacements and high commitment from players. The first real challenge was SLTV Star Series #3 LAN Final, where they got into a "group of death", alongside tournament finalists
Na'Vi and Team Empire. Having lost to both of them, VP was sent home.

Arguably, majority of players in VP roster lacked professional experience prior to becoming a part of the team, due to only NS and Santa having had a chance to compete at the highest level and at the most prestigious competitions, e.g. The International (top 6 placement as part of
Moscow Five). Though almost seven months have passed since the roster was formed and "The Bears", the alias Virtus.Pro organization uses for itself, have gained not only the experience, but also an international recognition, having achieved top placements at variety of online and LAN tournaments, e.g. 2nd places at TPL #3 and ASUS FBOTY.

But there is always a "but". One week ago they announced that one of the veterans of their team, Alexander "Santa" Koltan, was let go and was replaced by the first player to open Na'Vi's "Hall of Fame",
Sergey "Smile / ARS-ART" Revin.

Coming into the Grand Final of The Defense #3 the main concern is whether they have managed to establish a synergy with their updated line-up. Though in the short-term ARS-ART proved to be a liability - they have lost first four official matches since his acquisition, his skill cap and vast amount of experience will certainly contribute to their performance in the long run.




NS
Kuznetsov, Yaroslav

Signature heroes:

Yaroslav is the sole player who has been in VP from the very beginning. In spite of him being the most experienced player in the team, he delegated the reins of government to kSi. Nevertheless, he is probably the first one who pops up in our minds when we hear Virtus.Pro, since he is the most active member, when it comes the work with the community - he is known for creating educational guides and expressing his opinion aloud. Last, but not least, he was one of the players of the legendary VP back in the days.

Over the years he had played in many well-known CIS teams like
DTS, M5 and
Darer, but he sticks to his knitting and acts as a backbone of a team he plays for by being a primary support. Being joined by his long-time friend and teammate ARS-ART, we can expect some top-notch support plays from this duo.




Crazy / tmw
Kolesnichenko, Oleg

Signature heroes:

Oleg is a freshmen in the professional scene. His career began in currently abolished zNation. Team's roster was highly unstable throughout the first part of 2012, with players coming in and out on a regular basis. Nevertheless, they were chosen by Valve to have a chance at qualifying for TI2. Funny enough, zNation managed to eliminate VP in the second round of Loser Bracket, just to be eliminated themselves by mTw in the next round.

His stay in zNation didn't last long and he was forced to leave the team, due to internal arguments related to distribution of roles. Assumingly, STALIANER didn't want to abandon his position as solo mid. Doubtfully, he was way too sad about it, since zNation got disbanded in early September 2012, with kSi being recruited by VP and the rest of them joining M5.

Having joined VP he resumed to do what he does best - playing solo mid and fighting a tough battle against the likes of
Dendi,
Scandal,
s4, etc. In the early days of VP he used to specialize in playing Invoker, even after he got nerfed in the end of September (v.6.75), with his base damaged being decreased by 4, thus rendering him almost useless against strong mid lane heroes like Templar Assassin, who was a first pick material back then. Though Crazy resumed playing Invoker for some time and he did well.

We haven't seen him play this hero in the last couple of months, since he switched to more conventional picks like Magnus, Batrider, Beastmaster, QoP and Warlock, who has lately been gaining popularity in CIS.




Illidan / Airman
Pevcaev, Ilya

Signature heroes:

It is always great to see new faces joining the professional scene, especially when it is someone we already know. Illidan has been playing both Dota 2 and DotA for years, but he never really intended to become a pro, since he doubted that players in CIS can take it seriously and hold on together without disbanding after losses. He mostly focused on playing public and in-house games for the fun of it, but, nevertheless, he was a rather well-known player both among the professionals and the community. On several occasions he had even attended large scale tournaments, e.g. OSPL Autumn 2011 that he won with
Garaj Gaming. Though his efforts weren't fruitless, since he got scouted by VP's manager and offered a position in the current team.

Coming into the professional scene was difficult, despite his experience. First of all, he had to change his attitude from Dota 2 being just a game to it becoming his job, thus abandoning WoW, one of his favourite games. Secondly, in the beginning he was heavily criticized for his low pool of heroes, since he mainly played Lifestealer, whereas his performance on other carries was relatively weak, compared to his opponents in other Western teams. As time went by he managed to prove everyone wrong and has mastered both common carries, like Gyrocopter, Phantom Lancer, Luna and Chaos Knight, but also used some unconventional picks like Juggernaut, Rikimaru and Dragon Knight with his signature build without Breathe Fire.




kSi
Kuzin, Sergey

Signature heroes:

The only Ukrainian in VP's line-up. Just like Crazy, he used to play in zNation, but he wasn't a part of the team, when they were trying to qualify for TI2, since he joined them only afterwards. He was the first one to leave zNation in the beginning of September, when he got an offer from VP. He used to be a captain in zNation and he resumed to carry out this duty in his new team, despite having much more experienced colleagues, though during a draft he often times is assisted by NS.

When VP was formed, with Santa still in the roster, he used to play supports, alongside NS. Right now, with ARS-ART having replaced Santa, the roles in the team were re-distributed, so kSi is mainly playing off-lane. He is not completely inexperienced at this position, since he got a chance to play support-oriented heroes, like Undying or Clockwerk, when Santa was jungling with Dark Seer or Nature's Prophet. Nevertheless, he still has to invest some time and effort in order to maximize his efficiency at new position.




ARS-ART / Smile
Revin, Sergey

Signature heroes:

Just like his life-long friend and teammate Yaroslav, Sergey hardly needs an introduction - silver medallist of TI2, top 6 of TI and one of the members of former VP and SK. Throughout his career he played a variety of roles. He used to play gank-oriented heroes like Nerubian Assassin (= Nyx) in VP, off-lane Clockwerk and Windrunner in M5 and tanky initiators like Slardar and Night Stalker in Na'Vi, but as time went by during his stay in Natus Vincere his role got set in stone - support. We've seen him play Rhasta, KotL, Venomancer and Crystal Maiden, among others, but he excels at the likes of Lina and Leshrac with his clutch plays by landing, arguably, hard to time stuns on multiple targets over and over again and thus turning the tides of battle in favour of his team.

Interestingly, over the past few years he has become a well-desired freelancer. He wasn't a part of Na'Vi, VP or DTS/M5 from the very beginning, but was picked up by these teams after leaving or being benched by his former teammates, though he always managed to blend in.

Any opinions expressed in this article are solely those of the editor's, and do not reflect joinDOTA as a whole.