The winner of our vote for The Bucharest Minor's most valuable player has gone to a member of the winning team — EHOME's offlaner Zhang 'Faith Bian' Ruida, with 29.3% of the vote. With the Chinese side losing just one game of the twelve they played in the Romanian capital, it is unsurprising that the winner comes from the team that dominated most.

Faith_bian put in some impressive figures during the tournament, with totals of 71/36/192 for an overall KDA of 7.3. He finished voting significantly clear of the second-placed player — team-mate Li 'ASD' Zhiwen, who earned 14.1% of the vote.

Comfortable carrying or playing a more support role, Faith_bian used eight different heroes in his twelve games — with Beastmaster (3), Tidehunter (2) and Tiny (2) as the only ones he picked more than once. He used four different heroes in the Grand Final against AS Monaco Gambit — Pugna, Magnus, Tidehunter and Underlord.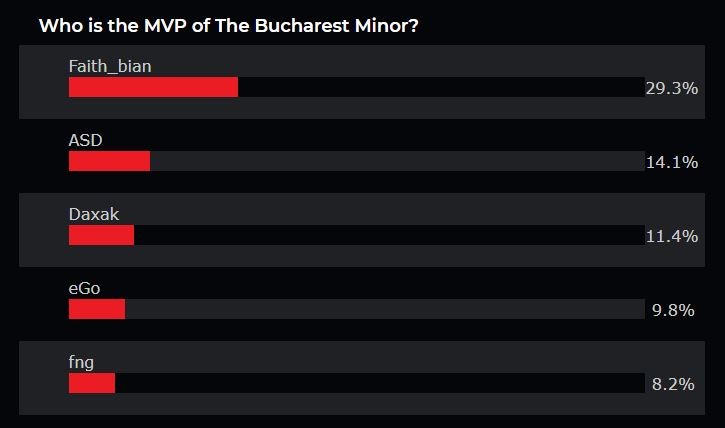 Making up the top five in voting were Gambit's Nikita 'Daxak' Kuzmin and Artem 'fng' Barshack, rewards for their team's stellar — and perhaps surprising — run to the Grand Final. They sandwich a third member of EHOME, Luo 'eGo' Bin, in fourth.

The highest-placed player not from the top two teams was Keen Gaming's Wang 'Old chicken' Zhiyong — who is, in fact, on loan at the Chinese side from EHOME anyway!

You can check out the full results of the vote here.


Do you agree with the results of the vote?


Header image: WESG