We're one Minor-Major pairing down, and the next is not too far away. With The Chongqing Major set to start just three weeks into the new year, organisers StarLadder have announced the make-up of the groups for the upcoming Closed Qualifier.
Secret lead the charge in Europe


Each qualifier is made up of eight teams divided into two groups, all battling for a slot at the second Major of the season. The top two in each group will make it into the semi-finals of a standard double-elimination bracket, with two teams ultimately qualifying.

In Europe, five of those have been invited, and it's Team Liquid and Team Secret who are top dogs in each group. They will play The Final Tribe and Hippomaniacs respectively in their opening games, while Ninjas in Pyjamas will take on Vega Squadron (EU) and Alliance face OG in the other opening games.



Na'Vi seeded after good start to the season


Following their second place at the DreamLeague Minor, Natus Vincere have been rewarded with a seeding for the CIS Closed Qualifier. They'll take on Winstrike in their opening match, while fellow top seeds Virtus.pro take on Se7en eSports.

The other games see Team Spirit play NoPangolier and AS Monaco Gambit take on Team Empire Hope.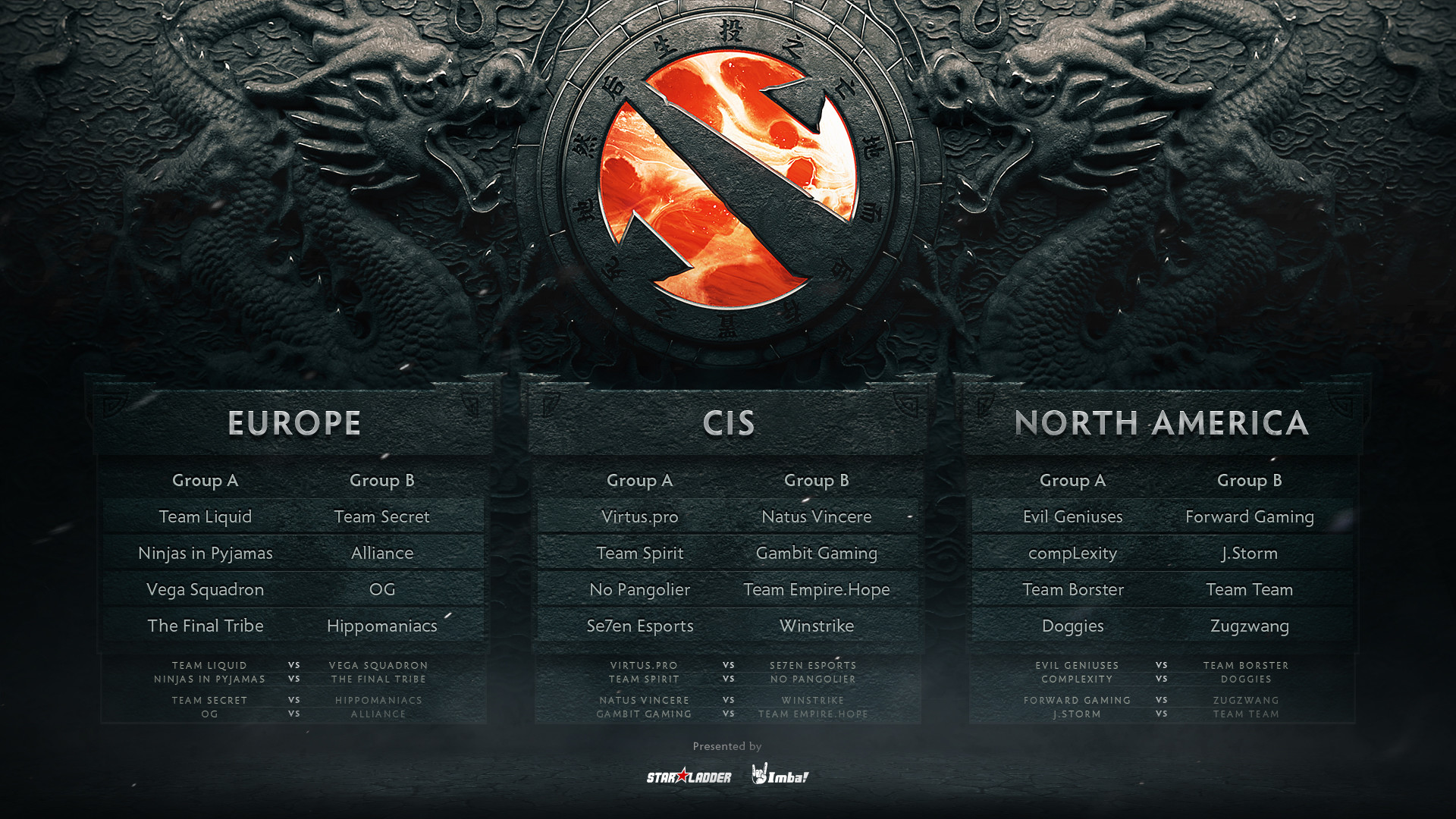 EG and Forward take the seeds in NA


In Group A of the North America Closed Qualifier, Evil Geniuses will take on Team Borster, while compLexity Gaming, in need of three new players, will face Doggies — featuring former players Jacky 'EternaLEnVy' Mao and JingJun 'Sneyking' Wu.

In Group B, Forward Gaming have been given top status, meaning they will play qualifiers Zugzwang. The other opening salvo sees J.Storm take on beastcoast.



PSG.LGD and Vici head up China


China is the only region yet to have its full complement of participants, as we wait for their Open Qualifiers to be completed. One team will join as the victors in the H-Cup Season 10, while four more are to be decided.

Of the teams we do know, two of those have claimed top seeding. PSG.LGD will head up Group A, while Vici Gaming occupy the same spot in Group B, and will be joined by Team Aster.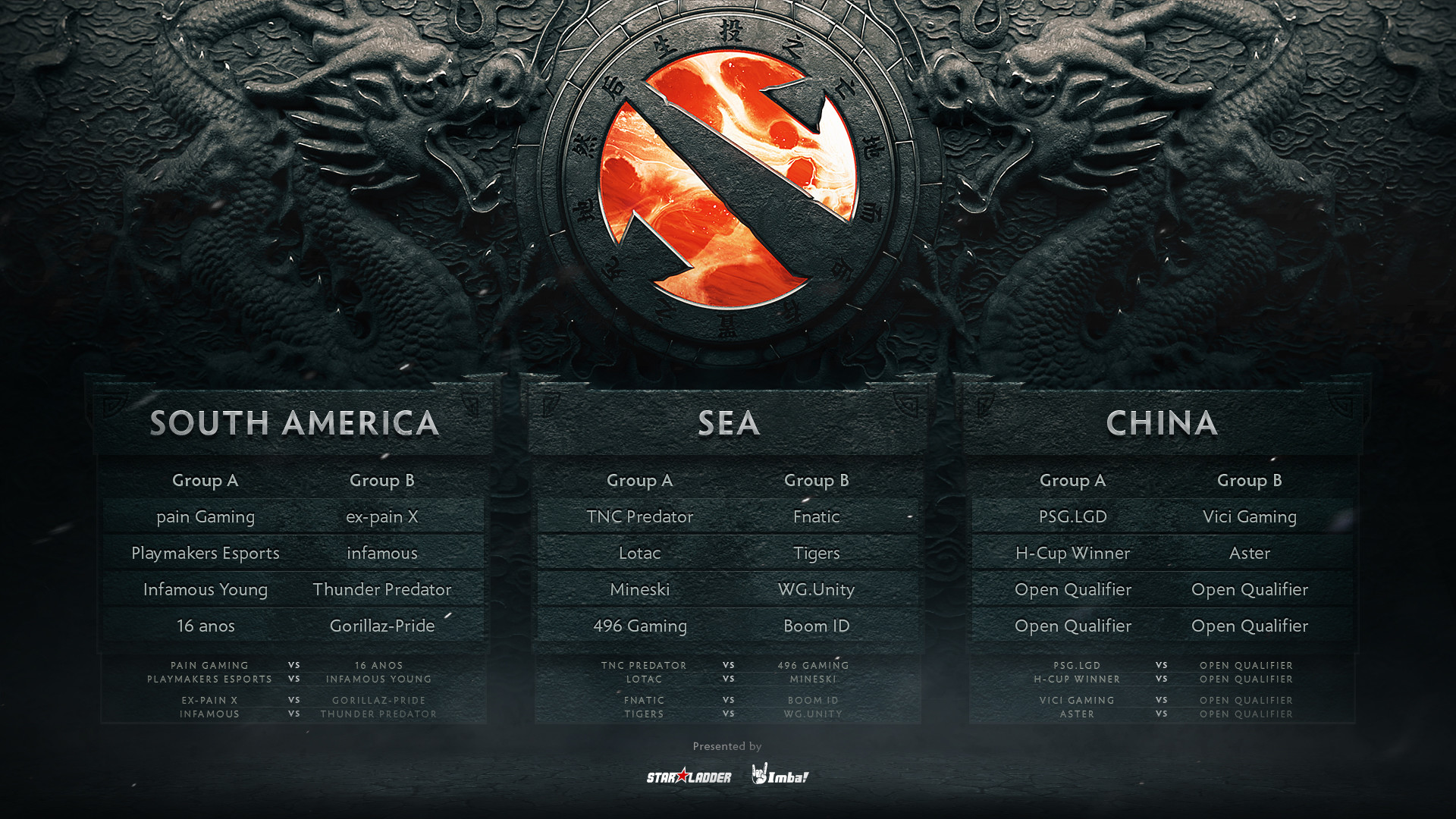 Fnatic and TNC the chosen ones in SEA


Despite their Minor win, Tigers are not seeded for the Closed Qualifier in SEA. The honours go to TNC Predator in Group A, and Fnatic in Group B. They will face 496 Gaming and BOOM Esports respectively.

Lotac will take on Mineski in Group A's other match, while Tigers face WarriorsGaming.Unity in the Group B counterpart.



paiN, or Former paiN?


In South America, paiN Gaming* expectedly head up Group A. They'll take on 16 Anos, while Demolition Boys and Infamous.Young contest the other match.

In Group B, it's Quinn 'CCnC' Callahan and his former painX roster who are the top seeds, meaning they will take on Peruvian side Gorillaz - Pride in their opening. The other match sees Enzo 'Timado' Gianoli and Infamous take on Thunder Predator.


Who do you think will make the Major?


All images © StarLadder