compLexity Gaming's result at the DreamLeague Season 10 Minor was a disappointment. The NA squad went into the tournament as one of the favourites, but had to pack bags earlier than anticipated after placing 5th-6th. Now three players left the team.
*UPDATE* - Fear and EE form a new team


It seems like the former coL players EE and Sneyking built a new team after coL's announcement - perfectly in time to start in the open qualifier for the next Major. They're called Doggies and part of the team is Evil Geniuses legend Clinton 'Fear' Loomis.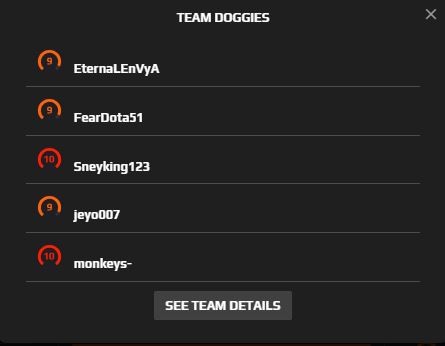 The other two team members are Jaron 'Monkeys-Forever' Clinton who was part of Rooons and Jio 'Jeyo' Madayag who played for Clutch Gamers by the end of 2017.


Original post:

Two tweets posted by Jacky 'EternaLEnVy' Mao made fans curious over the last two days. coL's captain Jacky 'EternaLEnVy' Mao tweeted out to Armand 'bOne7' Pittner first. The Romanian offlaner played already side-by-side with EE back in the old Cloud9 G2A* roster.



This is not the only tweet EE set up. On Thursday he announced that he's searching for a new offlaner. bOne7 would be a perfect fit. Right now, he's playing for Kaipi with his fellow countryman Angel 'Flash' Niamtu and the Swedish support player Axel 'PABLO' Källman.




Skem is benched, EE and Sneyking leave coL


Rumours were spread that compLexity is searching for a new offlaner and that JingJun 'Sneyking' Wu would leave the organization. However, the North American organization announced now that not only Sneyking will leave the organization, but Jacky 'EternaLEnVy' Mao and Rolen Andrei Gabriel 'ctm' Ong as well. Leaving only the veteran coL duo Linus 'Limmp' Blomdin and Zakari 'ZfreeK' Freedman behind.



While EE and Sneyking requested to be released, Skem was moved out of the roster after the racism controversy he was involved in. However, this is not the only reason why the organization will bench him. The visa problems are an issue that made it difficult to travel together as a team to events.



This means compLexity needs three new players to compete in the upcoming qualifiers - they're invited to the closed qualifier for The Chongqing Major for now. It's not sure, if they'll keep the slot since three out of five players left the roster.


Where should EE head next?
Photo credit: DreamHack - Jennika Ojala