Unlike most professional esports events, where organisations gather the best players on the planet to try and win big, WESG offers something a little different — national pride and bragging rights. Qualifiers for WESG 2018 are now well under way, but how does it all work?
Several esports, thousands of players


Following the Olympic tradition of national sides coming together to compete, the World Electronic Sports Games is now in its third year and is a fesitval of global esports. The inaugural event attracted over 68,000 players from 125 countries, with $5.5m on offer across four games — Dota 2, Hearthstone, StarCraft II and Counter-Strike: Global Offensive.

This year, Dota 2 teams will be fighting for a share of $2.5m at the Grand Finals in China. The event has proven popular with the pros, with some of the best in the scene coming together to represent their countries. Last year's winners, Team Russia, featured four of the five members of DPC leaders Virtus.pro — a sign of the strength of the event.






Who is taking part?


With the qualifiers already under way, already know some of the names involved. Defending champions Team Russia are back, with Roman 'RAMZEs' Kushnarev, Pavel '9pasha' Khvastunov, Vladimir 'RodjER' Nikogosyan and Aleksey 'Solo' Berezin joined by AS Monaco Gambit' Andrey 'Afoninje' Afonin. They defeated Espada 3-0 to claim their spot in the Grand Finals.

China will contribute EHOME to the cause, after they took the win at a stacked qualifier. There may well be another Chinese team join them, thanks to four reserved invites yet to be announced by WESG.

Canada provides a team featuring former TI3 attendee and former Team Liquid player Tyler 'TC' Cook, while the USA representatives are yet to be confirmed.

Belarusian side Nemiga Gaming will face off against an as-yet unknown opponent for the Eastern Europe slot, while Matti 'Laged' Parkkila announced a superstar Finland side featuring no less than THREE TI winners for their Northern Europe qualifier.

Team Australia features another TI alumnus in Anathan 'ana' Pham, who took home the Aegis as part of OG's epic run just a few months ago. Competition for places in Southeast Asia will prove to be strong, with TNC Predator leading the charge — and looking to repeat their 2016 Grand Finals win.






The battle starts now


Qualifiers have already begun in some regions, while in others they get under way in the next few days. Teams will have to first go through online open qualifiers, and then meet in regional qualifiers to determine who goes to the Grand Finals.

The great thing about the event is that it allows teams from unfancied regions or countries to be represented on the big stage. Of course, the largest Dota 2 nations will be represented, but 2017 saw teams from the likes of Kazakhstan, Ecuador and Egypt take part, too.

Whoever ends up making it, the competition in China is sure to be of the highest level. With WESG being a hype event in the Dota 2 pro scene, we're in for a feast of Dota action when March and the Grand Finals roll around.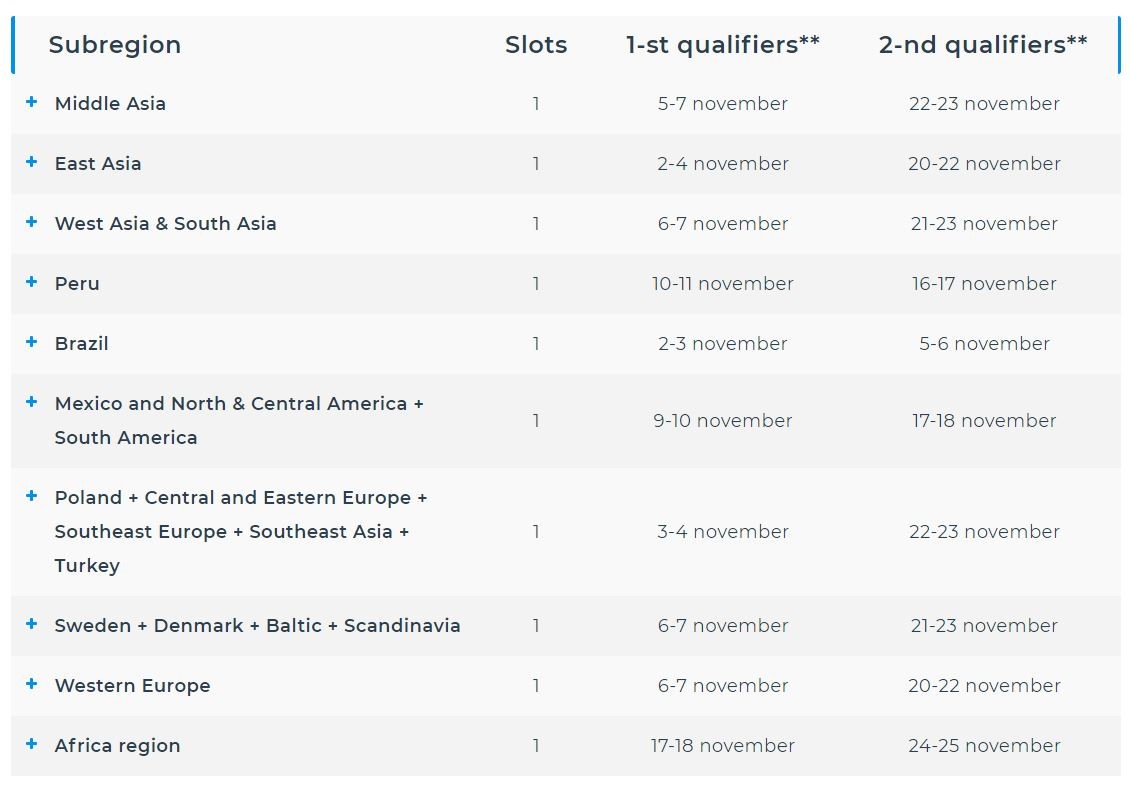 Can Finland challenge Team Russia for the win?
Header image © WESG