It's a game that should have been wrapped up almost a week ago, but after a computer-swap controversy and a replay, it's Team Aster who have finally defeated Newbee to seal their spot at the Barclaycard Arena for ESL One Hamburg 2018.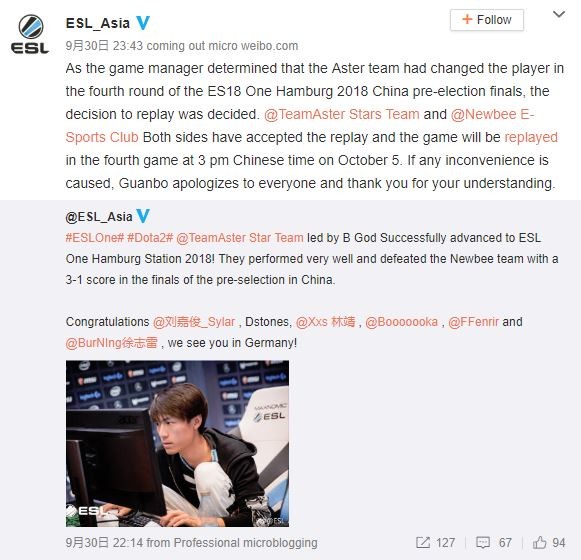 Aster punished for swap transgression



Despite being on the winner's side and starting with a game advantage, Team Aster dropped the first played game in the series to Newbee. They took Game Three, leaving them at match-point, and that's where the controversy began.

They also took Game Four, meaning they were on their way to Hamburg — before a competitive ruling from ESL Asia overturned that result and forced a replay.
The crime? According to a Reddit post, Lin 'Xxs' Jing and Lu 'Fenrir' Chao had physically switched computers.



Maximum drama as Newbee set up tense decider



To make things even more dramatic, Newbee promptly took the rescheduled Game Four this morning. In a game that lasted a shade under half an hour, He 'InFlame' Yongzheng led the charge as his side seized the initiative to build an unassailable lead — and forcing a decider.



Aster emerge victorious!



However, Aster hung on to repeat their original win. Game Five was a dominant performance as they showed great character in bouncing back. They took the win 29-8, finishing a game in which they were never behind with a net worth lead of 23k.

It was a twist that wouldn't look out of place in a Hollywood script — it was Xxs who redeemed himself by carrying his team to victory, finishing with a perfect-KDA 9-0-10 in the midlane.


Can Aster take the win in Hamburg?


Header image © StarLadder