Of the 18 organisations that attended TI8, only one team had their captain playing from a core role. Why is this, and why does this trend pre-date Dota 2?
Riding the Trends


At The International 2018, Mineski were the sole team to not have their captain lead from position 4 or 5. However, since the conclusion of the 2017/2018 Pro Circuit calendar, Chai 'Mushi' Yee Fung has made the switch to the support role.

Mushi is not alone in this trend, Kuro S. 'KuroKy' Takhasomi famously played carry for Team Secret before making the switch to captaining Team Liquid. Xiao8* spent the latter years of his career captaining PSG.LGD from the position 4 after an illustrious career as an offlaner. Jacky 'EternaLEnVy' Mao looks to be playing the position 5 role on compLexity Gaming. What is it that causes these players to lead from the support role?




Saahil 'Universe' Arora states his interest in the 5 & captain role. (See 4:45)




The Historical Switch


Being a captain back in the days of the original DotA game was a role that was normally awarded to the carry, or the mid. However, that was changed by the Chinese legend, Zou '820' Yitian. Upon making the switch from core to support, but maintaining the captain role, EHOME became an unstoppable force. This opened up doors to teams who had never even considered it viable to have your captain in the support role.

Since then, the trend has been increasingly clear. Taking a look at data available on the position of each captain from every team at the 8 Internationals, the trend is an obvious one.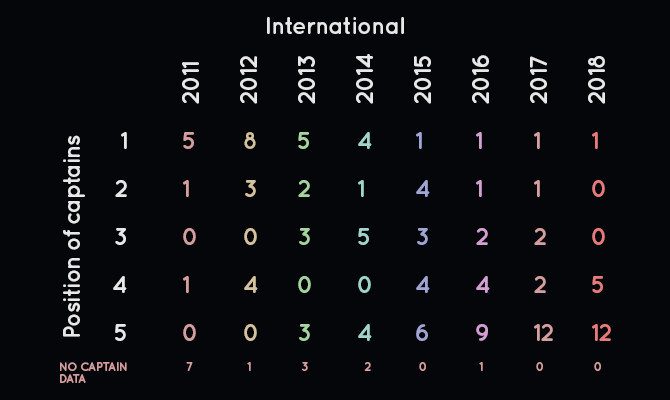 Why might this be?


Taking an abstracted look at the responsibilities of playing a core, you would reckon that the majority of a core player's attention would be devoted to their near surroundings. Moving the camera frequently to spot for rotations, check enemies inventories, or watching the movements on the mini-map could be detrimental to a laning stage.

As a result of this, you could suggest that it would be easy for a support player to have a better understanding of the meta-situation in a game. Giving these roles to a support enables the rest of the team, as it takes responsibilities away from the core players, which in turn allows them to farm more efficiently. This gives us reason to believe that captaining from the support role might be a preferential set-up for a team.

On the counter-side of this argument, you could suggest that the best core players are able to manage these responsibilities, giving their supports more room to make the rotations necessary. However, that being said, some of the best core players have transitioned into playing support, perhaps as they are so well acquainted with these responsibilities.


Experienced Leaders


However obvious of a statement, it must be noted that the more experienced players are more likely to captain their team. If this is best done from the support position, then this explains the trend we've observed. These players are more likely to be able to guide or coach a less experienced but technically gifted player to be aware of so much more.

Using recent TI champion N0tail as an example of this, being able to bring in relatively inexperienced but technically gifted players such as Amer 'Miracle-' Al-Barkawi, Topias 'Topson' Taavitsainen and Anathan 'ana' Pham, and aiding their transformation into world-class players is a trait that experienced captains seem to hold. Clement 'Puppey' Ivanov, with Yazied 'YapzOr' Jaradat, Kuroky with Maroun 'Gh' Merhej.


What do you think the reason is for this trend? Have your say in the comments below.
Photo credit: Valve