Valve finally announced the talent last night for the upcoming The International 2018, and it's a mix of both familiar and fresh faces. Overall, the list has been expanded to include even more talent than last year, with TI8 set to be the biggest event in Dota 2 history.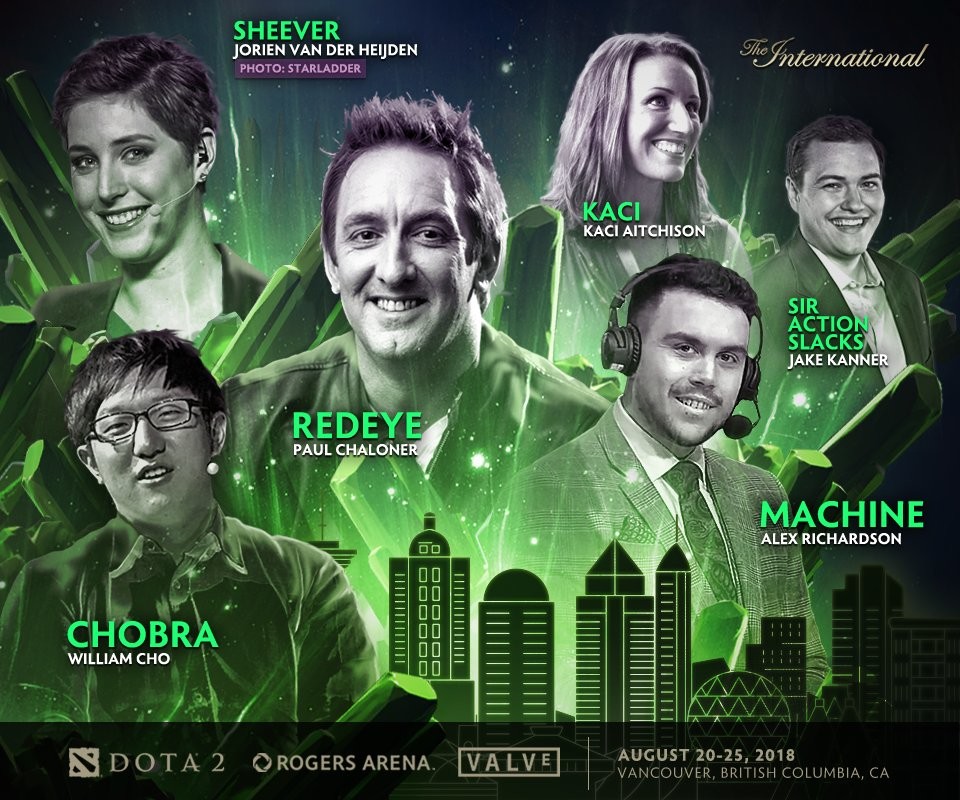 More hosts than ever


The host team is once again headed up by legendary talent Paul "Redeye" Chaloner, who makes a return after missing out on . He is joined by his replacement at TI7, Alex "Machine" Richardson, who has enjoyed a steady rise in profile in the Dota 2 scene after also hosting both The Boston Major and ESL One Birmingham 2018 on home territory.

Regulars Jorien "Sheever" van der Heijden, Kaci Aitchison and Jake "SirActionSlacks" Kanner also return — It'll be the sixth International for both Sheever and Kaci, while Slacks returns for his third International.

The new addition to the host team is William "Chobra" Cho, who is known for hosting events for ESL across multiple esports. This is his first time hosting The International, having previously hosted ESL One Frankfurt 2015.

It appears once again that there'll be a split of hosts between the Group Stage and the Main Event, but who are your picks for the pairings?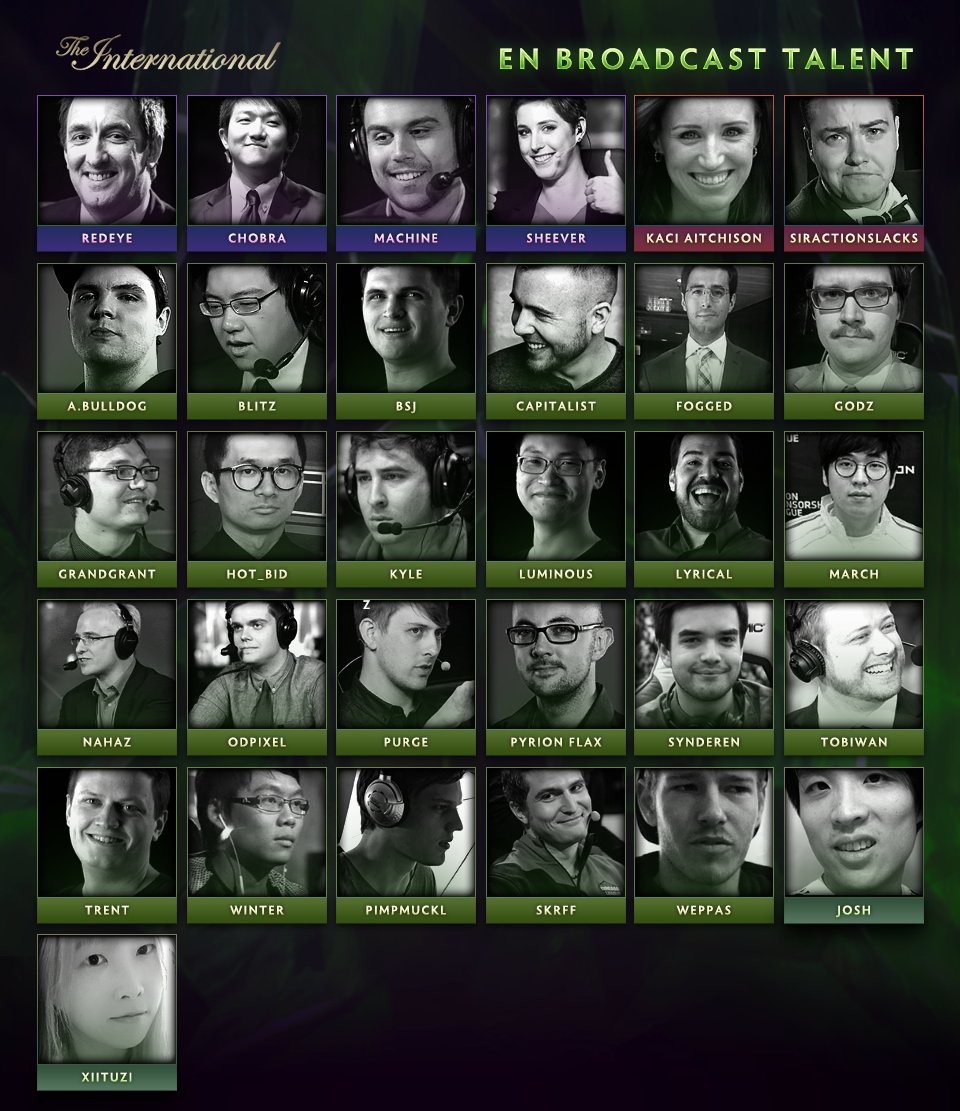 AdmiralBulldog finally makes TI?


An expanded English talent list sees several fan favourites return, but the main story is the inclusion of Henrik 'AdmiralBulldog' Ahnberg. He was also included on the list for last year's International, but well-documented visa issues upon arrival in the US led to him not taking his place at the analyst desk. Will we finally see him on screen at Valve's flagship event?

Also making the cut is fan-favourite GranDGranT, fresh from his Dota Summit 9 duties. He leads up a team including regulars Toby "TobiWan" Dawson, Owen "ODPixel" Davies and Austin "Capitalist" Walsh, with others including David 'Godz' Parker, David "Luminous" Zhang, Gabriel "Lyrical" Cruz and Trent "TrentPax" MacKenzie.

Other notable inclusions are German observer Jonathan "PimpmuckL" Liebig, who makes his first International after several events for ESL. Ken "Hot_Bid" Chen, William 'Blitz' Lee and Brian 'BananaSlamJamma' Canavan also make the grade.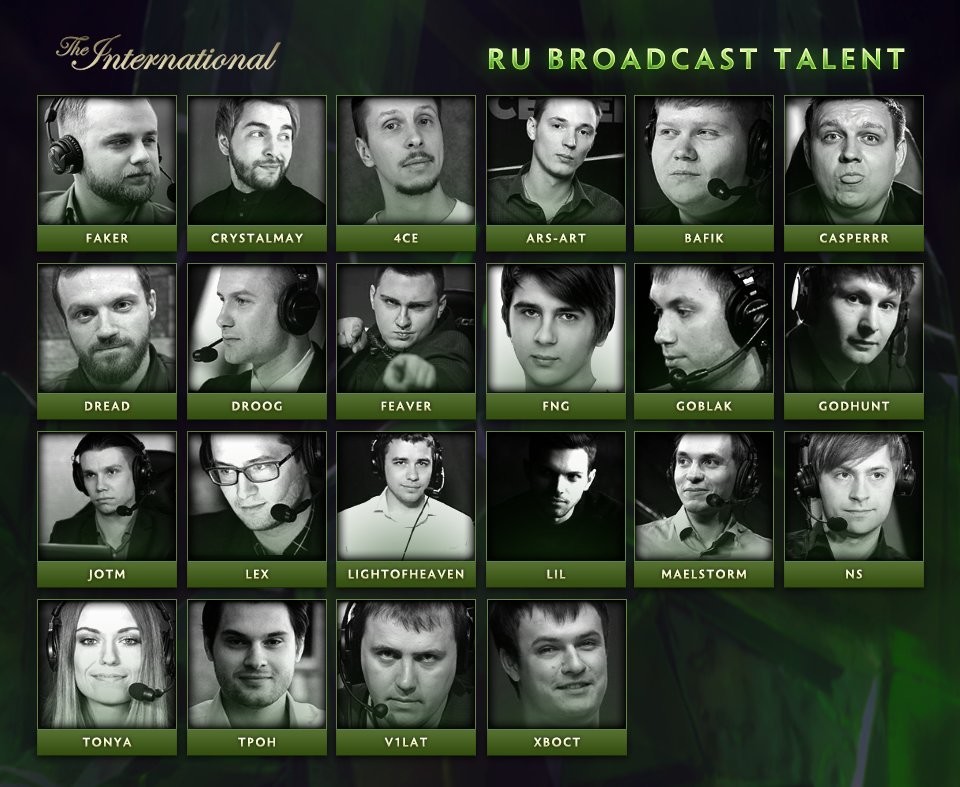 A bigger Russian talent team


The Russian-language casting team has also been expanded for this year's showpiece. Vitalii 'V1lat' Volochai and Alexander 'XBOCT' Dashkevich return to their native language after a successful English-language adventure at Dota Summit 9, while hosting duties are assumed by Ivan "Faker" Demkin and Dmitry "CrystalMay" Korchevinin.

Overall, the talent list for Vancouver is long and impressive, but of course there will always be people mentioned who didn't make the cut. Merlini and LD have been mentioned, while Dakota "KotLGuy" Cox misses out to be at the birth of his first son after being invited as a creative producer.


Are you happy with the talent list? Who is missing who should be in Vancouver?


All images © Valve