DOTA Summit 9 is over, and it lived up to the hype. We've had some fantastic matches, standout performances and, of course, all the fun content. And now, we're going to be treated to another installment as Beyond The Summit announce Dota Summit X.




Five days of fantastic Dota 2 action came to an end last night, with Evil Geniuses taking the win over Fnatic in a 3-0 sweep. It was the icing on the cake for another great edition of the most unique event in Dota 2 esports, and hosts Beyond the Summit took the opportunity to announce they'd be back for Dota Summit X.

However, no details were announced for the tenth edition of the fan-favourite tournament apart from the dates — Summit X will take place from 12-16 December 2018.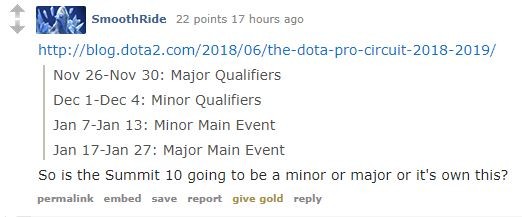 Part of the DPC?


Most of the discussion surrounding the announcement seems to be around whether Summit X should be part of the Dota Pro Circuit, mostly because of Valve's previous announcement of major/minor qualifying dates.

Many were torn, with the lure of DPC ranking points being attractive, but the counter being that some feel that awarding points would remove the 'friendly' nature of the event and therefore the core of what it is in the first place.

While it has been confirmed that it will not be part of the DPC, this seems to be the most logical outcome. We don't think BTS will lack for teams wanting to take part, as long as Summit X doesn't conflict with any qualifiers, as it remains one of the most popular tournaments among players.



Which teams will be in attendance?


Of course, we have no idea at this moment who will make up the teams at Dota Summit X. While it was still a fantastic event, some have highlighted the lack of top-tier orgs as a negative of this edition.

We'd love to see more teams attend, with a greater spread from around the world – perhaps a top Chinese team would raise the hype even further?

And of course, we just can't wait for more awesome content.


Who would you like to see attend Dota Summit X?


Header image © @TGphoto_ / Beyond the Summit