Virtus.pro has announced a new competition titled Russian DOTA 2 League. The league will feature eight of the very best teams from Europe and North America and will run from March 20th to March 31st. The competition is run in Full Double Elimination format, with all of the games being best-of-three series.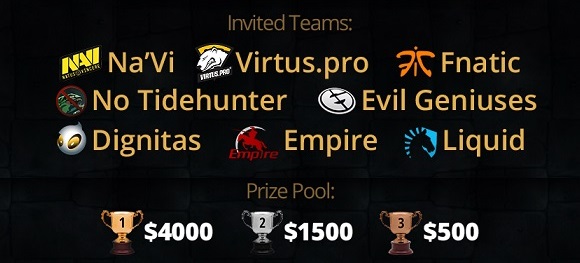 *Na'Vi have withdrawn from the tournament. Replacement to be announced.



Apart from the tournament, RDL features a showmatch between
Russian casters (Maelstorm, Versuta, mtrx4u, v1lat, CaspeRRR) and
English casters (TobiWan, GoDz, Durka, Purge, LD). No matter who comes out victorious in this BO3 encounter, $1500 prize pool will be donated to charity. It is not yet known what kind of cause organizers are willing to support. Over the course of the match quaterfinal pairs will be drawn. The battle of casters is scheduled for March 2nd, 15:00 CET. Team compositions suggest that you shouldn't experience a lack of coverage.


Tournament schedule:


Wednesday (20.03):17:00 - WB Quaterfinal #120:00 - WB Quaterfinal #2Thursday (21.03):17:00 - WB Quaterfinal #320:00 - WB Quaterfinal #4Friday (22.03):17:00 - LB Round I #120:00 - LB Round I #2Saturday (23.03):17:00 - WB Semifinal #1Sunday (24.03):17:00 - WB Semifinal #2Wednesday (27.03):17:00 - LB Round II #120:00 - LB Round II #2Thursday (28.03):17:00 - LB Round IIIFriday (29.03):17:00 - WB FinalSaturday (30.03):17:00 - LB FinalSunday (31.03):17:00 - Grand Final