Thunder Predator made it to the South American regional qualifier Grand Final last night, but now Valve and FACEIT have announced that the team has been disqualified for breaking a rule about unfair advantages.
In the case of Thunder Gaming in SA Qualifiers, this is the decision that was taken:
A) Disqualify Thunder Gaming for using unfair advantage
B) SG vs Pain in the Winner's Finals
C) Loser plays Torus in the Loser's Finals
D) Winner of that Plays winner of A in the Grand Finals

— Cristian Duca (@FACEIT_Omicron) June 22, 2018



A tweet from Wykrhm further elaborates that the unfair advantage in question is the usage of macros. A thread posted to r/dota2 about 12 hours ago by u/trking92 has been a hot topic of discussion in the community today. It contains several videos and screenshots aiming to show that Juan 'AtunnN' Ochoa was using macros in several instances.

Macros allow actions to be executed much faster than a human could ever manage - examples include multiple Meepo poofs in the same second, and instantaneous Armlet toggling on and off again.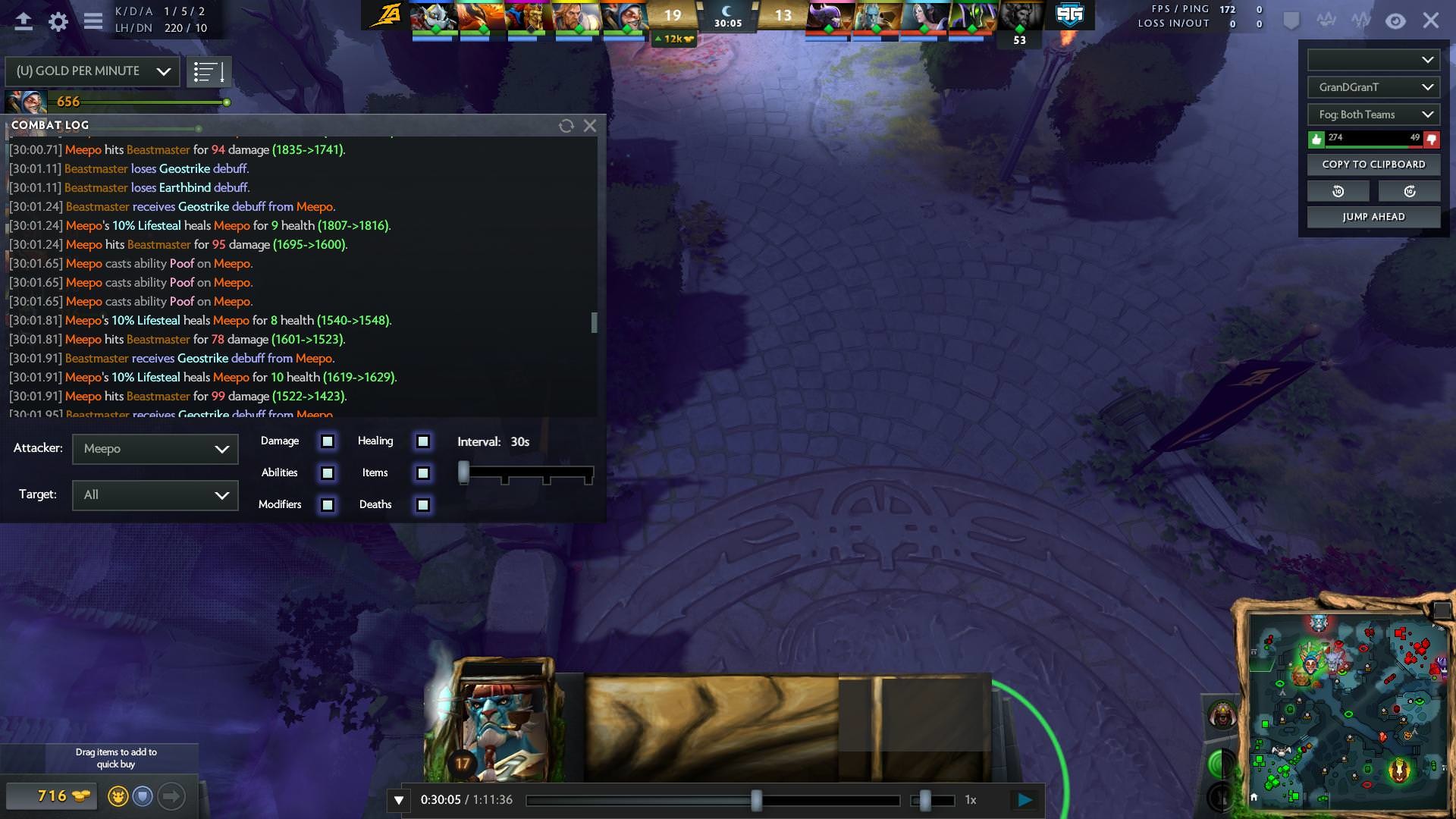 A screenshot posted to the reddit thread linked above which shows three Meepo Poofs cast at 30:01.65
Click to enlarge



Thunder Predator have posted a lengthy statement on Facebook defending their roster, saying "we denounce this accusation, stating that at no time, our player "Atún" use any type of hack or particular program that facilitated his game mode before the match, yesterday, with the team of SG."

However, later in the statement, they say this about Atun's mouse:



The player of our squadron "Atún" has a Razer Synapse mouse, which, like any professional player, has put its own manual configuration to be able to have a better use of Hardware in benefit of its efficient performance in each of the games played with this hero (Meepo). In this way, we highlight the fact that no type of hack has been used.

The decision has been made to disqualify Thunder Predator but, besides Wykrhm's tweet, there has been no word from Valve about whether there will be any harsher consequences for this team. Wykrhm had this to add:


To Teams and Players:

If you ever have a doubt if anything is permissible in a tournament or not, check with the admins first.

Do not leave anything to speculation. Get answers before you try anything.

— Wykrhm Reddy (@wykrhm) June 22, 2018



With Thunder Predator out of the running, the SA playoff bracket has been adjusted. paiN Gaming* were originally knocked down by Thunder Predator, but now will advance to the next round of the upper bracket to face SG e-sports. The Winner will advance to the Grand Final. The loser of that upper bracket match will play Torus Gaming, and the winner of the Torus match will also play in the Grand Final.

This is not the first time that Thunder Predator have been under scrutiny this season. The team were known as Thunder Awaken until late March, when one of their players was involved in match-fixing and consequently banned from joinDOTA League. The team changed their name, dropped the player in question and moved on as Thunder Predator.