Two teams received last minute invites to the TI8 Regionals, one of which appeared to forfeit crucial matches to play in a local LAN earlier in the season. *UPDATE* Boom Esports have explained the series of events that led to their forfeits.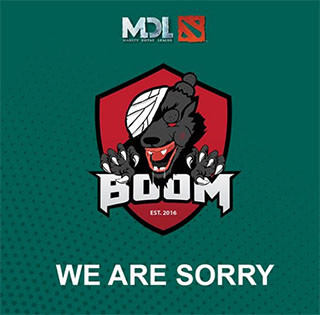 Boom esports after first Regionals forfeit
Controversial last minute invite for Boom Esports


The first last minute invite is Team Singularity*, who is currently competing in the joinDOTA League #13. The second direct invite is Boom eSports, which is a slightly controversial Regional invite as they forfeited several Regional matches back in April, all of which were linked to DPC Majors.

On April 18th the team posted an image with the words "we are sorry" on their Facebook and Instagram page, after their team ended up missing their MDL Changsha Major Regionals match against Execration due to "scheduling miscommunication".

However, three days later Boom esports would end up withdrawing from the MDL Changsha Regionals all together, missing another match, this time a quarter-final against Clutch Gamers. The same day they also forfeited their semi-final match against TNC Predator in the ESL One Birmingham Major.


"Hopefully we can gain your trust back and deliver a good performance"


On Twitter in reply to the news that Boom Esports was given a delayed invite to the TI8 Regionals, one user commented about their forfeited matches, triggering a response from Boom Esports.


We are deeply sorry that you are still dissapointed over what happened then but thought we explained the situation well. Hopefully we can gain your trust back and deliver a good performance to make you proud of us again!

— BOOM ID (@boomesportsid) June 12, 2018
Boom Esports forfeited Regional matches but competed in local LAN?


A little bit of research reveals that on the day of their double forfeit they participated in a local LAN tournament called the Indonesia Games Championships 2018, which ran from the 20th to 22nd April, although the tournament is not listed on their current Liquipedia page. The IGC2018 tournament had a prizepool of $10,000.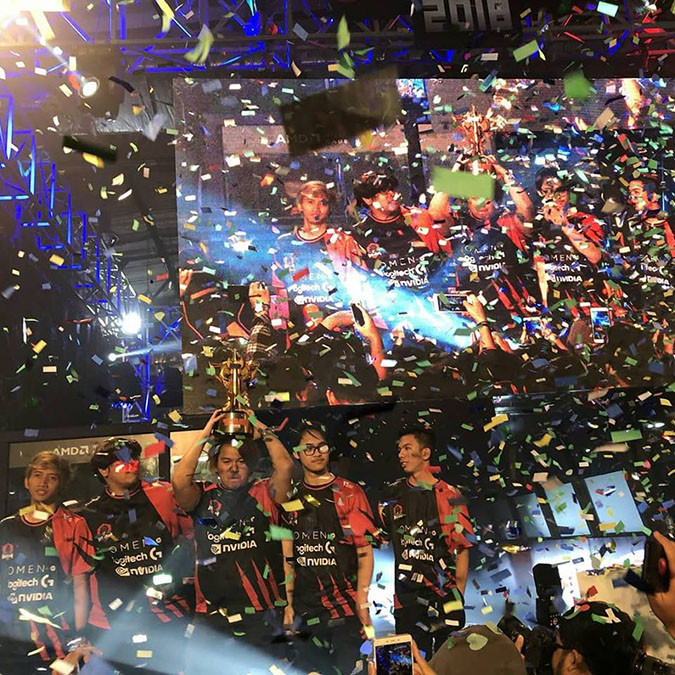 Boom Esports forfeited two DPC Majors Regionals but still played in a local LAN which they ended up winning



Despite the double forfeit in the playoff stage of the Major Regional Qualifiers for MDL Changsha and Birmingham, Boom esports went on to win the Indonesia Games Championships, taking home $4,322, yes you read that number correctly. Boom Esports publicised their participation on their social media, which triggered a few heated comments from their followers, although the five game unbeaten run in the lower-bracket was a great result for the team at IGC2018.


*UPDATE* Boom Esports explains how delays at local LAN led to forfeits


Boom Esports were kind enough to share their side of the story after joinDOTA reached out to them, stating that the matches forfeited on the 21st were the result of an unfortunate series of events, where they mistakenly tried to compete in 3 tournaments simultaneously, 1 local LAN and two DPC Regionals.

As a result of technical difficulties and delays in the local LAN, their LAN appearance collided with their scheduled Regional matches, and due to family members and fans attending the local tournament, they decided to forfeit both their DPC Regional matches, despite hoping to try to play the LAN and one of the Regionals.

"We hope we can prove and show to you / everyone that the invite is not controversial. Our players especially worked hard since TI7 to this point, and I think their performances and results more than warranted an invite to regionals. It would be a shame if a collective series of mistake/miscommunication on April 21 to undermine their overall performance and results over the year," said Boom Esports.

Although Boom Esports did forfeit several matches, they did not change their roster, making them eligible for one of these two unusual last minute invite to the Regionals. Their addition reduces the spots for Open Qualifier teams to 5 in the SEA Regionals.