Valve usually releases the list of teams invited to regional qualifiers a mere day or two before opens begin, but this year is special. This year, we've already got the list and regional slot breakdown! Let's dig into it.
Direct Invites







The eight direct invites were locked in earlier this week in the China Dota 2 Supermajor and their placements were finalized when the event ended earlier today. What we didn't already know was how many qualifier slots there would be for TI8, and how many of those slots would go to each region. Now, that question has been answered, and it's ruffled some feathers.



As usual, Wykrhm has done a beautiful job of visualizing things for us. Each region has 1-3 directly invited teams, with the exception of South America, and the slot breakdown is listed in purple below. The big topic of discussion so far has been the fact that North America has been given three slots, more than any other region.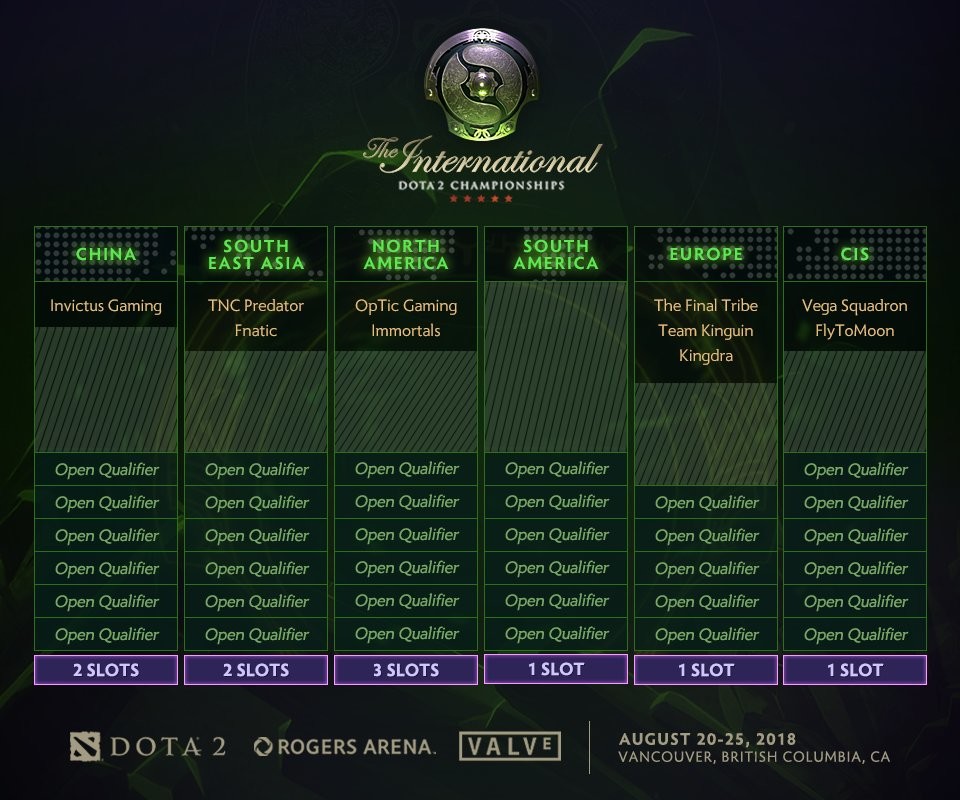 Source: Wykrhm



What's interesting is taking a look at how many teams per region will compete at TI8 when we take the direct invites into account. One from South America, two from CIS, three from Europe, three from North America, three from Southeast Asia and six from China. Even if we pretend that Valve still considers EU/CIS one region and NA/SA one region, that's just five and four teams for each respective "mega-region". Is that even balanced?

Another notable factor is that no open qualifier allows more than six teams through, so each qualifier has a different number of slots depending on how many invited teams there are. This that North America and China are seven-team qualifiers, SEA/CIS and EU are eight-team events but SA is just a six-team qualifier with its zero regional invites.