The drama about China Dota 2 Supermajor is almost over, while
Maurice 'KheZu' Gutmann brings us another invite problem. Who is Evil Corporation?
2/2 Lets have a look at the EU closed qualifier for ESL Birmingham.

You have DIRECT INVITE 'Evil Corporation'. Now one might ask, who is Evil Corporation? Not even the ESL Liquipedia can tell you. Alliance and us went through OQ, but this unknown team somehow got invited.

— Maurice Gutmann (@KheZzu_) 17. April 2018

The German offlaner is part of
Mad Lads*, who are comprised of four former
Ad Finem players. While they didn't earn any points for the season, they received invites to several qualifiers. Next up is the EU Qualifier for ESL One Birmingham. Although Mad Lads have also received an invite to the qualifier, KheZu's comments highlight that the current controversy surrounding invites also extends to qualifiers, not just the tournaments proper.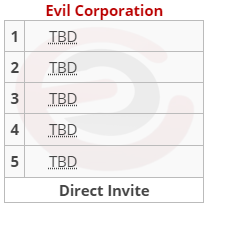 While the other seven participants in the qualifiers are pretty well known, Evil Corporation can't even be found on Liquipedia. According to joinDOTA, the last match the European squad featuring
OwnedMe participated in was against
Double Dimension* in a qualifier for the ESL One Katowice qualifier - such a long time ago.


Should Na'Vi be invited?


The fact that
Natus Vincere are still classified as a Tier 1 team for qualifier invites was also critized by the Mad Lads player. This ended in a discussion with v1lat, where both players discussed the current invite situation.


I agree with that, but I don't think it will stop. I'm not calling out Navi, I'd accept all the invites in the world. I just think the current system is a little flawed and could really use some work

— Maurice Gutmann (@KheZzu_) 17. April 2018

The fact that Na'Vi were invited to the Supermajor was already an issue for
Jacky 'EternaLEnVy' Mao and
Peter 'ppd' Dager. Now KheZu is critizing the fact that Na'vi, who mostly got their DPC points through former
Virtus.pro star
Ilya 'Lil' Ilyuk, are still the first invite from the CIS region.


Flaws in the current invite system are obvious - a lot of pros have been complaining recently, but what is the solution?
Photo credit: DreamHack - Alexander Scott