Much like the last-minute addition of Dark Willow the day before groups at The Bucharest Major 2018, Pangolier's addition to Captain's Mode came at even more awkward time - this time, during groups at the Dota 2 Asia Championships 2018. Several teams tried him out, but had limited success. It's time to take a look at Pangolier's first LAN event.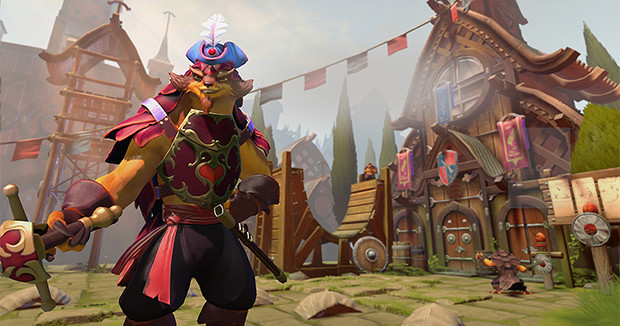 Pangolier was released in the evening of March 29th for those in Shanghai at DAC. One of the opening matches the next morning was between OG and OpTic Gaming, in which OG opted to ban Pangolier in the first phase. Meanwhile in VGJ.Thunder versus paiN Gaming*, Pangolier was ignored.

After that initial ban, several games passed until it was time for OpTic's next match. Again, Pangolier was banned against them, this time by Vici Gaming. Other than one more ban from Evil Geniuses against paiN, Pangolier was largely ignored on his first day in Captains Mode.

PSG.LGD didn't bother to ban Pangolier against OpTic in their game the next day, but OpTic didn't grab him up. The first team to actually pick Pangolier was Mineski, in their first match on the third day of DAC groups. They were playing against Team Secret and gave the hero to Daryl Koh 'iceiceice' Pei Xiang, who has apparently been playing plenty of the hero in his pub games, to take to the offlane.

iceiceice opted for a tanky item build to be the front-liner for his team. This role was well demonstrated in the final fight of the game, when he used Rolling Thunder to effectively block Team Secret from moving uphill into their own jungle. He built Blink Dagger first, a valuable tool on Pangolier thanks to the ability to blink while rolling. Next came Guardian Greaves and a Pipe of Insight, then he topped it all off with a Linken's Sphere to make him even harder to kill.



Mineski didn't have another chance to pick Pangolier for the rest of the group stage, he was banned by their final two opponents. However, Mineski's pick seemed to have opened the floodgates somewhat to other teams looking to try out Pango. paiN were the next ones to grab him, giving him to their offlaner Otávio 'tavo' Gabriel in a game against Secret. It was Pangolier's first loss of DAC.

OG were next, and the first team to pick him as a support instead of an offlaner. Jesse 'JerAx' Vainikka's build opted for an early Spirit Bessel before Blink, then Diffusal, but OG were overrun by TNC Predator in the game and Pangolier suffered another loss. The other big names of EU Dota followed suit - Secret picked him for Yazied 'YapzOr' Jaradat and Team Liquid gave him to Kuro S. 'KuroKy' Takhasomi. Both went for the MKB build, but diverged.

Kuro was unable to complete the MKB early and went back for Blink and Scythe of Vyse. YapzOr completed his MKB and a Basher after his Blink, grabbing a Bloodthorn and Blade Mail in the late game thanks to his riches accumulated in team fights. Pangolier lost both games, but both were also very close and played against tough opponents - Newbee for Liquid and Virtus.pro for Secret.


YapzOr's build against Virtus.pro



OpTic finally got their hands on Pangolier during the tiebreakers on the fourth day of the group stage, and took the heroes' second win of the event. They gave it to Ludwig 'zai' Wåhlberg, who played him as a roaming support. The build was very similar to ones we've seen before, though he only bought one Javelin before going for his Blink Dagger. He followed those with a Diffusal, Linken's Sphere and was aiming for a Scythe of Vyse as his team closed out the game.

His position was different, but his role was very similar to iceiceice's in the earlier Pango win - disrupt fights and set up kills with a Roll and Blink out of fog. His performance earned him Match MVP from the post-game panel.

Between OpTic's win and the Grand Final of DAC, Pangolier was picked two more times. The first was Invictus Gaming picking him for Ye 'BoBoKa' Zhibiao in a loss to OpTic. The second was OpTic's second Pangolier pick of the event, in a lost lower bracket elimination game against TNC.

After OpTic, Mineski were the second team to pick Pangolier twice but they waited all the way until the Grand Final against LGD to do so. They lost with him in a Game 1 stomp, but adjusted as the series continued and brought him back for their Game 4 win which evened up the series. In both games, iceiceice stuck with his tanky build of Guardan Greaves, even adding a Crimson Guard in Game 4.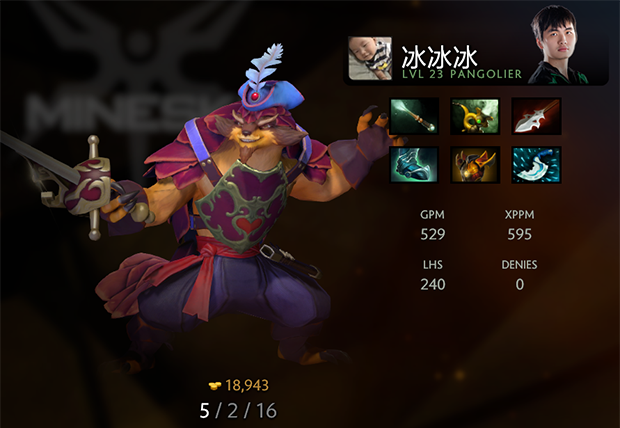 iceiceice's build from Game 4 of the DAC Grand Final



Despite his overall 30% winrate, it looks like Pangolier will be a very strong support or offlane pick in the right hands. There's no doubt in our minds that the hero will gain popularity as more players add him to their repetoire, just like we've seen with Dark Willow.