Team Secret's victory over
Team Liquid puts them through to their fourth Pro Circuit Grand Finals. Although post-victory Yapzor said it was the first time he felt bad about a win.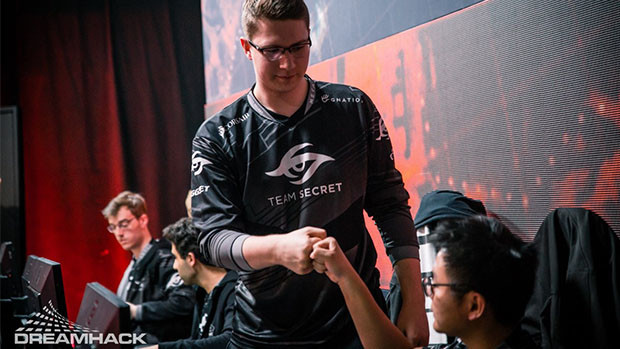 Victory over Team Liquid put Secret through to their 4th Pro Circuit Grand Finals



4th Pro Circuit Grand Finals and a shot at a second Minor title
Team Secret's win over Team Liquid today puts them just one win away from their second Pro Circuit Minor title and takes them ever closer to a assured TI8 direct invite. So far on the Pro Circuit Team Secret have won 2 of their 3 Grand Finals. They were runners-up at the ESL One Hamburg Major but finished 1st place at the DreamLeague Major and the Captains Draft Minor.

The DreamLeague Season 9 Minor has been a bit of an odd tournament considering two of Secret's biggest rivals, OG and Liquid, are both playing with their coach as a stand-in. OG were eliminated in the lower-bracket but Liquid could still force a rematch if they beat the winner of
Newbee versus
Fnatic. However, based on today's match it does not appear like Team Liquid without Miracle would be able to stop Team Secret.

With @teamsecret being our first Grand Finalists, we had a little sit down with @acedota on their break, and future opponents. pic.twitter.com/QvNdhNkDmi— DreamHack Dota (@DreamHackDota) 23 March 2018




Ace on Liquid without Miracle: "I do think he makes a world of difference"
Team Liquid losing to Team Secret in any other tournament would be a huge headline, but it is important to note that Liquid are competing at Dreamleague Season 9 without Miracle, who is taking a short break.

"I do think he makes a world of difference," said
Marcus 'Ace' Hoelgaard when asked how significant Miracle was to Team Liquid. "For sure, this doesn't feel quite the same to play against them without Miracle."

Despite Liquid playing without their explosive mid player, Ace said Team Secret took the match very seriously, and they ended up disposing of Liquid 2-0 in less than 60 minutes following two very one-sided games.

Yapzor: "This was the first time I felt bad about a win"
Considering Team Liquid were competing with their coach
Soung-Gon 'Heen' Lee as a stand-in for
Amer 'Miracle-' Al-Barkawi, there was hope that Secret might also play with their coach for the match but it sadly did not happen. Post-match Yapzor said it was "the first time I felt bad about a win".


Sorry to everyone who believed our coach will play, we respect Liquid too much to underestimate them even when they are not full roster. This was the first time i felt bad about a win, hope to meet them in the finals again.

— Yazied Jaradat (@YapzOrdota) 23 March 2018