Fnatic are now into the final four after victory against
Team Empire following a rather unusual Shadow Shaman core pick, a pick which did not end so well for them yesterday...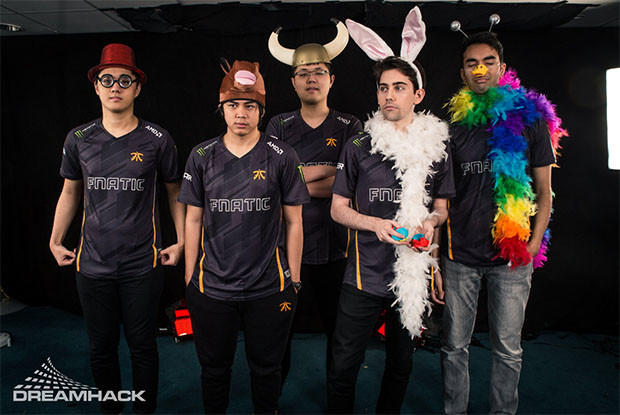 EE: "We couldn't fight that easily because we have a lot of ratting going on"
Fnatic recovered from yesterday's 2-1 defeat to Team Liquid to grind out a win versus Team Empire. "We felt really good in both games. Game 2 a little bit less because we couldn't fight that easily because we have a lot of ratting going on," said EternalEnvy after the games in a post-match interview.



Core Shadow Shaman worked a treat

"I think we fought too much actually because we weren't familiar with the pace of the game, the game was way too fast. We got like four towers and a Rosh in 11 minutes and then we kept going to places we don't belong. We weren 't supposed to go there but we did and we just kept dying. They ended up catching up."

EternalEnvy said around 12 to 13 minutes is when he felt a little worried following a few unneccessary deaths bottom lane for his team. A rather disastrous Roshan fight followed at 19 minutes where Fnatic lost their entire team. "That was definitely not something we should have done, but I wasn't worried," said EternalEnvy. The fight ended a 4 for 5 trade in favour of Empire, and was for the most part Empire's last favourable encounter in the game.



For the rest of the game Fnatic went for objectives and made very good use of Dj's Aghanim Sceptre Shadow Shaman with Refresher Orb to take out Empire's buildings. One very powerful example of this was at 30 minutes when Fnatic smoked up outside Empire's base to drop Double Serpent Wards before their enemy could respond. Empire at this point had already been worn down and it was a slow but seemingly inevitable defeat.

With that 2-0, @fnatic survive for another day.Listen in to @EternaLEnVy1991's Post Game Interview and replay analysis!#DHDreamLeague pic.twitter.com/BCLM7XBQ3u— DreamHack Dota (@DreamHackDota) 23 March 2018


EternalEnvy analyses unsuccessful Shadow Shaman pick versus Liquid yesterday
It is not the first time Fnatic have drafted core Shadow Shaman as EternalEnvy also picked it for himself in game 3 against Liquid yesterday, but admitted he quickly realised it was not an ideal decision in that particular game.

"I fucked up, I picked it (Shadow Shaman core) into a Tide," said EternalEnvy, clearly referencing Fnatic's use of offlane Shadow Shaman in their match against Liquid yesterday.

"I was thinking I could destroy a Tide and take all towers but I'm so stupid because he has Kraken Shell and it blocks my ward damage. When I dropped the Rasta words I realised that's how it worked I was like 'this is over'. The draft was already looking so bad, the first four picks were so bad it was hard."

However, today's use of Shadow Shaman for
Djardel 'DJ' Mampusti overwhelmed Team Empire, who had no response to Refresher Aghanim Sceptre Wards, especially as Fnatic made sure to sneak him into Empire's base.

Fnatic's 2-1 loss to Team Liquid yesterday put them in the lower-bracket today, but the 2-0 win over Empire means an encounter with
Newbee for a spot in the top 3 of the DreamLeague Season 9 Minor.