Big day for
Evil Geniuses as took home their first Pro Circuit title at the GESC Jarkata Minor in Indonesia. Here at #GESCIndonesia we'll pull past them as Champions. EG Dota has claimed their first DPC event of the year! #BleedBlue pic.twitter.com/7kiqiIYnah— Evil Geniuses (@EvilGeniuses) 18 March 2018


Evil Geniuses' first DPC Grand Finals and their first victory

Evil Geniuses fortunes on the Pro Circuit continued their upward trajectory this weekend after they made it to the Grand Finals of the GESC Jakarta Minor. Their opponent in the Grand Finals was
VGJ.Thunder, the same Chinese team that finished runners-up behind
Virtus.pro at the Bucharest Major. Unfortunately for VGJ.Thunder they suffered yet another swift defeat in a Grand Finals, this time losing 2-0 in just 46 minutes.

Game 1 of the Grand Finals lasted just 20 minutes with VGJ.Thunder's carry
Liu 'Sylar' Jiajun bullied beyond belief, suffering four deaths in the first 13 minutes of the game. EG's pushing power was formidable with
Sumail 'SumaiL' Syed Hassan's Pugna and
Clinton 'Fear' Loomis's Viper, and captain
Rasmus 'rASmus' Fillipsen played a vital role in setting up kills on Rubick.

The second game of the bo3 Grand Finals was very similiar to the first, this time with
Artour 'Arteezy' Babaev's Phantom Lancer the star of the show, going 8-0-4 in the 26 minute game.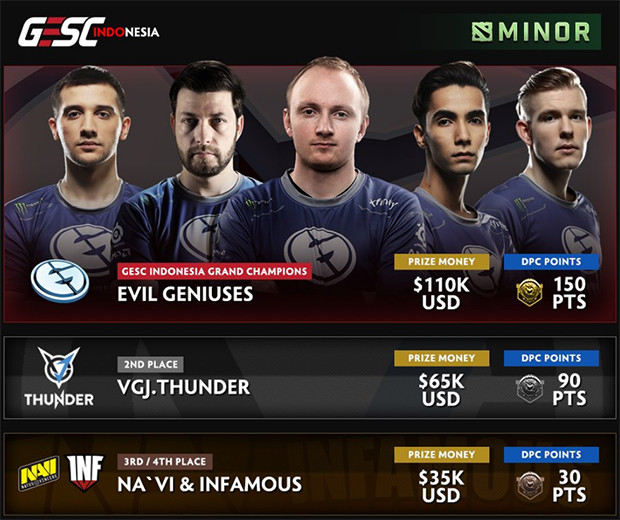 Misery led Evil Geniuses to their first DPC Grand Finals and title



Overall it was sadly another very dissapointing Grand Finals for VGJ.Thunder, who much like in Bucharest, fell to pieces in the Grand Finals. Regardless it means they will still hold on to 6th place in the DPC Rankings while Evil Geniuses move up from 9th to 7th off the back off the GESC Jakarta Minor victory. What is interesting about Evil Geniuses victory, is that they were the only direct invite to the tournament and they did not drop a single game.


Beginning of something special I hope, thanks to the fans who expressed their passion in the arena. Hope to see you all again soon

— Artour Babaev (@Arteezy) 18 March 2018
Minor, but major victory for us, thanks for the support and great crowd Indonesia. #bleedblue

— Cr1t- (@Cr1tdota) 18 March 2018