Infamous's top 4 so far at the GESC Jakarta Minor means South America will have DPC Points.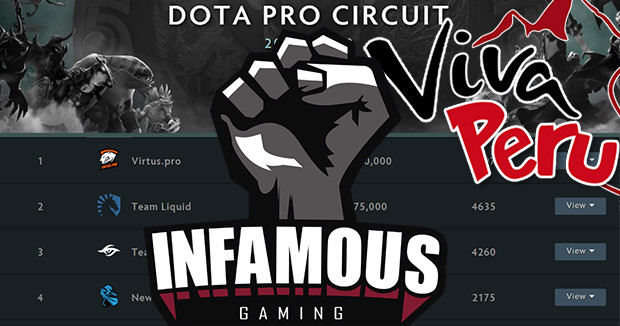 Infamous become the first ever South American team to win DPC Points






Infamous become first South American team to get DPC Points

Infamous' run in the GESC Jakarta Minor has taken them as far as the semi-finals, and whether they win or lose today's match, they are already guaranteed DPC Points. DPC Points and Top 4 may seem like quite a common occurence but this will be the first time ever for a South American team to acquire them.

Infamous' record in the Pro Circuit so far
7th-8th - PGL Open Bucharest (Minor)
7th-8th - DreamLeague Season 8 (Major)
7th - MDL Macau (Minor)
7th-8th - Starladder i-League Inv S4 (Minor)
13th-16th - ESL One Katowice (Major)

The GESC Jakarta Minor is Infamous' sixth Pro Circuit event, having attended 2 Majors and 3 Minors so far. Their highest place up until this point was 7th place at the MDL Macau Minor.

Infamous take on the Bucharest Major runner up
VGJ.Thunder in the single elimation semi-finals today in a very tough match. Regardless of the result Infamous are guaranteed to be at least joint 13th place on the DPC Rankings after the Minor ends.