Virtus.pro have taken their place in yet another DPC event Grand Final after a nail-biting 2-1 series against
Team Liquid to close out the penultimate day of The Bucharest Major 2018.

Game 1


The crowd went absolutely nuts for
Team Liquid's last hero - Invoker for Amer 'Miracle-' Al-Barkawi, a signature pick known for winning games. Liquid took an early kill lead but they were mostly killing VP's supports while the cores steadily farmed away. VP stormed into the lead with a series of 16 kills between the 11 and 20-minute marks ingame and not even Miracle-'s Invoker could pull Liquid back from the brink. VP didn't rush, but decisively took the win in just over 37 minutes.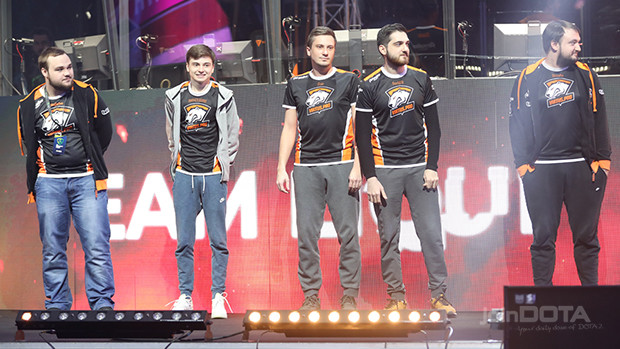 Game 2


The panel didn't have high hopes for Liquid heading into this second game but of course Liquid had other ideas. As the panel predicted, things were pretty rough for Liquid in the early game. Luckily for them, Lasse 'Matumbaman' Urpalainen's offlane Venomancer thrived top while mid and bottom were suffering, so he could make space later on for his team to catch back up. Virtus.pro were banking on Roman 'RAMZEs' Kushnarev Luna to come up big for them but her magic damage (and that of the rest of her team) was cut significantly thanks to Liquid's two Pipes of Insight, Hood of Defiance and a Cloak.

Liquid had essentially become unkillable, they quickly took over the lead and closed out the game after just 24 minutes. Thankfully, this win gave us our first Game 3 of a series today.


Game 3


Liquid made a gamble picking Huskar for Miracle- in the deciding game. They picked the hero into an incredibly durable VP lineup featuring Death Prophet, Underlord and even Oracle for saves, but had no saving hero of their own. Things went ok for Liquid for the first 15 minutes of the game but a devastating fight at that point got the VP train rolling and we saw yet another relatively one-sided game to finish things off. There were quite a few moments where it looked like Miracle- was going to go ham in fights but Aleksey 'Solo' Berezin's Oracle was already ready with a False Promise.



With a final team wipe in Liquid's base around the 35-minute mark, Virtus.pro had stopped Liquid's hope of winning their first Major in its tracks and secured themselves yet another Grand Final spot. They will play
VGJ.Thunder tomorrow in the Grand Final, the only series of the day.

As pointed out on Twitter, the win also secures them enough DPC points to be the first team mathematically guaranteed a direct invite to The International 8.

https://t.co/T2aqi5bMk9 hits the #DPC killscreen with 6297 points and are going to The International 8!🇷🇺 RAMZES666 🇺🇦 No[o]ne 🇷🇺 9pasha 🇷🇺 RodjER 🇷🇺 Solo Coach: 🇺🇦 Ivan "Artstyle" Antonov pic.twitter.com/WZaVOv1Soo— Qualifiers Oracle (@Dota2Qualifiers) March 10, 2018