Kurtis 'Aui_2000' Ling and his teammates have left the organization a mere month after joining following accusations of missed payments to the CS:GO team.null Update 2:

In a lengthy full statement posted on Thursday, Iceberg laid out the reasons for the org's failure and failure to keep to its contract with players - namely, its misplaced trust in verbal assurances from potential investors, its relying on one player to keep the rest informed about the situation, and "gaps in the Canadian [esports] industry."

It also promised to pay players if, one day, it had the money to do so. The statement ends with a reiteration of their commitment to improving the Canadian esports scene and an apology.


Dang, I don't know much about business but I wish I knew from the start that my financial situation was riding on "repeated assurances" :/

— Tom Connors (@tconnorscs) March 1, 2018


You can read the full statement on the org's website or by clicking below.



Full statement

Iceberg Statement 01-03-2018

Thu 1st Mar 2018 - 2:20pm

As many of you have surely noticed, Iceberg Esports has been changing its focus. After a long analysis of the Canadian esports industry, it simply isn't a viable investment to operate esports teams in Canada until there is a wider acceptance of esports on the corporate level. We are firmly committed to the Canadian esports industry, and have decided to pivot towards building the industry in a way that organically introduces corporate partners without trying to force it on them. We have dissolved all our team and player operations, some of whom were very understanding, and others not so much. We have been very upfront with our players about Iceberg's changing situation, prioritizing shared information over even our own confidentiality to ensure they understood everything that was happening.

We would first like to address the nature of the situation. Iceberg signed the CSGO MDL team playing under the Iceberg name only days before the new year, and paid a month's salary over the course of the following weeks out of staff pockets. This was done with the understanding that an investor had made representations and repeated assurances that Iceberg would be funded before the end of January. Shortly after the Dota 2 team had been signed (January 26th) news came from the investor that the transaction would not be taking place. The CSGO team assured us they would be "sticking together with Iceberg", and we began the process of establishing a bootcamp for the Dota 2 team in Toronto. At this time, the CSGO and Dota 2 teams were made aware of the situation, and Iceberg management adamantly investigated other avenues of funding through investment and sponsorship on the basis of team performance. Unfortunately, this was not enough to satisfy the interested parties, and those deals fell through. On February 12th, the CSGO team received notice that Iceberg would be terminating their contracts without cause after 30 days. While a difficult decision, the consensus was reached that Iceberg could not continue with the CSGO team. Iceberg offered to waive this period and any buyout clauses to allow the team to seek other organizations and sponsors unhampered, which the players elected not to pursue. On February 28th, Iceberg's Dota 2 team arrived at bootcamp and agreed to mutually dissolve their contracts to pursue other organizations. On the same date, a conversation was had with CSGO player Warren "Hades" Rettich, acting as the representative of Iceberg's CSGO team, to relay to the remainder of the team that Iceberg was ceasing all team operations including Dota 2 alongside the termination of the CSGO team. All players were told, and the point was reiterated that, should Iceberg become capable of compensating the players for their salaries up to the termination date, the players would receive such compensation as quickly as able. We have come to the understanding that this information was not relayed to the other members of the CSGO team, and for that we accept fault for assuming one player would accurately represent what was discussed with the others.

Iceberg has maintained communication regarding this matter regularly and, while unfortunate, this has left some players dissatisfied with our approach. We understand their grievances, but assert their misgivings. Having been aware of our situation from the moment it arose, and being aware of termination long before their public statements, the eventual conclusion of our management to cease operations did not come as a surprise. Our management team, for as long as able, even paid players out-of-pocket. We had hoped that, given the month's notice and constant lines of communication, the players would understand and take advantage of the opportunity Iceberg presented to actively engage with other organizations. Largely, our players have been very professional and understanding of the predicament. Unfortunately, we cannot always anticipate emotional reactions to unfortunate news. What we can say with certainty is that we honour our commitments. While we will not be pursuing new teams/players, all former players will be fairly compensated for their commitments to Iceberg when the company is able to do so.

We look forward to starting a new chapter in the industry, and hope to spur greater investment in the national market. Canada deserves to have an industry where players have a wealth of options to progress from amateur to professional, and we've come to understand that there are many gaps in the Canadian industry directly preventing that. The two largest being the stigma surrounding esports and competitive gaming in general, and the general lack of commercial interest in the Canadian scene versus other national and regional markets.

We understand that some may still be upset about this circumstance, and we want to assure you that we are too. If this were an avoidable situation, it would have been avoided. Nobody wanted the success of Iceberg more than our incredible and dedicated staff. We acknowledge that our situation at the time of signing was precarious, but we were given an understanding from a third party that it was alright. That's on us. But through a chain of events entirely beyond the control of anyone from the managers to the CEO, any prospect of recovery was dashed. We apologize for the discomfort and outrage some have rightfully felt, this is the exact situation we were hoping to counter in this plagued industry. The reality is, at least in Canada, there is a long road ahead in organically growing commercial interest before full-time professional teams can be considered a serious option. We hope to play a hand in driving that growth, and this is certainly a bump in the road, but we have every intention of continuing to bring attention to the esports industry from angles and verticals that had previously been considered impossible or improbable.

We are sorry.



Update:

Iceberg Esports posted on Twitter that a full statement will be released in the coming days.


A full statement will be released in the coming days. For now, we'd like to reiterate for everyone that during previous meetings with our players, Iceberg already confirmed that all salaries will be paid up to their respective end dates despite early terminations.

— Iceberg Esports (@IcebergEsports) 1. März 2018


Original article:

The announcement was made by Aui himself on Twitter:


We're no longer under contract with iceberg. Back to animal planet

— Aui 2000 (@Aui_2000) March 1, 2018


The decision to leave follows a claim by its CS:GO roster that the org owes each player over 3000 CAD. After confronting management, the players were apparently blocked on Twitter.


I'd like to thank @IcebergEsports for failing to pay out $3k+ CAD per player then blocking us all on everything. This screws me for the next 2 months and is the last time I ever rely on a non-pro org to pay my bills. Huge mistake :( pic.twitter.com/hTqMPwr40h

— Tom Connors (@tconnorscs) March 1, 2018


Iceberg Esports seems to be the latest addition to the plethora of shady esports organizations that fail to fulfill their contractual obligations on their way to making a quick buck. Ironic, considering that their Twitter bio claims to be "Canada's premier esports organization" and "Setting new standards for player care and quality."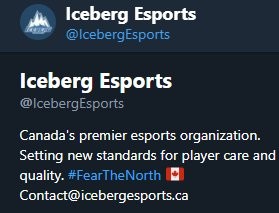 As of now, we only have one side of the story, as Iceberg Esports have yet to give a statement on the accusations. All we know for sure is that the former TI-Champion from Canada and his NA squad are now without an org again.

Teaser image credit: ESL