Team Liquid versus LGD may not be a classic matchup but these two squads put on one hell of a show for us in the Starladder | i-League Invitational #4 Grand Final. Today's 3-1 victory makes this Liquid's fourth consecutive StarLadder title and
Kuro S. 'KuroKy' Takhasomi's 1000th professional Dota 2 win.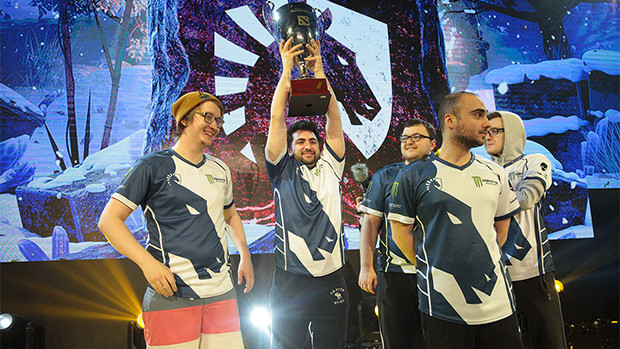 Photo credit: StarLadder
This series was a classic example of two teams feeling each other out over the course of several games. Liquid took the first win in an action-packed 52-minute game that saw some wild swings back and forth as LGD searched for ways to counter
Miracle-
's extremely farmed Storm Spirit. A few misplays almost gave away the game but Liquid managed to hold on long enough to allow their other heroes to catch up to Storm before they took mega creeps and finished off LGD.
Stomp and counter-stomp
After that very back-and-forth first game, LGD decided on a deadly gameplan reminiscent of the old TI4-era deathball. They picked Lycan, Beastmaster, Dragon Knight, Keeper of the Light and Witch Doctor all of which added up to some very potent sustain and pushing power. They executed their plan beautifully, forcing Liquid to make their earliest GG call in over a year.
That was the first time in 230 games since 7.00 that Team Liquid have called 'gg' before the 20:00 mark #InvitationalS4 https://t.co/t8YzP3TnhD pic.twitter.com/m7dM5ilgB7— Nahaz (@NahazDota) February 4, 2018
The tables turned for Game 3 as Liquid adjusted to LGD's draft, picking
Gh
's signature Io in the first phase and a devastatingly effective Sven for Miracle- last. LGD had banned Liquid's traditional Io partner, Tiny, but Liquid showed that they could make the hero work even without that classic duo. Liquid took a very early lead and never let go, securing the win in Game 3.
1000 (and one) wins
Game 3 was Kuroky's 1000th win in competitive Dota 2 and what better hero to do it on than his signature Rubick. He's played 217 games with 142 wins (a 65% winrate) on Rubick over the course of his career - his most games on any one hero by far and a very solid winrate.
Kuroky is the first Dota 2 pro to reach this milestone, though four others are less than 100 away from the 1000 win mark. They are Gustav '
s4
' Magnusson (969), Johan '
BigDaddyN0tail
' Sundstein (965), Clement '
Puppey
' Ivanov (938) and Tal '
Fly
' Aizik (930).
Game 4 win secures 4th StarLadder title
Apparently GH's Io didn't scare LGD enough in Game 3 because they banned Tiny but left Io in the pool, allowing Liquid to grab the hero in the first phase of the draft once again. The Chinese squad dealt with the early game pressure much better this time around and the first 20 minutes of the game were filled with back and forth brawling.
LGD's choice to lane the tanky Doom and Ogre Magi combo against Liquid's safelane Outworld Devourer and Bane worked well but they were unable to shut down
Matumbaman
's Gyrocopter, who quickly became a major threat.
After this punishing fight around the Roshan pit things went downhill fast for LGD. With buybacks expended on LGD and an Aegis on Miracle-, Liquid were able to push their advantage and end the game just a few minutes later.
This is Liquid's fourth Starladder title in a row (their first was
Starladder | i-League StarSeries Season 3
in February 2017). It's also an injection of another 150 Qualifying Points per player, inching them ever closer to the reigning QP leader,
Team Secret
. Liquid have two Major appearances on the horizon which could be their chance to overtake their EU rivals -
ESL One Katowice 2018
and
The Bucharest Major 2018
.
thats why he won🙌 pic.twitter.com/CLp39sQRNG— Newbee.Jophy🐰 (@chenya0317) February 4, 2018