After Valve removed the Major status of their event, Fallout Gaming sees 3 more teams withdraw from the competition.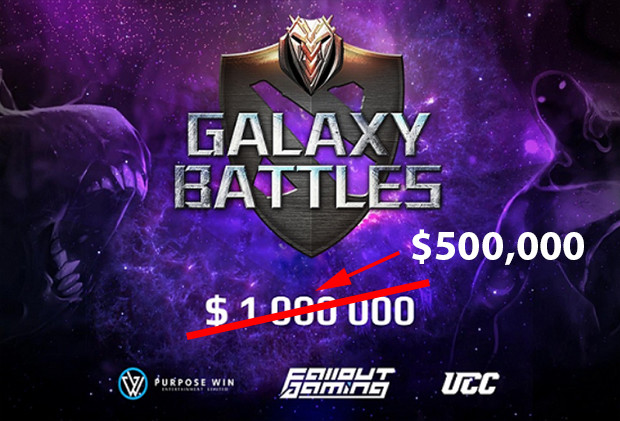 14 teams left but 4 have dropped out, including 2 direct invites
Valve deemed the new regulations in the Philippines an invasion of player privacy, such regulations include a compulsory drug test for marijuana and meth. Valve shared on Friday that they have decided to strip the Galaxy Battles II event of its Major status, which means not only does the event no longer offer competing teams DPC Points, but it also means the prizepool drops from $1 million to $500,000.

Yesterday
Virtus.pro were the first to announce they will no longer be participating in the tournament, and today three more teams were confirmed to have withdrawn.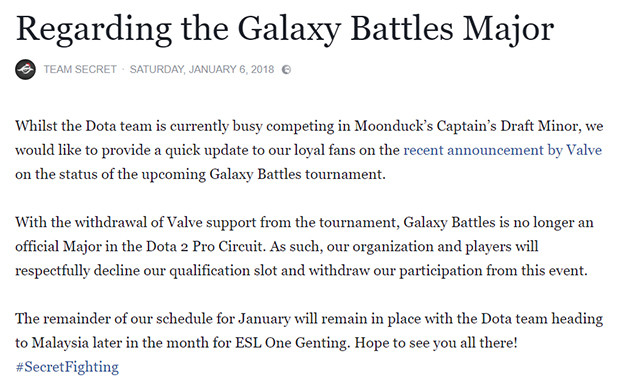 Team Secret decide to withdraw
Due to the recent decision from Valve and after many conversations with our team, we have decided that the OpTic Dota 2 team will not be participating in the upcoming Galaxy Battles event in the Philippines.

— Kodiak (@KodiakShroyer) 6 January 2018



Galaxy Battles II is now without direct invites
Virtus.pro and
Team Liquid, EU Regional winners
Team Secret and NA Regional winners
OpTic Gaming.

Fallout Gaming have option to "promote" Wildcard teams
The event was scheduled to have a 4 team Wildcard stage to decide the 2 final slots at the main event, but Fallout Gaming do have the option to simply remove it and allow all 4 to qualify. The four teams in the Wildcard stage are set to be
Team Kinguin*,
Team Empire,
SkyVille* and Indonesia team PG.Barracx.

This would bring the number of teams up to 14 instead of 12. Even with four teams already dropping out Galaxy Battles II still currently has more teams attending than both the ESL One Hamburg and DreamLeague Major, which were both 8 team events.

Fallout Gaming announced on Facebook yesterday that the event will still go ahead.