The Games and Amusement Board in the Philippines issued a statement regarding last night's announcement that Valve had stripped Galaxy Battles II of its Major status. A side effect of athlete status being granted
Last night, Valve pulled the plug on Galaxy Battles II being a Major on the Pro Circuit, just 11 days before the event was due to take place. In their announcement, Valve claimed the "new government regulations" would be an infringement on the privacy of the players competing.

Earlier today Filipino journalist Pao Bago shared a screenshot of the official letter on the subject from the Games and Amusement Board of the Philippines. In the letter the GAB confirmed suspicions that all players entering the country would be required to complete drug tests, and said that would take the form of a urine test for marijuana and meth.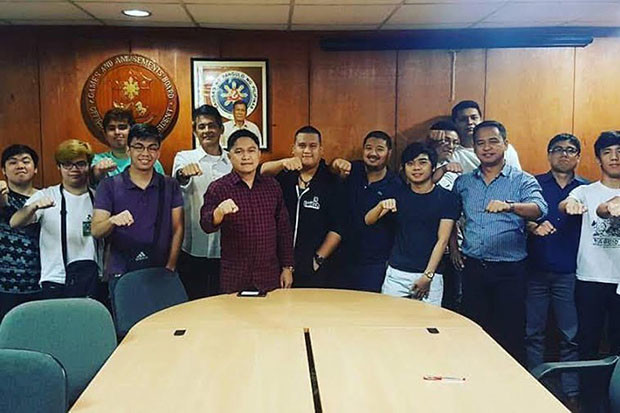 Athlete status: TNC Pro Team and Execration with B officials last year. Photo by Julius Mariano



Why do players HAVE to do drugs tests?
The reason behind the drugs tests is that, in the Philippines, esports players were granted athlete status last year, and as a result must obey the same rules as other sporting disciplines such as boxing, cycling and football according to the GAB. The fact that esports players were to be tested should have been known back in October when they became classed as athletes.

Using marijuana for medicinal purposes is allowed in the Philippines, as well as in countries like Peru, Canada, and some U.S. states and parts of Australia. In Uruguay it is completely legal.

The current Filipino head of state Rodrigo Duterte, who came to power in June 2016, has been very vocal about his war on drugs and has ordered people to be both arrested and killed for drug use in the past. During his acceptance speech he even said he would give a medal to any citizen who shot or killed a drug dealer. What is more according to the Philippine Star the Philippine government has been blamed for the death of more than 7,000 people since July 2016.

"These sons of whores are destroying our children. I warn you, don't go into that, even if you're a policeman, because I will really kill you," the Filipino head of state told an audience in July 2016. "If you know of any addicts, go ahead and kill them yourself as getting their parents to do it would be too painful."

How many players come from nations where marijuana is legalised?
Assuming no players have dual nationality out of the 91 non-Filipino players who qualified for Galaxy Battles II, there are a total of 12 players that come from nations where marijuana is legalised in some manner. For all other attending foreign nationalities posession and use of the drug is illegal.

How long do marijuana and meth usually stay in a user's system?
THC, the active chemical in marijuana is stored in the fat cells and therefore takes longer to fully leave the body than any other common drug according to the NHS.



An occasional or first-time user would probably test positive up to four days after last using

A frequent user would probably test positive up to 10 days after last using

A very heavy user could test positive up to one to two months after last using. -

NHS website

A review of data compiled by the US National Drug Court Institute estimated that:

More frequent marijuana use increases the time it stays in the system but this can vary depending on the individual's metabolism. Meth on the other hand typical leaves the body 1-4 days after consumption but it can last longer if the individual is a heavy user.

According to the GAB's letter, all of the Filipino players holding GAB licenses have already completed drug tests but, in order to accomodate players for Galaxy Battles II, they said "other arrangements could be made on a case-to-case basis". However, players would still be required to complete drug tests in their own country and provide proof on arrival in the Philippines.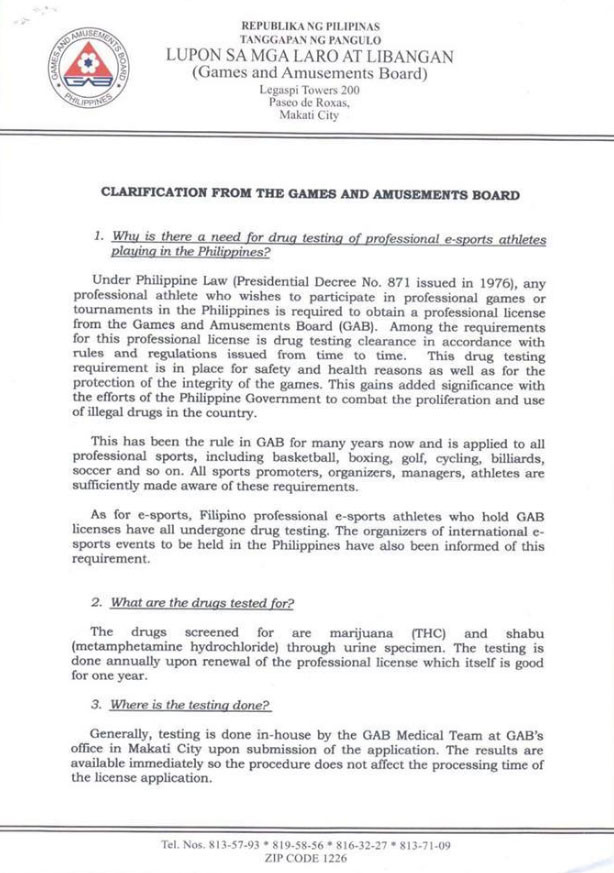 Image shared by Filipino esports journalist Pao Bago via
Twitter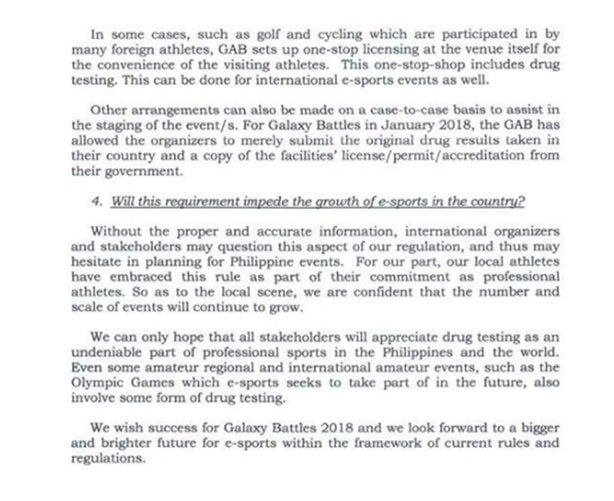 Image shared by Filipino esports journalist Pao Bago via

Twitter



Should esports players be required to do drug tests?