Today on social media news broke that the Greek roster of
Ad Finem has disbanded and as a result will no longer represent the organisation.
everyone is sad to hear, but all are excited for your futures wherever they may be. <3

— Ioannis Loucas (@Foggeddota) 23 December 2017
I dont even know how to type this into words so I won't I'll just say we disbanded mutually and we part ways with @mousesports aswell I thank them for everything they did for us, I am still friends with all of the boys its truly sad but I guess thats the end of the road. 1/2

— Omar Dabachach (@MadaraDotA2) 23 December 2017
1 thing is for sure I will never stop competing till I become the best since I was a kid that was my dream and it remains till I achieve it.

— Omar Dabachach (@MadaraDotA2) 23 December 2017
The roster will be forever remembered for THAT game
The Greek line-up made a name for their themselves playing as Ad Finem at the Boston Major at the end of 2016, finishing runners-up behind OG in the Grand Finals. In that very Grand Finals they were involved in one of the greatest games of the 2016, when they managed to fashion a victory out of what looked like certain defeat in game 3. The Greeks went on to lose the Grand Finals 3-1 but that did not matter, they won the crowd over by showing incredible resilience to still fight back even though they were 2-0 down.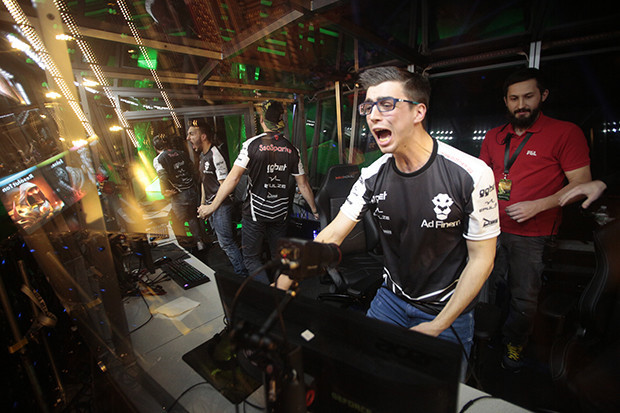 The Greeks thrived off the live audience at the Boston Major / photo via @pglesports
On the 7th April this year, the roster was picked up by major esports organisation
Ad Finem
, but never really managed to replicate the success they had at the end of 2016. Regardless the players, in particular their captain
Giorgos '
SsaSpartan
' Giannakopoulos, became well-known in the international scene. Despite times of struggle the five players stuck through thick and thin, and more importantly through multiple roster locks.
The former Mousesports roster who have chosen to disband
Omar '
Madara
' Dabachach
Dimitrios '
ThuG
' Plivouris
Verros '
Maybe Next Time
' Apostolos
Haris '
SkyLark
' Zafiriou
Giorgos '
SsaSpartan
' Giannakopoulos
It is currently unknown how many of the five players will continue to compete on the Pro Circuit but Thug, MNT, Skylark and Spartan, will be representing Greece at the WESG Global Finals in early 2018.