Virtus.pro defended their Summit title last night with victory at the final Pro Circuit Minor of 2017, and did so without their captain.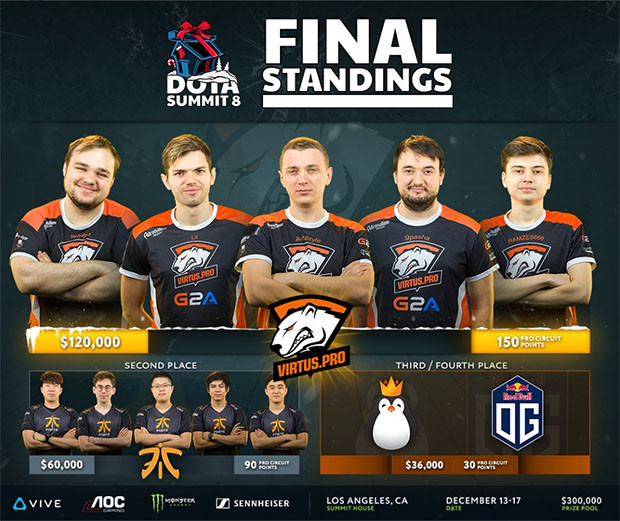 Tired ...
of winning summits 😂
(but it's good )

— VP.No[o]ne- (@Noone_dota) 18 December 2017



VP defend Summit title after unexpected Grand Finals versus Fnatic
Their manager called their lack of a direct invite a "spit in the face" but VP still managed to go all the way last night by winning the Dota Summit 8 after qualifying via the CIS Regionals. Despite competing with coach Artstyle as a stand-in for captain Solo, VP remained stiff opposition and had a flawless 8-0 run leading into the Grand Finals.



Their opponent in the Grand Finals was
Fnatic, a team which has been transformed following the addition of
Abed 'Abed' Yusop as a replacement for
Steve 'Xcalibur' Ye. Fnatic finished top of their group ahead of
PSG.LGD and
OpTic Gaming, but looked like a defeated side after falling behind 1-0 against
OG in the semi-finals after
Johan 'BigDaddyN0tail' Sundstein's Tiny had crushed their draft.

However, Fnatic's newest addition
Abed 'Abed' Yusop rose to the occasion in Game 2 of the semi-finals, taking control as a Templar Assassin before helping to finish off OG with a familiar hero at the Summit 8 in Game 3, the dreaded Medusa. Fnatic's win over OG put them in the Grand Finals, a phenomenal result for a team who struggled in the opening two months of the Pro Circuit.

Fnatic can't stop the VP train but put up a good fight
The Grand Finals ended 3-1 in favour of VP, with two wins secured by
Roman 'RAMZEs' Kushnarev's Broodmother. Fnatic did have their moments, especially in Game 2 where a team effort managed to pull the score level at 1-1, with
Djardel 'DJ' Mampusti having a great game on Rubick. Although Fnatic were unable to stop the VP train they did put up a fight, managing to do what OG, Sacred and Kinguin had failed to do, win a game against the CIS giants.

The Dota Summit 8 is VP's second title of the Pro Circuit season so far and their fourth top 4. Captain Solo is set to return to action in 2018 and the results of his team during his absence put them in 3rd place in the Pro Circuit rankings behind
Team Secret and
Team Liquid.





you can lose TI, Dreamhack, MDL, but there's no way how you can lose @BeyondTheSummit
Thanks everyone who created this tournament! Good in all ways as always

— Ilya Ilyuk (@LilJke) 18 December 2017