The moment
Chen 'Cty' Tianyu's Anti-Mage died to what should have been a harmless Ice Blast has got people worked up after it lead to a loss which eliminate EHOME from the MDL Macau Minor.

EHOME do not reach playoffs after losing crucial game to TNC
Of the 9 teams at the Mars Media Dota 2 League: Macau 2017 three came from China, and 2 of were direct invites.
PSG.LGD and
EHOME were extended direct invites to the MDL Macau Minor but neither made it to through. LGD Gaming finished bottom of the group but EHOME had a chance to reach the playoffs but lost what proved to be the decisive game to TNC.




Networth chart before Anti-Mage death

Cty Anti-Mage dies to a AA "bug"There has been some controversy surrounding EHOME's defeat to
TNC Predator earlier today, a game which would have put EHOME in the playoffs, had they won it.

In the bo1 match between the two teams EHOME's carry
Chen 'Cty' Tianyu, who was the focal point of his team's draft, tanked a Ancient Apparition Ice Blast while healing at the fountain. (video above)

Despite possessing a BKB he chose not to activate it, with some believing he realised that his HP was above the threshold needed for him to be killed by the ability.

However, bizarrely Cty's Anti-Mage still died. At the time
Theeban '1437' Siva had level 1 Ice Blast which has a kill threshold of 10%, which kills a target should a hero's hp drop below 10% of their total HP while under the effect of Ice Blast.

CTY's HP was above 10% but the fact he still died has led some users in the Reddit community to discover that it appears Valve applied the Ancient Apparition's Level 25 talent +4% Kill threshold to the base ability instead. This means that the threshold was actually 14% instead of 10%, leading to CTY's unexpected and costly death.

The state of the game when AM died


Cty's BKB purchase meant no buyback

CTY had spent all his money on a BKB so did not have buyback and following his death TNC broke high ground, killed two sets of rax and ended the game less than 2 minutes later.

At the time of CTY's death TNC still all their towers still standing and
Marc Polo Luis 'Raven' Fausto's Morphling, which was almost tied with AM in terms of networth, was carrying an Aegis of the Immortal. TNC had taken an unconstested Roshan at 22 minutes and pushed mid where they caught out CTY's Anti-Mage.

When he died CTY had the highest level hero in the game at level 21 compared to Morphling's level 19, but his score in the game was 1-2-4 compared to the 8-0-1 of Raven's Morphling.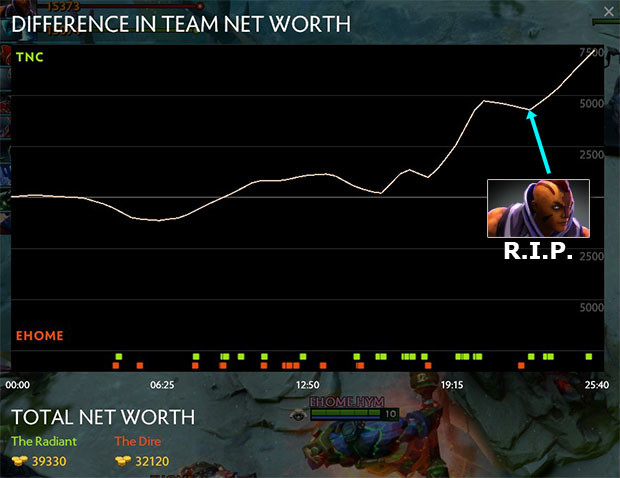 How critical do you think the death was?