After today's deadly lower bracket games, the final four teams in The Perfect World Masters have been determined. What remains is to see who will take the lion's share of Qualifying Points.



Both of the teams to make it through today's lower bracket matches started their journeys in the first round, which were single-game series.
compLexity Gaming started off facing up against
Mineski, taking an impressive win against the SEA titans despite a somewhat rocky start to the game. Their next opponent was
Team Kinguin*, who they took down 2-1. The Polish squad have impressed us at this event but didn't quite make it into Qualifying Points territory.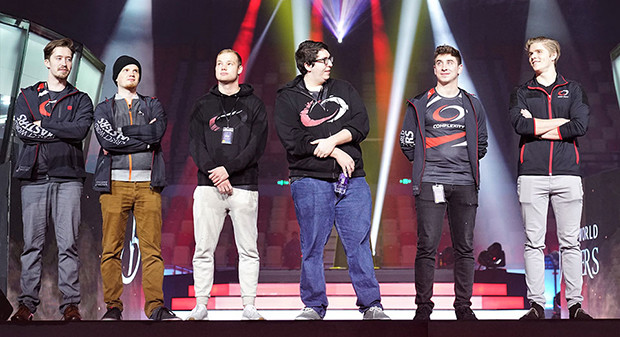 compLexity on stage at The Perfect World Masters
Source: Perfect World
LGD.Forever Young were the other squad to start off in the first round. They faced
Vega Squadron *, who haven't had a great event so far. Their results had mirrored coL's up until this round but, whereas coL went on to make Top 4, Vega were eliminated. LFY faced Secret next, absolutely crushing the EU squad 2-0. Secret opted for Medusa for their stand-in
Chen 'Cty' Tianyu in both games, but the hero proved extremely ineffective.

LFY and coL will have the chance to watch
Newbee vs.
Vici Gaming before they face off against each other tomorrow. One lower bracket match will kick off the final day, followed by the Perfect World Masters Grand Final.


Perfect World Masters Bracket