SEA Regional winners
Mineski are now one win away from a LAN title after a superb performance against
compLexity Gaming in the semi-finals of the first Minor of the Pro Circuit.

An emphatic performance by Mineski saw them through to the Grand Finals of the Starladder i-League Season 3 in Kiev. It went to the third game, but the Filipino organisation was on fire in the series and
Chai 'Mushi' Yee Fung's Sven was the MVP of the decisive game.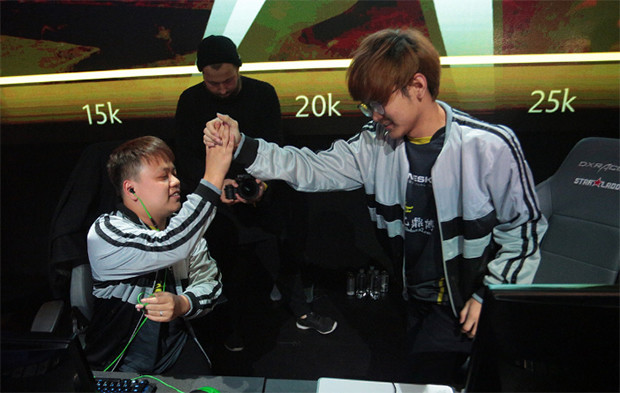 Mineski's Nana and Jabz



Godz: "The best game of Dota Mineski have played all tournament"

Kam 'Moon' Boon Seng's Viper was the star of the first game going 13-1, while
Anucha 'Jabz' Jirawong's Tusk made sure Mineski's mid player was kept safe and sound with Snowball.
Daryl Koh 'iceiceice' Pei Xiang's Timbersaw fed on
David 'Moo' Hull's Omniknight and, unfortunately for CoL, the Chaos Knight pick for
Rasmus 'Chessie' Blomdin never had space to get going.



In game 2, the combination of Chessie's Bloodseeker and
Linus 'Limmp' Blomdin's Pugna overwhelmed Mineski. Limmp clearly won the mid-lane match-up against Necrophos and iceicice, who had a great game on Timbersaw in game 1, did not have such an easy time in game 2. It was really interesting draft by coL with a Winter Wyvern and Warlock support duo, two heroes who are both not popular picks.

Mushi gets mad, compLexity fall
In the the third and final game CoL thought they had the answer to Mushi's Sven with Bloodseeker's Rupture, but Mushi's experience saw him play it cool and ultimately come out on top (video below).

One fight from game 3 stands out: at the 36-minute mark, Mushi did not panic and stood his ground while Ruptured. CoL descended on him to finish the job but Mushi turned on two of compLexity with
Kam 'Moon' Boon Seng's Tinker's burst damage arriving at the exact same time. The fight ended in a team wipe in favour of Mineski and they closed the series 4 minutes later.



Mineski had finished second in Group A behind
Team Liquid to reach the final four of the tournament but now, a win at the Minor is within their grasp. Mineski as an organisation have never won a high-profile international LAN finals with any of their Dota 2 rosters.