After losing captain and position five support player
Martin 'Saksa' Sazdov just a few days ago,
MidOrFeed* have confirmed that the rumours were true and
Troels 'syndereN' Nielsen has joined the team. I'll be playing the coming season with @Timadota, @canceldota, @KheZzu_ and @w33haa. More: https://t.co/cX95cvHi7d— Troels Nielsen (@syndereNDota) September 28, 2017

On the same day that MidOrFeed announced the departure of their captain,
Adrian 'Era' Kryeziu announced that No Diggity was no more and that both syndereN and
Anas 'MagE-' Hirzalla would be replaced.

syndereN gave his own view of the situation in a TwitLonger post, saying that the three remaining members of the ex-No Diggity squad wanted to create their own team with some teammates from back in the HoN days. As for MagE-, he is apparently teamless at the moment.

MidOrFeed have already played their first match with the new lineup. Dota PIT announced last night that the squad would be replacing
Team Secret in the AMD Sapphire Dota Pit Minor EU Qualifier. Their first match was just about three hours after the announcement, a best-of-three against
Ad Finem.

Instead of @teamsecret, team Mid or Feed with @Timadota, @canceldota, @KheZzu_, @w33haa, and @Saksadota will take place in European Q. pic.twitter.com/yMpcvHxLr7— DotaPit.com (@DotaPit) September 28, 2017

In the game, MidOrFeed were tagged up with the team name "my gurl alicia", but sadly they hadn't gone so far as to apply their logo as a custom flag. On Valve's Major Registration website, they've registered under the name MidOrFeed, so it seems likely they'll be sticking with the latter name.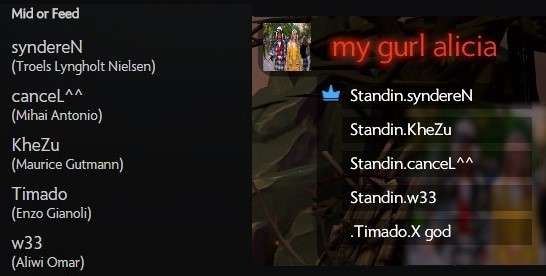 Despite a last-pick Alchemist and early game lead from mouz, MoF turned things around in Game 1 to make a big comeback, then took the series 2-0 with a solid Game 2 performance. They didn't look flawless, but it was a good first showing. They'll face
OG Sept 29 (tonight) at 18:00 CEST in the Winners' Final.

Photo Credit: Felix Frank/DreamHack